When U-Haul® was afforded the chance to make it easier for Arizona-based Team Members to receive a COVID-19 vaccine, it was a no-brainer for Company management.
After months of lobbying to acquire vaccines for its essential service providers across the U.S. and Canada, U-Haul got word that Maricopa County would allocate doses of the Johnson & Johnson single-shot vaccine to the Company on March 23-24, and again on March 29.
A spacious parking lot at the U-Haul Midtown Campus in Phoenix, where the industry leader in do-it-yourself moving and self-storage has been headquartered since 1967, transformed into a drive-thru and walk-up vaccine site for those three days.
Help for Team Members, then Families
U-Haul first focused its immunization efforts on customer-facing Team Members, and then moved on to all interested Team Members. Once Arizona officials opened vaccine eligibility to everyone 16 and older, U-Haul was able to provide the vaccine to household members of its Team Members as well.
In all, about 720 Team Members and family members received the vaccine, which was optional and provided at no cost, thanks to U-Haul. Healthwave® employees were on hand to issue the vaccines, while U-Haul volunteers offered their time to monitor the site, distribute vaccine information and direct traffic.
U-Haul Chairman Joe Shoen and several other enthusiastic members of management took their turn in line and got the vaccine. While doing so, they expressed their appreciation for the job Team Members are doing.
"Like many companies, we were at a loss of what to do and how to help our team," stated Monique Wantland-Harty, U-Haul Wellness Program manager. "But we were determined to get our essential service workers who wanted to be vaccinated the chance to do so. Maricopa County was extremely helpful with their webinars and direction. Eventually, an allotment was given to U-Haul, and it was go time. Our team pulled the event together within hours and made a drive-thru site fully operational at U-Haul headquarters. It was amazing to see how pleased and relieved our team was to have access to the vaccine."
Staying Safe during the Pandemic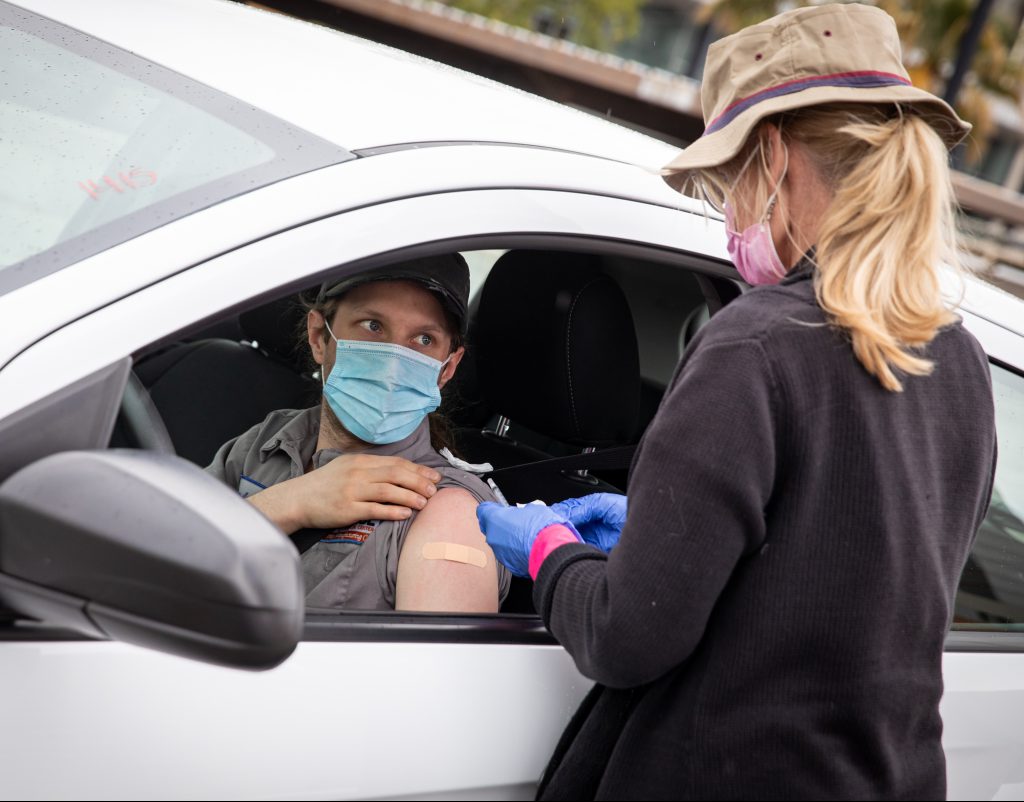 Compassion and common sense are at the center of U-Haul operations as people strive to move past the pandemic. For many, that process means becoming immunized with one of the three vaccines being distributed throughout the U.S.
As of March 24, everyone 16+ is eligible for the vaccine at Arizona state-run sites and Maricopa County sites. People under 18 must receive the Pfizer vaccine.
Throughout the COVID-19 pandemic, U-Haul has remained open and accessible across the U.S. and Canada. U-Haul has done this while offering contactless business programs – like U-Haul Truck Share 24/7® – and enhanced cleaning protocols. These protocols include added steps for sanitizing equipment between customer transactions.
U-Haul products and services are used daily by First Responders; delivery companies bringing needed supplies to people's homes; small businesses trying to remain afloat; college students; and countless other dependent groups, in addition to our core customer: the household mover.
Working with Maricopa County to make the vaccine available to Team Members is just another way U-Haul is striving to keep Team Members and customers safe. Thank you!
Are you a dedicated, motivated individual ready to join a caring team? U-Haul has exciting career opportunities available. Please click on uhauljobs.com to find job openings near you.