U-Haul volunteers took advantage the opportunity to help two charity partners build a transitional home for female veterans and their children who are experiencing homelessness.
Thanks to the partnership between Habitat for Humanity and U.S.VETS, more veterans in Phoenix will have a safe place to live with their children as they participate in counseling, classes and other services to help them transition into homes of their own.
U-Haul, founded by a WWII Navy veteran and his wife, was honored to play a part in building the home for our military heroes.
Day of Service
Team U-Haul arrived at the building site bright and early on a recent Saturday, eager to get started. After receiving directions from site builders and team leaders, volunteers went to their stations and began hammering, swinging and sawing away.
"Even though I was anxious at first, I chose to go out of my comfort zone and work on the roof," explained Amy Cano, U-Haul Human Resources compensation analyst. "I was so glad I did. Everyone was more than willing to teach me how to do all of the different tasks and I had a fantastic time."
Despite the hard work, Cano and Albert Ainsa, a material handler at Glendale Manufacturing Company, said they wouldn't hesitate to volunteer for another homebuilding event.
"Every time I drive by the site, I feel proud to know that I helped create a beautiful home for female veterans," Cano said. "These women are heroes who have gone through so many terrible things. I'm grateful that I helped make a real difference in their (lives) and their children's lives."
Valuable Experience
When U-Haul Claims Adjuster Brent Akee heard about the Habitat for Humanity and U.S.VETS project, he knew that he and his nephew, Matthew, had to get involved.
"Matthew wants to work in construction someday, so we figured that volunteering with Habitat for Humanity would help him gain some useful experience," Akee said. "In addition, we have a lot of veterans in our family. My grandpa was a Navajo Code Talker, so any project that gives back to people in the military means a lot to us."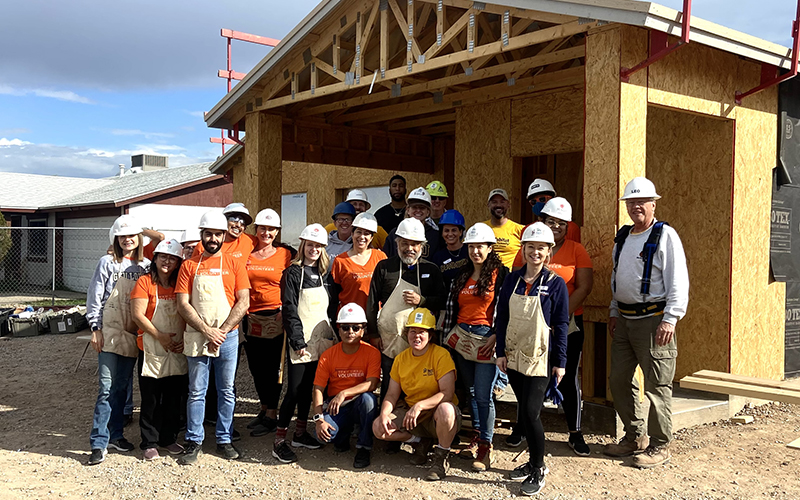 At the event, a mentor carefully offered instructions for building a frame wall. By the end of the day, Brent and Matthew felt like absolute pros.
"I was nervous to work on such an important part of the home, but our mentor coached us until we got the hang of it," Akee said. "Matthew and I were so proud of ourselves afterward. We felt like we helped give back to people in need, and all it took was a few hours on a Saturday morning."
"It was a really fun and interesting day," Matthew added. "I enjoyed meeting new people and learning about construction. I'm going to apply for the Habitat for Humanity Construction in Training (CIT) Program after high school, so that I can get even more experience like this."
"U-Haul is Family"
Michelle Jameson, executive director of U.S.VETS Phoenix, expressed her appreciation for U-Haul for making service such a high priority, particularly when it comes to veterans.
"We at U.S.VETS have had the privilege of working with U-Haul Team Members on many different projects, and we deeply appreciate them and all that they do," Jameson said. "U-Haul is family to us, and that's no exaggeration. Anytime that we need help with events, volunteers or anything else, they have always lent a hand.
"We are so grateful for everyone who came out to build the home, and we encourage them to come back again soon," Jameson continued. "The need for veterans' housing is great. Every pair of hands makes a difference. You don't have to have any construction experience – just a good attitude and a desire to serve. We and Habitat for Humanity will handle the rest."
To read more U-Haul volunteer event posts involving Habitat for Humanity, click here.