U-Haul proudly partners with charities that help people fulfill their basic needs of food, clothing and shelter. And, as a Company co-founded by a WWII U.S. Navy veteran, U-Haul is a staunch supporter of military and veteran organizations and causes that help provide for veterans' needs.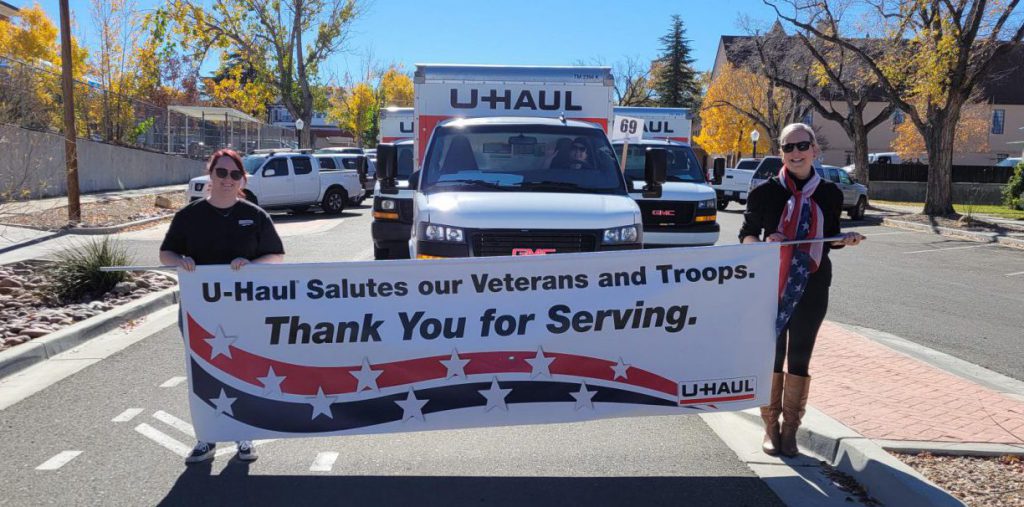 As part of these decades-long community objectives, U-Haul Team Members have volunteered their time and talents at various nonprofits with the lone goal serving others. From organizing canned-food drives, to furnishing new residences for families transitioning out of homelessness, Team U-Haul has helped to change countless lives for the better.
Here are a few examples of how Team Members' volunteer efforts benefitted their communities during 2021:
Bay Treasures and U-Haul Dealership in Gillette, Wyo., orchestrated a canned-food drive for a local charity, and received 3,840 pounds of food donations.
Team members from Districts 7 and 31 volunteered with Humble Design to decorate homes for local families transitioning out of homelessness.
Hundreds of Team Members, along with their family members and friends, represented U-Haul by marching in Veterans Day parades in New York City, Phoenix and Prescott (Ariz.), as well as the National Memorial Day Parade in Washington, D.C.
Team Members worked with Habitat for Humanity Central Arizona to build a transitional home for female veterans and their children who are experiencing homelessness.
Thoughts from U-Haul Volunteers
In honor of National Volunteer Month in April, we asked a few Team Members to explain why they choose to volunteer through scheduled opportunities with U-Haul charity partners. Here is what they said:
"Serving others benefits the greater good. I want to make a positive difference in my community, and what better way than by volunteering." — Kevin Uehara, Project Coordinator
"Sometimes I forget how fortunate I am. But when I serve others, I gain a greater sense of perspective. No matter what type of service I'm doing, it always brings me joy and fulfillment." — Larry De Respino, Legal Department General Counsel
"There are so many people in our communities who struggle to meet their basic needs. By dedicating a few hours of my weekend, or a few dollars to help meet those needs, I can make a big difference. In addition, my faith teaches how important it is to serve others, and living my faith is very important to me." — Janice Perkins, Senior Business Analyst
"My family raised me to volunteer. It's in my blood. And I always feel my best when I'm helping others." — Saundra Cotton, Account Representative
"If everyone says no to volunteer opportunities, who's left to say yes? I love helping to organize volunteer opportunities for Tech Center Team Members. I know that even though my part may be relatively little, every bit of service can help make someone's life better." — Sally Mallette, Technical Comms./Admin. Manager, U-Haul Tech Center
"I serve others because I love doing it … it's that simple. There's no better feeling in the world than giving back." — Dan Gray, Litigation Paralegal
"Service fills my heart with joy." — Marcia Chiariello, Building Management Operations Manager
Proud Volunteer Partner
John "J.T." Taylor, U-Haul International President, commended Team Members for giving back to their communities.
"Every year I am impressed with the high level of participation and active engagement that U-Haul Team Members put forth in supporting our charitable partners. There are certain stalwarts who seem to never miss a single opportunity to help, as well as parents sharing the experience with their kids, and others who go any time they have the chance. Our charitable community partners have continually expressed their appreciation.
"I believe that the work that U-Haul Company does for people is noble — helping people move freely and without restriction across the U.S. and Canada. All our volunteers further those ties, and show that U-Haul is an integral part of the communities in which we do business. I am personally very impressed, proud and grateful to all the volunteers that do such a fantastic job helping others. Thank you."