Augie Reyes remembers entering U-Haul Moving and Storage of Coronado in 1991 to interview for a general manager position in Texas. He looked around and said to himself, "I could do this!"
Now Reyes is applying that same go-getter attitude in his role as president of U-Haul Company of San Antonio East (Co. 744).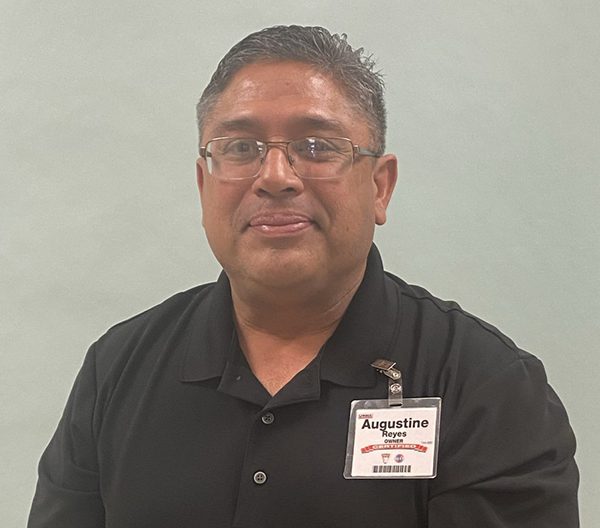 "As a new Team Member, I quickly learned that I was good with people — both customers and fellow Team Members — and could make them feel at ease," Reyes said. "In addition, I already knew that U-Haul was a great company to be a part of, and I wanted to build a long-term career here that I could take pride in. Because of that, I decided to learn everything I could about how to 'Make Moving Easier.'"
Reyes' work ethic and enthusiasm for customer service helped him in many different positions. These have included: GM of U-Haul Moving and Storage of Woodlake; area field manager of Co. 744; and president of U-Haul Company of Corpus Christi (Co. 832).
In his new role, Reyes plans to empower the Team Members in his marketing company to reach their personal and professional goals.
"One of my goals is to get to know every Team Member in Co. 744 and to learn about their strengths and about what could still be improved," Reyes said. "I want to help Co. 744 harness its energy and grow its skill sets, so that it can produce better and better results."
Helping San Antonio Grow
Matthew McMillan, District 17 Area District Vice President, says Reyes is the right person to represent U-Haul in a dynamic and fast-moving city like San Antonio. Reyes seeks to build on the pattern of positive results from his successor, Sam Molina.
"People are moving to San Antonio, and to Texas in general, because they want to live, work and raise families here," McMillan said. "I am fully confident that Augie will continue to expand and strengthen Co. 744's presence in the city and ensure that all customers have easy access to U-Haul products and services for their moving and self-storage needs.
"As a local GM, Augie helped his stores to grow … in a short period of time. He knows what it takes to scale up, meet demand and successfully serve more customers. He is capable of filling Sam Molina's shoes and building upon the strong groundwork that Sam previously laid. I know that he will do a fantastic job."
Reyes added: "As I transition into this new role, I owe so much to Sam and his example of prioritizing the formula 'Energy multiplied by Know-How equals Results' (E x KH = R) in all aspects of decision-making and leadership. He has been an incredible mentor to me over the years, along with Dean Ross, Chuck Kelly, Logan Frank and many others. They each taught me how to navigate the ups and downs of serving customers, and how to collaborate with other members of Team U-Haul to get things done. I hope to be a similar mentor and source of support to everyone in Co. 744."