Twenty-five years after catching on with U-Haul as a college student, Danny Porras has parlayed that "summer job" into the position of U-Haul Co. of Northern New Mexico (Co. 724) president.
Porras, who started out as a reservations manager in 1997, has served as the shop foreman of Kar-Go of Albuquerque (Shop 147); general manager of U-Haul Moving and Storage of Rio Rancho (724026) and U-Haul Moving and Storage at Princeton and Candelaria (724028); and an area field manager – among other roles. Now he adds marketing company president to that list.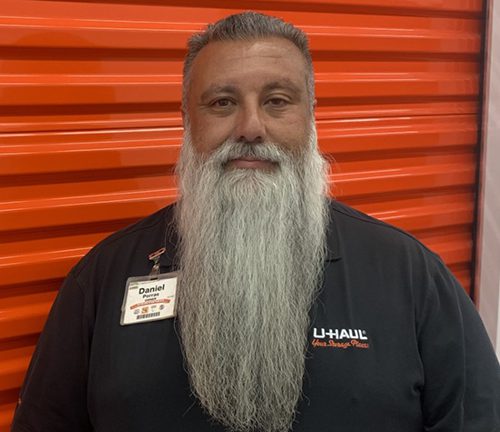 "I'm excited to use my years of know-how to help my fellow members of 724," Porras said. "As a self-proclaimed 'jack of all trades,' I've worked in U-Haul stores, a shop, a marketing company office and an AFM rig. I've loved every new opportunity I've been given. I hope to draw on the lessons I've learned from these roles as the 724 team and I strive to strengthen our Company's reach and impact in northern New Mexico."
Always following the program
As a Team Member with wide-ranging experience, Porras knows how vital it is to align with U-Haul policies and procedures.
"I have plenty of goals in this new role, but the primary one is to stay on program and follow it 100%," Porras said. "No matter how well-intentioned Team Members may be, they are not successful when they deviate from U-Haul Company's established policies. With this in mind, I want to build on the foundation of hard work, strong customer service and steady growth that previous 724 MCPs, including current District 3 Area District Vice President (ADVP) Tom Neill, have laid."
Porras is eager to expand Co. 724 through various construction projects. This includes new U-Haul stores, more self-storage rooms to existing facilities, and more dealer locations to the U-Haul network.
"Although U-Haul has a strong presence in the region, there's always room to grow," Porras said. "I want to make 724 even better by doubling down on education and mentoring opportunities for Team Members and U-Haul dealers. I am where I am right now because of countless people who took the time to guide me over the years. I want everyone in 724 to feel like they have access to similar opportunities."
Stepping up to the plate
Porras gave special mention to Bob Miner, who passed away several years ago, for shaping him into a productive Team Member.
"Bob worked in the U-Haul Repair Department when I was at Shop 147. I had the privilege of communicating with him about shop-related things," Porras said. "He taught me that you don't have to 'reinvent the wheel' to be successful at your job. You just need to follow the program. That has stuck with me ever since and has inspired me to set and accomplish countless professional goals. I am beyond grateful for his example."
Neill praised Porras' many talents, including his empathetic and effective communication style.
"While Danny has too many great qualities to list, one of the top qualities would be the ease and skill with which he communicates," Neill stated. "He is very detail-oriented and zealous about not going off-book in any way, but he is able to discuss these priorities with others without coming across as overly critical or overbearing.
"I have had the privilege of working with Danny throughout his entire U-Haul career. He has, without fail, stepped up to the plate and skillfully handled any challenge or opportunity that has come his way. I am fully confident that he will do the same in this new role."