U-Haul customer Roger Smith's 2,300-mile journey — all to save a beloved car — would not have been possible without the help of Team U-Haul at every step of the way.
The car that Smith cherishes is a 2002 Saab 9-3 convertible, complete with a midnight-blue paint job and 104,000 miles showing on the odometer.
"In 2016, my wife and I were looking for a car for our teenage son," Smith said. "Our son appreciated (the Saab's) uniqueness, and it became a well-loved family car. We even nicknamed it Sabi."
After Smith's son graduated high school and moved out, Smith continued to care for and maintain Sabi. One day, he drove Sabi to the annual Saab Convention in Sturgis, S.D., where he gathered with other vehicle enthusiasts.
"I left St. Louis for Sturgis at 5 a.m. on a Tuesday, and everything was good for the first 700 miles or so," Smith noted. "However, when I arrived in Chamberlain (S.D.) things started going very wrong. I was almost at the top of a large hill when I heard a burp from the engine, and it immediately began to lose power. I quickly pulled over, only to find out that oil had come up through the oil-fill spout. In that moment, I knew that my chances of attending the convention were quickly decreasing."
Smith called a tow truck, found a place to stay the night and thought about what to do next. After talking with his family, he decided to take steps to bring Sabi home in one piece.
U-Haul to the Rescue
"My brother told me, 'If you like the car that much, rent a U-Haul truck to tow it,'" Smith said. "I thought that was a great idea. So I called 1-800-GO-UHAUL. They quickly arranged for me to pick up a 15-foot truck and a tow dolly at two different U-Haul stores.
"I arrived at the stores, loaded Sabi onto the tow dolly, and was once again on my way to Sturgis – this time to see if the convention staff would be able to help me diagnose and repair whatever went wrong with my vehicle. However, once I arrived in Sturgis and they took a look at my car, they told me that there was engine damage, a broken piston ring or two, and some other issues that they wouldn't be able to fix right away."
Dejected, Smith called 1-800-GO-UHAUL once again. He asked if they could change his equipment drop-off location from Sturgis to Springfield, Mo. U-Haul happily obliged, and back I went to Missouri went Smith, with Sabi in tow.
"I honestly did not expect how easy it would be to drive a large U-Haul truck and tow a car behind it for hundreds of miles," Smith said. "I made great time and arrived in Springfield early the next morning."
One More Surprise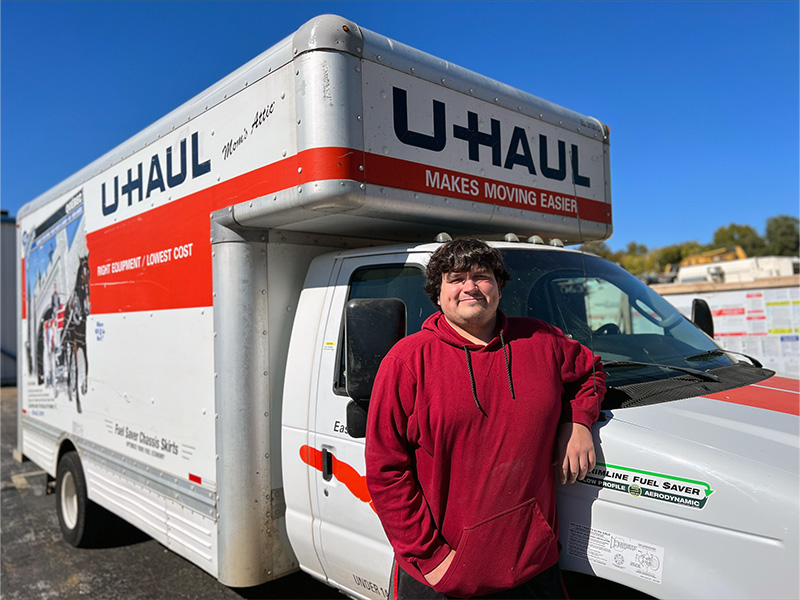 Once Smith arrived in Springfield, he dropped off Sabi at a local mechanic's shop, and returned the U-Haul equipment to Rikers Appliances on Olive and U-Haul Dealership. Not long after, he received a phone call with some pleasant news.
"One of the individuals who works at the dealership, Eric Waltrip, was calling me to double-check why the original equipment drop-off location had changed so quickly from Sturgis to Springfield," Smith said. "Since everything had happened rather last-minute, he wanted to make sure that his information was accurate. When I told him about everything that I had been through in the past couple of days, he told me he would discuss this with some members of U-Haul and call me back. When he did, he let me know that U-Haul Company was going to help me with the extra costs of the rental. And he told me that when the time came to tow my newly repaired Sabi from Springfield to my St. Louis home, that he'd be more than happy to share his U-Haul equipment with me."
Smith expressed gratitude to the many kind and helpful people — especially the members of Team U-Haul — who made it possible for him to bring his car home.
"Without U-Haul, I would have had to scrap Sabi in Chamberlain," Smith noted. "It's not easy for me to accept help from others, so I was truly touched to see how willing they were to offer help to someone in a difficult situation. Thanks to their quick thinking and generosity, I can still call myself the proud owner of one of the best-looking Saab convertibles ever manufactured."