U-Haul has participated in countless environmental initiatives to better the lives of individuals throughout Arizona. One way it does this is through its membership with Arizona Forward, a charity that strives to create a more sustainable society.
The U-Haul Sustainability team was recently recognized for their incredible accomplishments at the 41st annual Environmental Excellence Awards Gala, where they received the 50th anniversary special recognition Crescordia Award.
The award is given to organizations that demonstrate an enduring commitment to environmental stewardship. It is one of Arizona Forward's highest honors.
In addition to this Crescordia Award, U-Haul Company has received three Crescordia Awards from Arizona Forward in previous years. These were in the "Healthy Communities—Parks and Trails" category in 2018; the "Environmental Education and Communication" category in 2012; and the "Buildings and Structures" category in 2011. U-Haul has also received five Awards of Distinction from the nonprofit.
A Responsible Steward
As a relative newcomer to U-Haul, Sustainability Community Advocate Alexis Spell thoroughly enjoyed her first-ever Environmental Excellence Awards event.
"It was so interesting to see the work that U-Haul does from an outsider's perspective, and to realize how much the community notices and appreciates it," Spell said. "When Sam Shoen, U-Box Director and (U-Haul Holding Co.) Vice Chairman of the Board, gave the acceptance speech on behalf of U-Haul, all of the other attendees were blown away when they learned that we've been a sustainable company since 1945."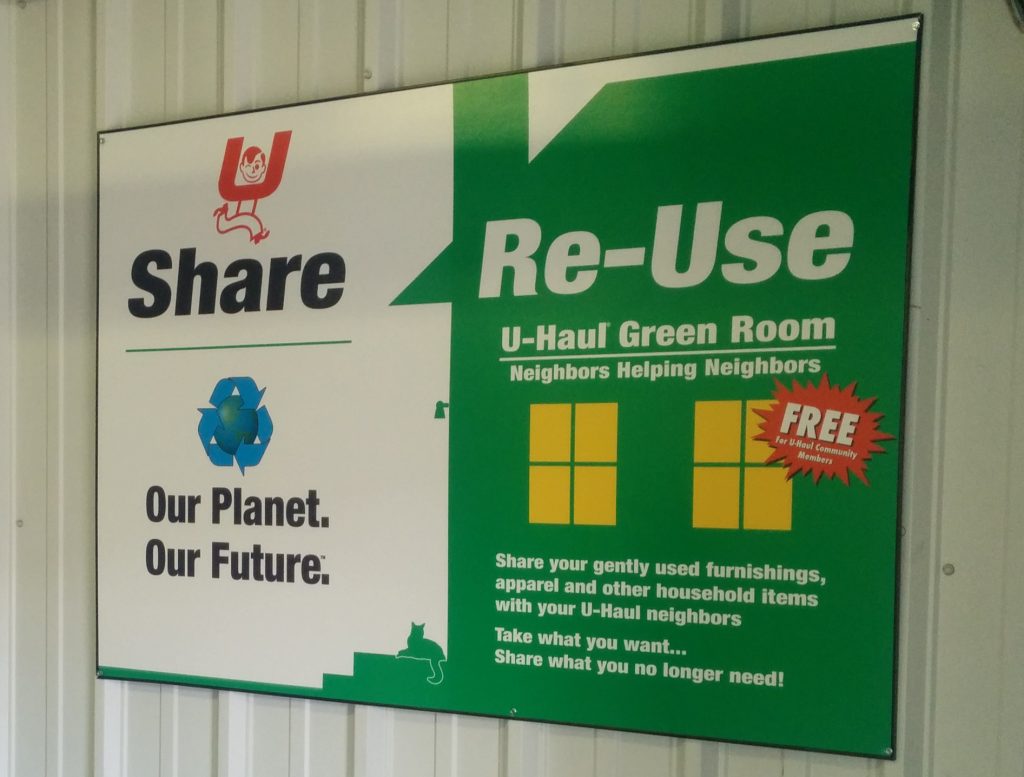 During his acceptance speech, Shoen shared how U-Haul Company's core business model is founded on shared-use mobility in communities across the U.S. and Canada. The shared use of trucks and trailers — rather than individual ownership of large-capacity vehicles — help reduce traffic congestion, pollution and fuel usage.
In addition, Shoen highlighted the many U-Haul policies and procedures that directly benefit the environment, including the award-winning U-Haul Adaptive Reuse program, which repurposes old and often vacant buildings into U-Haul facilities. The Company also participates in tree-planting partnerships with The Conservation Fund and Tree Canada, which have planted hundreds of acres of trees in Arizona and more than 1.2 million trees across North America.
"As a family business that has been headquartered in Arizona for more than half a century, U-Haul maintains a long-term orientation," Shoen explained. "Many public businesses are under pressure from Wall Street to carry out 'noble' green agendas that, when you take a second look, are nothing more than greenwashing or short-sighted PR stunts. To truly be sustainable, a business needs to be a responsible steward of resources over a long period of time. That's what U-Haul strives to do."
Building a Better Tomorrow
U-Haul Sustainability Project Coordinator Brigitte Bavousett and Chief Sustainability Scientist Dr. Allan Yang, who also attended the gala, are confident the future is bright for the Company's sustainability initiatives.
"For U-Haul, being sustainable requires us to embrace the responsibility of being exemplary corporate citizens," Bavousett said. "The 50th anniversary special recognition Crescordia Award celebrates all of the hard work that U-Haul has put into achieving this ideal and motivates us to keep making it a reality."
"Every member of U-Haul can take action today to promote sustainability in their workplaces, homes and communities," Yang added. "From taking the five sustainability courses on U-Haul University, to participating in local U-Haul sustainability initiatives like tree-planting projects and the Take a Box, Leave a Box Program, there are countless options for U-Haul to take advantage of. And, if they want to do even more, they can always reach out to the U-Haul Sustainability team for ideas and inspiration. We're here to help."
To contact U-Haul Sustainability, email sustainability@uhaul.com.