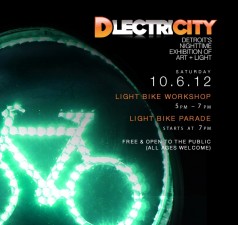 Do you love a parade? Most of the time, that conjures up images of floats, marching bands and huge inflatables. After this weekend, you might have to add illuminated bicycles to that list. The Light Bike Parade will roll through Midtown Detroit this Saturday, October 6th. It's part of DLECTRICITY, a contemporary light art festival going on in Midtown this weekend.
The public is encouraged to join the luminous trek through the streets of Midtown—it's FREE and open to all ages. The Light Bike Parade starts at 7:00 p.m., but you should show up early for ideas and tips to light up your ride. From 4:00-5:00 p.m., Sky Yaeger, head designer for Detroit-based bike company Shinola, will hold a Q&A session in Wayne State parking lot 54, at the southeast corner of 2nd Ave. and Warren. Immediately after that, a workshop will show you how to use lights and reflective materials to light up your bike for the parade. Prizes will be awarded for the best light bike designs.

The 3.75-mile parade starts at lot 54, then winds its way north on Cass, east on Grand, south on Woodward, west on Parsons, then north on Cass to Hancock, ending in lot 56, where there's valet parking available for your bike. That will allow you to store it safely while you check out the other sights and activities DLECTRICITY offers. For a complete schedule of events, click here.
Are you planning to pedal in the Light Bike Parade? What would you use to light up your bike? Let us know in the comments section below.
–Scott