Santa's "nice list" in Arizona grew especially long this past holiday season, as U-Haul® Team Members and their families throughout the Valley cheerfully donated their time and resources to help those less fortunate.
Team Members filled the month of December with volunteer activities on behalf of U-Haul charity partners. U-Haul proudly partners with organizations that help people meet their basic needs of food, clothing and shelter. U-Haul also honors veterans and supports veteran causes, as the Company was co-founded by a WWII Navy veteran in 1945.
Gingerbread Kids Holiday Gift Drive
One U-Haul charity partner is Southwest Human Development, which provides welfare services, counseling and a wide variety of other vital resources to Arizona children and families. Every December, Southwest Human Development holds a Gingerbread Kids Holiday Gift Drive, where people can "adopt" and purchase gifts for kids.
U-Haul enthusiastically stepped up to participate in the 2021 gift drive, and the results were spectacular. At the U-Haul Midtown Campus in Phoenix, and the U-Haul Technical Center in Tempe, there were several Christmas trees with paper tags hanging on them, each with the name of a child ready to be "adopted." In total, Team Members purchased gifts for 190 kids, which Southwest Human Development then distributed to the families.
"Children and families in Arizona have been especially hard hit by the COVID-19 pandemic, so it's vital that we continue to let them know that they are not alone," said Annette Sutfin, philanthropic experiences senior manager for Southwest Human Development. "We couldn't do events like the Gingerbread Kids Holiday Gift Drive without the support of amazing corporate partners like U-Haul. The gifts that they provide let the kids' families know that their communities care about them and want them to succeed."
St. Mary's Food Bank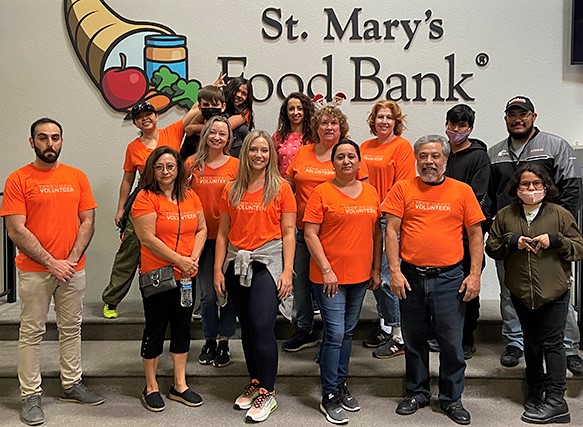 Known as the world's first food bank, St. Mary's Food Bank has been relieving hunger in Arizona for more than 50 years. U-Haul has been a charitable partner of St. Mary's since 1992, and Team Members regularly volunteer their time to pack food boxes.
In December, Team U-Haul packed 2,052 food boxes for families in need. Timothy Hills, an information systems configuration analyst for U-Haul Human Resources, recently attended one of the December volunteer events and had an unforgettable experience.
"Packing food at St. Mary's was awesome," Hills stated. "It was a fun, upbeat place, and everyone there was so approachable. I met people from other companies and organizations who were also volunteering, and they thought it was amazing that a big company like U-Haul would come and help out. I even spoke with a few teenagers who thought that what we were doing was really cool, and who want to join U-Haul.
"Even though packing those boxes can be pretty fast-paced, every Team Member there was happy to do it. It was incredible to see all of us come together and serve others in this way."
St. Vincent de Paul Palomino Event
The Society of St. Vincent de Paul, which focuses on providing food, clothing and other essential services, operates several thrift stores in Arizona. For more than 30 years, one of these thrift stores has partnered with Palomino Elementary and Intermediate Schools to offer a one-day holiday shopping spree to their students. The students can pick out some items to give to their family members for Christmas.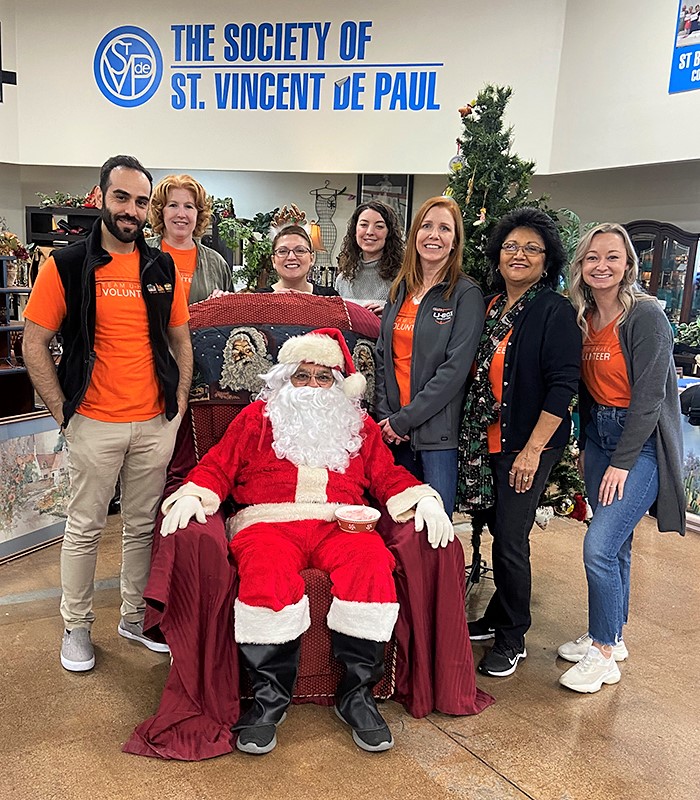 For several years, Team U-Haul has been on hand during the event to offer shopping assistance to the kids, and to help them wrap their presents. Team Members assist hundreds of students during the Palomino Event.
Nikki Hogan, U-Box project group supervisor, has twice volunteered at the Palomino Event. She loves enabling the kids to feel the "magic" that comes from giving to others.
"When you see a kid's happy face after helping them find the 'perfect' gift for their loved ones, it just makes you feel so good," Hogan said. "Everyone there is kind and grateful for the assistance and putting my few hours in at the event helps me feel like I've accomplished something meaningful.
"A lot of time and effort goes into putting these events together, and I'm grateful that I get to participate in them. When everyone does their part by showing up and giving back, it goes such a long way toward making our communities better. It makes a real, lasting difference."
Want to learn more about our partnerships with these and other charities? Visit uhaul.com/about/philanthropy.