By 2031, 100% of the residents living in the Linwood-Davison area of Detroit will be economically self-sufficient, educationally well-prepared and living in a safe and supportive environment. This is the aim of Focus: HOPE's (my Challenge Detroit host company) community-centric initiative aptly titled, "The HOPE Village Initiative." Born out of the conviction that the neighborhoods surrounding Focus: HOPE's campus should be a clear reflection of the Focus: HOPE mission in action, the HOPE Village Initiative was formally launched in 2011. HVI partners with schools/universities, community associations and other entities to empower and transform the area immediately around Focus: HOPE's campus: from Hamilton on the east to Dexter on the west, and from Davison on the south and to the Lodge service drive to the north.
The needs are evident. The target area has a population of 5,300 (including 1,500 children) and is a microcosm of the city of Detroit, with slightly lower levels of educational attainment and economic self-sufficiency:
75% of the children live in a single family home
Close to 50% of residents live at or below the poverty line
10% of adult residents have an associate's degree or higher
Average household income of less than $25,000
But, Focus: HOPE works every day to make the situation brighter. Recently, we have seen over $14M invested in our neighborhood and another $100M is planned or in progress. These investments include:
Oakman Manor — housing for very low income senior citizens
Oakman Place – housing for homeless families and young adults aging out of foster care
Bell Building redevelopment into housing and services for the homeless and offices for Neighborhood Service Organization
W. Davison Avenue resurfacing, façade improvements, and pedestrian improvements
These investments not only support existing residents and businesses but they will encourage further investment and redevelopment.
At Focus: HOPE, I am a part of the HOPE Village Initiative team. My projects are centered on education in the entrepreneurship space and commercial corridor revitalization. Focus: HOPE has partnered with several community organizations to produce ProsperUS, a place-based entrepreneurship training program. I am also working on creating a long-term technical assistance program to service our area business owners. Through these projects, I feel honored to be assisting in fulfilling the goals the HOPE Village Initiative has set.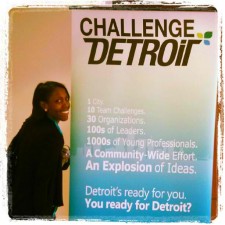 So, the next time you are in the Linwood-Davison area, make sure to drive through and take a quick tour of all the developments. I also suggest eating at one of the tasty restaurants, such as Grandy's Coney Island or Yummy Wong's!
Also, if you or anyone you know who would like to apply for the ProsperUS Entrepreneurship Training Program, leave me a message!
~Brittany