If you've ever played any team sport, you've heard your coach say that when everyone on the team knows their position and plays it well, the team wins. That is certainly true of the construction and electrical teams working on the third-floor self-storage rooms at the U-Haul Nabisco building in New CenterDetroit. Watching these crews work is like watching legendary double-play trio Joe Tinker, Johnny Evers and Frank Chance. The first crew works on erecting the frame, the next crew installs the doors and the steel walls, and the electricians follow up with the lighting. Like Tinker, Evers and Chance, these guys are at the top of their game. As a result, they are now on the fourth and final row of self-storage rooms.
Complementing the work on the self-storage rooms is the work being done on the third-floor restrooms and the stairwells. The original single-room restroom will be converted into three 5′ x 7′ rooms. All of the original fixtures have been removed, the walls have been painted, a new doorway has been cut in the wall and the stairwell door will be welded shut. All four stairwells have been scrapped and the walls painted.
Odds and ends
Elevator lobby restroom – The final inspection of the electrical work in the elevator lobby restrooms has been completed and approved! The exhaust fans in both restrooms have been installed and inspected, and the plumbing is ready for rough inspection, which is scheduled for next Friday.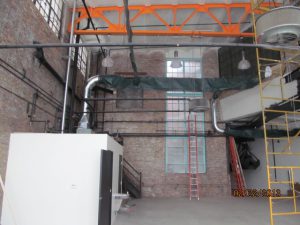 Loading/Unloading area – Painting continues in the loading and unloading area and should be complete by Wednesday.
Showroom – The rough inspection for the HVAC electrical has been approved.
This blog was created to let the community know that U-Haul is in Detroit, and to share our plans with you and to get input from the community. We want to hear from you. Tell us what you like and don't like about our posts, building plans or anything else you want to share about Detroit. We are excited to be part of the Detroit community and want to learn from you!
Next post, 3/4.
–Pref