The building buzz this week at U-Haul Moving and Storage of New Center is that we're having our official grand opening Thursday. Here's the scoop.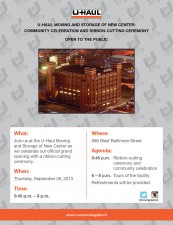 U-Haul Moving and Storage of New Center in Detroit is hosting a grand opening ribbon-cutting ceremony and community celebration tomorrow, September 26, 2013 at 5:45 p.m., at 899 West Baltimore Street. Everyone in the community is invited to join U-Haul in celebrating the building's history and restoration.
The ribbon-cutting ceremony will begin at 5:45 p.m. and tours of the building will be hosted after the ceremony. Refreshments catered by El Guapo and The Mac Shack food trucks.
"Many community members have gone out of their way to show their support for this project and have told me how much they enjoy watching this building come back to life," stated David Ruff, president, U-Haul Company Detroit. "The grand opening celebration is meant to encourage the community to see what we have done to revitalize the building and preserve its history."
During the celebration the community will learn more about the alliance U-Haul has established with The Conservation Fund and one of the city's leading nonprofits The Greening of Detroit.
Donations from U-Haul and its customers to The Conservation Fund's Go Zero® program will support the planting of 1,600 trees at Rouge Park over the next 18 months. The planting initiative kicks off on Saturday, Sept. 28th with an anticipated 300 trees being put in the ground by The Greening of Detroit and its army of volunteers.
U-Haul has also established the Growing Detroit's Green Economy Fund, a grant program aimed at supporting green entrepreneurs. It will be administered by The Conservation Fund.
Fun photo opportunities and a Vine video lounge will be a few of the activities for guests to enjoy.