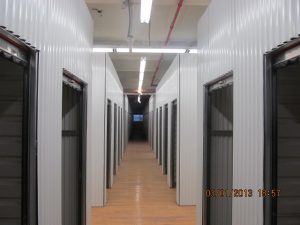 Construction of 278 self-storage rooms on the third floor wrapped up this week and we are moving up to the fourth floor to begin construction of another 275 self-storage units.
There is still some work to be done on the third floor. The plumbers are working on the restrooms and we are correcting a floor elevation to better accommodate handicap entry.
The fourth floor has been prepped, scraped and painted…a sparkling white open space ready for U-Haul orange storage doors to pop up in nice, neat rows.
Fancy footwork at street level
Down on the first floor, the plumbing in the elevator lobby restroom passed its rough-plumbing inspection and final construction of the room in underway: painting and adding the drywall that was left out for the inspection.
Complete Sewer and Drain did some fancy footwork to install a fresh-air/exhaust vent. Exhausting into the loading/unloading area would not be acceptable and going out of the wall was not acceptable because code requires that we stay 15 feet from any window. So, what did they do? They core-drilled through seven floors to the roof. They used a one-way vent that draws fresh air into the restroom but does not allow sewer gas to enter the lobby.
We love working with problem solvers like the folks at Complete.

Bright and well lit
All the walls, ceilings and pillars have been painted…and the strip lighting – activated by motion detectors – has been installed in the loading/unloading area. The area is very bright and well lit. This week we're going to add color to the area by adding orange strips, which should make for a dramatic and colorful highlight.
Light above, lights below
The repair and painting of the high windows on the north and south walls of showroom is completed. The lighting above where the showroom counter will be installed is a work in progress; strip lights are installed and electric is being connected them.
This blog was created to let the community know that U-Haul is in Detroit, and to share our plans with you and to get input from the community. We want to hear from you. Tell us what you like and don't like about our posts, building plans or anything else you want to share about Detroit. We are excited to be part of the Detroit community and want to learn from you!
Next post, 3/11.
–Pref