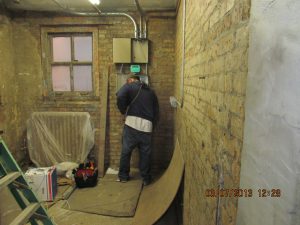 Last week, week we mentioned that construction on the third floor of the U-Haul building is in the final stages. Over 100 doors of the third floor storage area have been wired into our state-of-the-art security system. U-Haul self-storage locations have the best security in the industry because keeping our customers' belongings safe and secure is the top priority—and this historic Detroit building will be no different!
Plumbing
Our plumbers have been working hard to get the third and fourth floor restrooms up and running. This makes things convenient when accessing a storage unit—customers won't need to run down to the main floor to use the restroom. The plumbers also were able to complete the utility sink on the first floor next to the elevator lobby. Need to rinse off your hands? We've got you covered!
Loading Dock
The loading area painting is coming along nicely with only the stripes on the concrete left to complete. Storage customers will have easy, drive-up access to the storage facility at this area. They will be able to back up their moving truck or personal vehicle to the loading dock for easy loading and unloading of goods.
Stairwells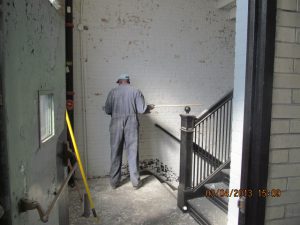 Scraping off the old, chipping paint continues on the stairwell between the fourth and fifth floors. Before you know it, our stairwell will be as bright and clean as the showroom itself.
HVAC
After gaining a rough approval, the heating, ventilation and air conditioning (HVAC) system is wired and ready for testing. This system plays an important role in keeping our climate-controlled self-storage between the temperatures of 65-85 degrees Fahrenheit … and it keeps the showroom nice and cozy, too!
Showroom
The showroom is progressing. We are awaiting an extension for our counters at the checkout area and the lighting for the showroom is underway. We can't wait to see it all come together to be a fully-functional moving and self-storage center for the Detroit community.
This blog was created to let the community know that U-Haul is in Detroit, and to share our plans with you and to get input from the community. We want to hear from you. Tell us what you like and don't like about our posts, building plans or anything else you want to share about Detroit. We are excited to be part of the Detroit community and want to learn from you!
Next post, 3/18.
– Jennifer