U-Haul® is the No. 4 Healthiest Employer in the Valley in 2021 among companies with 5,000-plus employees, the Phoenix Business Journal announced.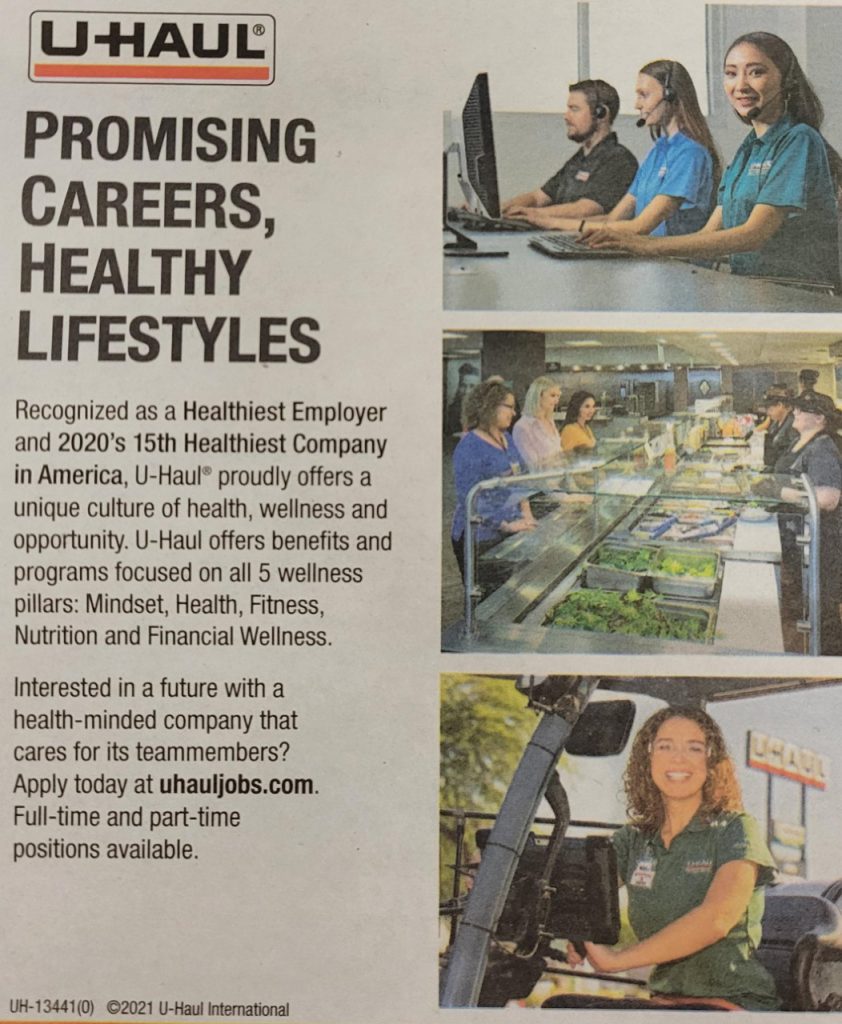 Listed among the state's most health-conscious companies for years, U-Haul took first place in the same category in 2020 for its ongoing commitment to Team Member wellness. In addition to its No. 1 local ranking, the industry leader in DIY moving and self-storage was recognized as the 15th Healthiest Employer nationally in 2020.
The 2021 rankings slot U-Haul percentage points behind American Express, McCarthy Building Companies and Phoenix Children's Hospital in the extra-large employer class.
Find U-Haul career opportunities at uhauljobs.com.
"We are constantly encouraged by the feedback we receive from Team Members validating that our wellness program is making a positive impact on their lives," stated Jessica Lopez, U-Haul Chief of Staff.
"Everyone faces different challenges on their health and wellness journey. By taking a proactive approach to understanding what those challenges are, and then addressing them directly through our wellness initiatives, we have been able to reach more people and foster a meaningful program with real results across more areas – from fitness and finances to mental health and nutrition. We take pride in knowing that when we take care of our Team Members, they will take care of our customers."
Wellness Program Enhancements Coming
A 54,208-square-foot conference and fitness center under construction at the U-Haul Midtown Campus should open on or about July 1. U-Haul has been headquartered at the same Phoenix address at the intersection of Central and Roanoke Avenues since 1967.
The two-story complex will provide the roughly 1,800 Team Members on its corporate campus the chance to exercise and receive medical attention just steps from their work stations.
Monique Wantland, U-Haul wellness program manager, helped pivot the Company's "Healthier You" wellness program in 2020 to address challenges brought about by COVID-19. While the program continues to expand opportunities for those working from home and in the field, it also addresses the hundreds of Team Members who have returned to the corporate offices to resume their jobs in an improved workplace highlighted by first-class facilities.
The Business Journal's Healthiest Employer rankings are determined with assistance from Healthiest Employers LLC, which uses questionnaires filled out by company employees to rank each entrant in six categories on a Healthiest Employers Index.
View the top 15 Healthiest Employers of 2021 in the XL class at bizjournals.com/phoenix.