FARGO, N.D. — There are "hunting bands" throughout U-Haul. As U-Haul University course USB 101-The Hunting Band explains, hunting bands are groups of Team Members with "a common purpose, values and goals" who aim to do their absolute best.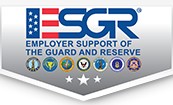 Travis Hudson, GM of U-Haul Moving & Storage of Fargo, recently received the Employer Support of the Guard and Reserve (ESGR) Patriot Award for going above and beyond to support one of his hunting band – customer service rep and North Dakota Army National Guard Private First Class Ram Dahal – in the performance of his U-Haul and military duties.
The ESGR is a U.S. Department of Defense program that promotes and develops supportive work environments for U.S. National Guard and Reserve service members by recognizing standout employers who support them. National Guard and Reserve members can nominate civilian employers for the Patriot Award who have gone the extra mile. That was the case with Dahal wishing to honor Hudson.
"Ram and I are U-Haul brothers, so to speak. It's an absolute privilege to help him and Regina in any way that I can," Hudson said.
Patriot Award recipients typically demonstrate a willingness to care for an employee's family if the employee is away on drills or on active-duty missions, and allow employees to have flexible schedules as needed. Dahal devotes days, weeks and even months at a time to his military service.
We Are All Patriots: A Desire to Serve
"I am required to train full-time for one weekend each month and two weeks every summer," Dahal said. "In addition, there have been times where I have been called to active-duty service, which is a full-time commitment that normally ranges between one to 15 months … the last time that I was called to active duty, I was stationed in a different state from August 2020 through February 2021.
"My wife Regina and I have been U-Haul CSRs for about two years. While my service with the National Guard requires me to spend a significant amount of time away from (U-Haul), neither of us has ever worried about me losing my employment, and that's because of the unconditional support that we have received from Travis and the rest of our hunting band."
Ram and Regina recently transferred to U-Haul Moving & Storage of Osgood, which is closer to their new home. But they consider Hudson, as well as their new GM Bret Hanson, to be among the best friends they know.
"Travis and Bret have made our lives so much easier by helping us to balance Ram's National Guard duties and our U-Haul responsibilities," Regina added. "Whenever Ram would request time off in advance for drills or an active-duty mission, Travis and the rest of the team would cheerfully cover his shifts in his absence. Bret does the same thing now. It's so reassuring to know that we don't have to worry about any kind of pushback when requesting time off related to National Guard service."
Military and Veteran Support
U-Haul was founded by a WWII Navy veteran and his wife in 1945. The industry leader in DIY moving and self-storage, U-Haul recruits veterans and provides them preference in the hiring process. To apply for a career at U-Haul, visit uhauljobs.com.
As part of its community outreach, U-Haul also supports partner organizations that promote veteran causes and honor their legacies.