In the bustling corridors of central Phoenix, you will find the main campus of longtime U-Haul charity partner St. Vincent de Paul. The dedicated nonprofit provides food, clothing, shelter and medical/dental resources to community members experiencing homelessness.
Recently, several U-Haul Team Members from the U-Haul Midtown Campus in Phoenix and U-Haul Technical Center in Tempe volunteered part of their Saturday at this campus, preparing and serving a delicious Italian lunch to hundreds of people in need.
Ready and Willing to Serve
Still adhering to COVID-19 safety protocols, volunteers were assigned to prep individual food containers instead of regular cafeteria-style meals.
"Even though we weren't able to serve food to diners in the traditional way, we still got to talk with them and get to know them," U-Haul supply coordinator Vanessa Delcid said. "By meeting these people and seeing how grateful they were, it made me realize how lucky I am to have so many opportunities and blessings in my own life. I felt really happy and proud to be there.
"This was my first time helping out at St. Vincent de Paul and I plan on going back. I understand when people say that they're too busy to participate in volunteer events. But I think everyone can make time to volunteer at least once through U-Haul or another group. It's an eye-opening experience, and you can even bring your family members along. I recommend giving it a try."
Taking Time to Give Back
U-Haul Retail Sales analyst Frances Tapia and her daughter, Nallely, are longtime SVdP volunteers. However, due to the pandemic, the campus dining room pivoted to a drive-through model. It was operated without volunteer assistance until late last year.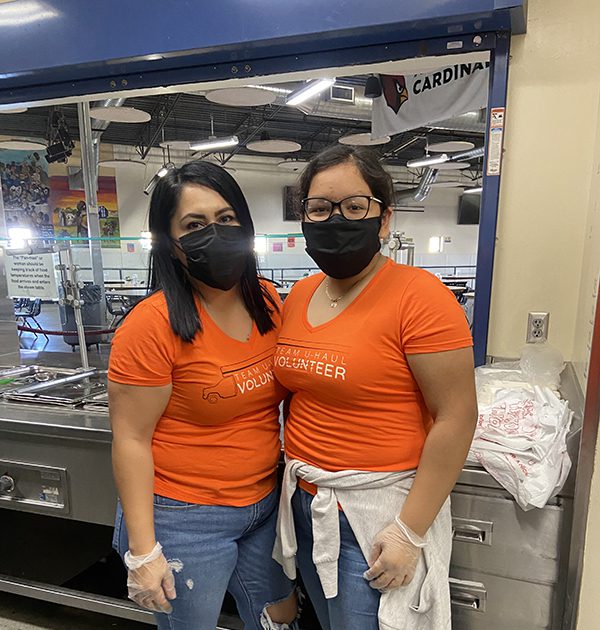 "When we heard that Team U-Haul was going to start serving meals at St. Vincent de Paul again, Nallely and I knew that we had to get involved," Tapia said. "Volunteering at St. Vincent de Paul is such a wonderful, fulfilling experience. We were both looking forward to being part of that community once more."
While there, Tapia and Nallely opened and stacked plastic bags to hold meals and snacks and served food to hundreds of residents throughout the day. For Nallely, it was an opportunity to spend valuable time with her mom and to give back to others, all while fulfilling an important school requirement.
"At my high school, students have to complete 50 hours of volunteer service before graduation," Nallely said. "I'm also part of the National Honor Society, which means that I have an additional 25 hours of service to complete. I'm really grateful that mom's job allows me to volunteer alongside her, which helps me to get the service hours I need."
"Nallely and I are going to keep volunteering at St. Vincent de Paul, and at all the other volunteer events that U-Haul sponsors," Tapia added. "Because of the different service projects that are available through U-Haul, I don't have to search for opportunities where Nallely's age wouldn't be an issue. I grew up in a family that prioritized service, even when we had very little ourselves. My parents instilled those values in me, and I'm working hard to pass them on to my daughter. I want her to know that no matter how much or how little you have, taking time to serve others is a lifelong pathway to happiness and growth."
To read about previous St. Vincent de Paul volunteer events, click here.