TEMPE, Ariz. — On a crisp, clear Sunday morning in the heart of downtown Tempe, U-Haul Team Members gathered with thousands of people to run/walk/wheel 4.2 miles at the 18th annual Pat's Run.
Pat Tillman was a football star at Arizona State University and an NFL starting safety for the Arizona Cardinals. After the 9/11 terrorist attacks, Tillman left the security, fame and wealth of the NFL to enlist in the U.S. Army.
Tillman served two tours in Iraq and Afghanistan before devastating events on April 22, 2004, took his life. To honor his courage and heroism, Tillman's family and friends created the Pat Tillman Foundation, which provides academic scholarships to military veterans and their spouses through the Tillman Scholars Program. Pat's Run is the foundation's signature fundraiser.
U-Haul has sponsored Pat's Run since 2010, generously paying the entrance fees for all Team Members who wish to participate and regularly providing trucks, self-storage and boxes to event organizers. U-Haul also contributes to the Pat Tillman Foundation by providing necessary in-kind resources for Tillman Scholars who are looking to move for school, work or other circumstances.
Coming Together
Salvador Ceja, U-Haul Safe Driver Program manager, had previously participated in a virtual Pat's Run event. But this year was his first time to be in-person.
"My wife and sisters also wanted to participate, so we all signed up together," Ceja said. "Once we arrived at the event, we were amazed by how many people we saw. There were literally thousands of individuals of all ages and backgrounds, all coming together to honor Pat Tillman and the values he stood for.
"As a veteran, learning about Pat and how he left behind an incredible career to serve his country is truly awe-inspiring. I'm so grateful for the heroes like him who put it all on the line for us every day, and I'm proud to be part of a Company that honors veterans, military members and their spouses."
Pat's Run for Everyone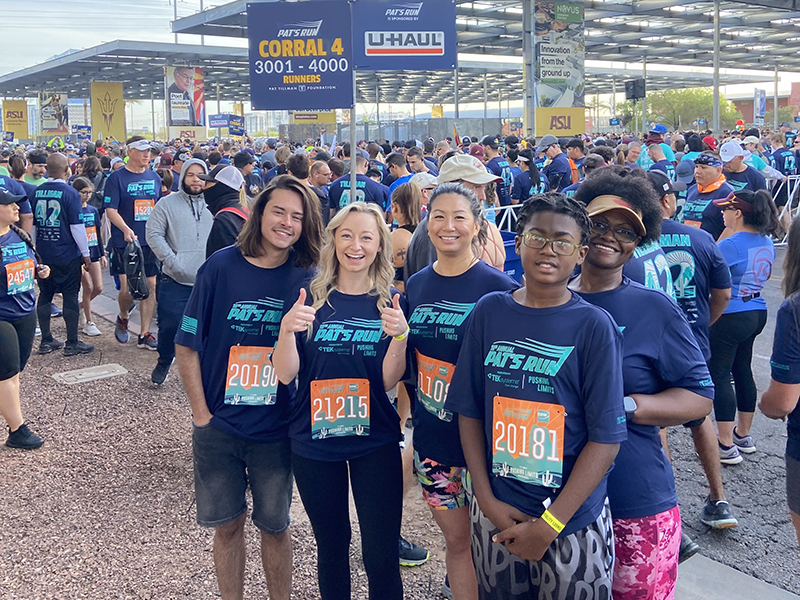 Beverly Liu, product manager for Ponderosa Insurance Agency (Safestor Tenant Insurance), has participated in Pat's Run four times. She declared this one was the best so far.
"I love everything about Pat's Run, but my favorite part is the high-powered energy you feel from the other participants," Liu said. "Everyone constantly motivates and cheers each other on. It really inspires you to do your best. When you cross the finish line on the 42-yard line of ASU's Sun Devil Stadium, and you hear the crowd roaring, it makes you feel like you're on top of the world.
"Pat's Run is for everyone. Pat Tillman left a legacy of doing the right thing even when it's difficult. Participating in this race is the perfect way to keep that legacy alive. The race might not be easy, but it's 100% worth it. I'm so glad I did it."
To read U-Haul posts about previous Pat's Run events, click here.