On Memorial Day, U-Haul Team Members across the U.S. took time to honor service members who made the ultimate sacrifice for our country.
From small towns like Mystic, Conn., to sprawling urban corridors like Washington, D.C., Team U-Haul marched through their communities in local and national Memorial Day parades. They carried banners, waved at patriotic onlookers and handed out American flags, proudly honoring the meaning of Memorial Day by paying tribute to our countries' fallen heroes and the families they left behind.
United We Stand
Pat Goodwin, U-Haul Company of Maryland president, has represented U-Haul at the National Memorial Day Parade in Washington, D.C. since 2008.
"Since U-Haul was one of the parade's first sponsors, I and a few other Team Members were asked if we could build a U-Haul float for the 2008 event," Goodwin said. "More and more Team Members signed up to help. Before long, we had a float and plenty of people to march with it. Every year since then, Team Members from Co. 819 and surrounding marketing companies have eagerly volunteered their time to participate in this remarkable event."
As a founding sponsor, U-Haul is involved in the day's events from beginning to end. Team Members walk the parade route through D.C. while waving flags and presenting the U-Haul banner – which honors fallen veterans and their families. They are flanked by 10-foot U-Haul trucks emblazoned with commemorative SuperGraphics representing the U.S. Army, Navy, Marines, Air Force and Coast Guard that make their way in tight formation down Constitution Avenue.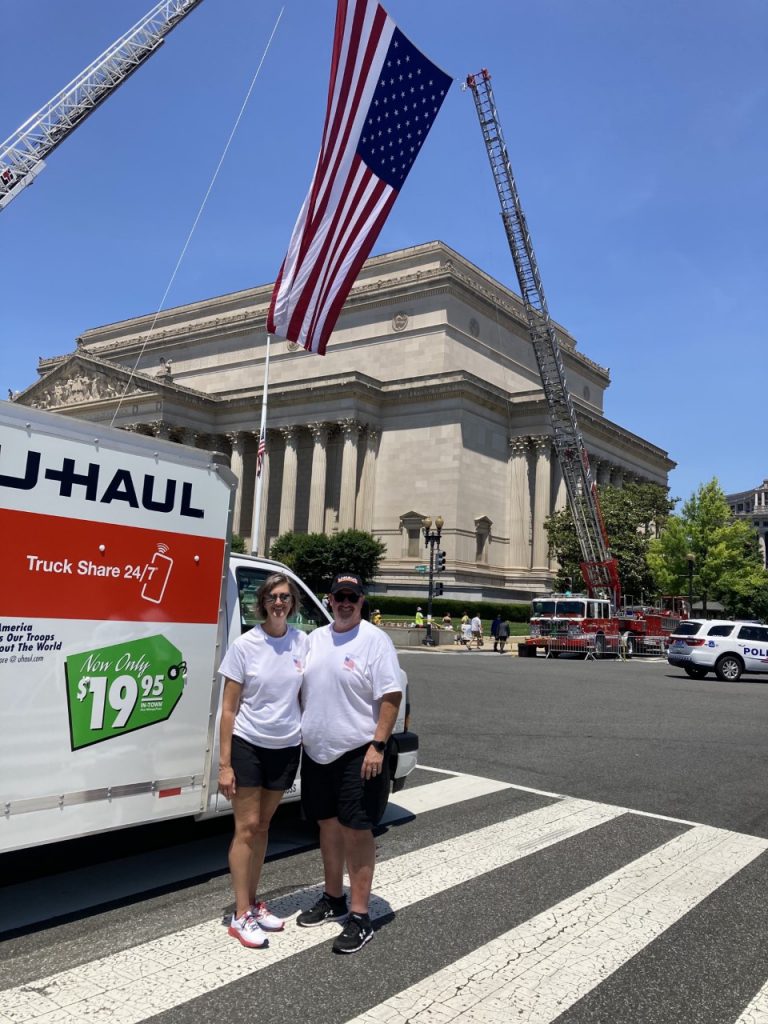 "As a veteran, seeing thousands of people consistently participate in this parade, whether they're walking the route or watching from the sidelines, touches my heart and reassures me that the men and women we honor on Memorial Day will never be forgotten," Goodwin said. "They paid the ultimate price to secure our way of life. It's a debt that we can never repay … but we can always pay tribute to them and what they did for us."
"As we make our way through our nation's capital, surrounded by solemn veteran memorials, it fills me with gratitude for everyone who has answered the call to serve," added Russell Tolley, U-Haul Company of Western Maryland president. "While the purpose of this day – to honor those who gave their lives – is a heavy one, it brings me great joy to see people of all ages waving the American flag and cheering on behalf of our nation's heroes."
Seth Nichols, vice president of Development for the American Veterans Center, which organizes the national parade, is grateful to those who remember the significance of Memorial Day.
"If I could have one wish, it would be that everyone take just a moment to remember those who died … and who by doing so, gave us the freedom to live in peace," Nichols said. "The main goal of the National Memorial Day Parade is to help people remember and focus on these things. It's thanks to partners like U-Haul that we've been able to make the parade so successful. U-Haul has been an absolutely phenomenal partner and we look forward to working with them for many years to come."
A Little Goes a Long Way
About 360 miles away from D.C., Ryan Baron and his team drove to the Connecticut town of Mystic to participate in a local Memorial Day parade with decorated U-Haul trailers and an area field manager's rig in tow.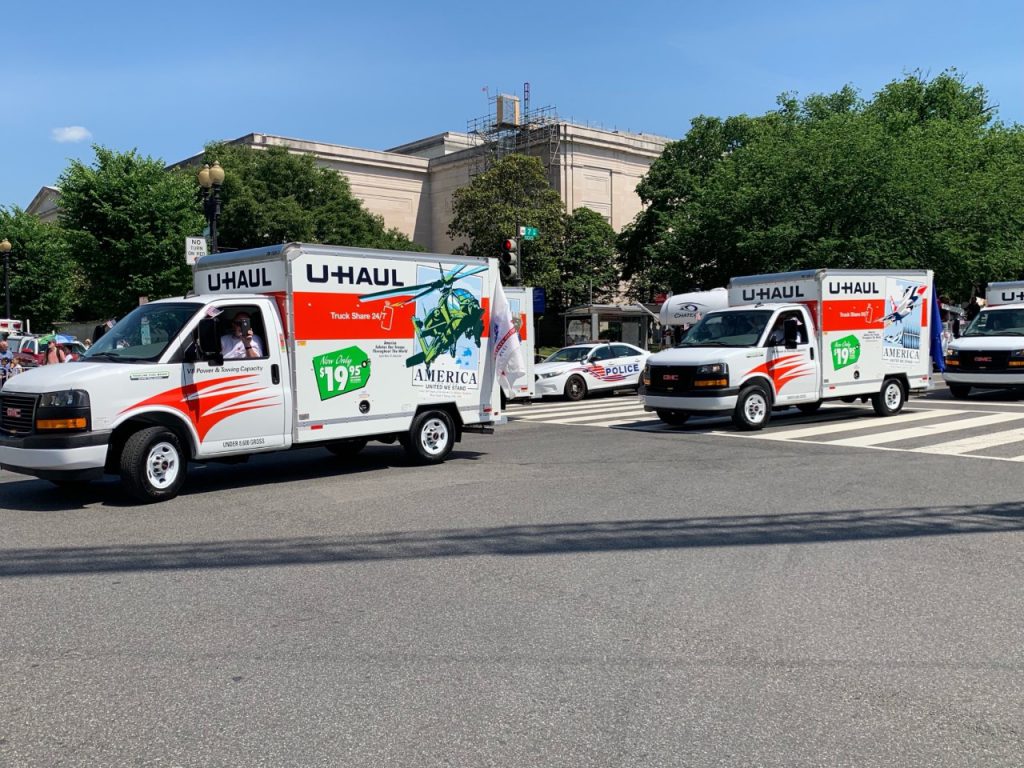 Baron is general manager of U-Haul Moving and Storage of Groton (Conn.).
"This was our team's first time representing U-Haul at an event like this, so we were very excited," Baron said. "We knew that this would be a great way to build friendship and understanding with the local community. We wanted to do our part to honor fallen veterans and their families."
During the 45-minute parade, a few members of Baron's team towed the trailers along the route while others distributed American flags and fliers to the 800 parade attendees. Afterward, the team returned to their Groton store for a Memorial Day cookout.
"Participating in the parade was really impactful for my team and me," Baron added. "By taking the time to acknowledge and be grateful for the people who gave their all for us, we were able to look outside ourselves and grow closer as a group. If I could give any advice to members of Team U-Haul who want to do something similar, I would tell them to find small and simple ways to show gratitude for our fallen heroes. A little goes a long way. I think it really means a lot when we take a moment to honor and recognize these individuals. Our country was built on their sacrifices, and that's something I want to always remember."
Click here to read about Pearl Harbor's historic Ford Island Control Tower opening to the public for tours over Memorial Day weekend, and how U-Haul played a special role in making that possible.