As a brand-new moonlighting customer service representative (CSR) at U-Haul Moving and Storage of Whitehall, Richard Henery quickly realized that being part of Team U-Haul would be a very different—and better—experience than his previous jobs.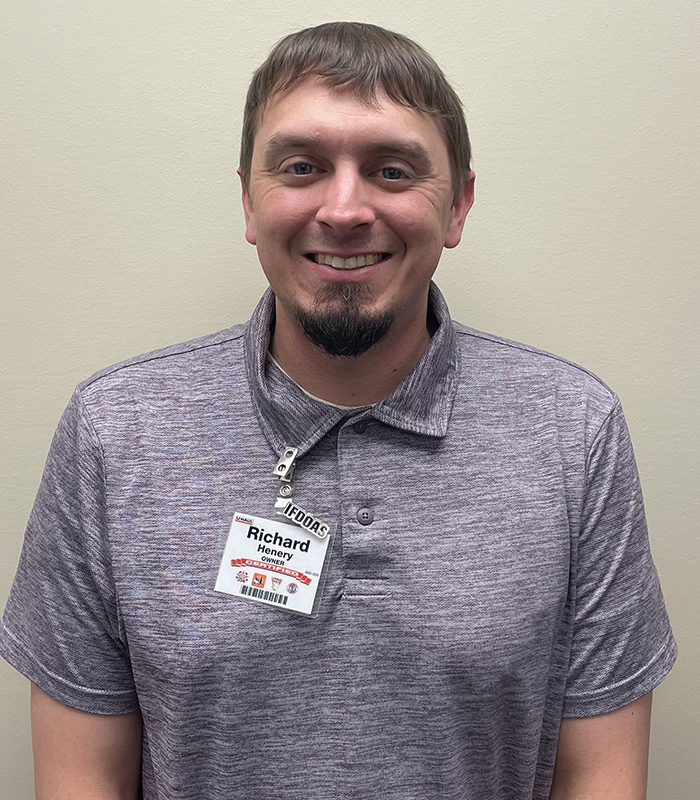 "The majority of my previous part-time jobs were monotonous with little room for growth, and I was ready to find something better," Henery proclaimed. "When I became a CSR, I was given the freedom to make decisions that would best serve our customers, as long as I continued to follow the basic guidelines for success that U-Haul had put in place. That was such a fun, new experience for me, that I decided I wanted to become a full-time Team Member."
Fifteen years later, Henery has taken on yet another exciting growth opportunity as the newest marketing company president (MCP) of UHC of Dayton (Co. 869). He is assuming the role previously held by Mark Quinn, who is now MCP of UHC of Cincinnati (Co. 770).
Striving for excellence
Throughout Henery's U-Haul career, he has learned and progressed in many different roles, including general manager (GM) and field relief manager (FRM) at the Whitehall Store, and executive assistant (EA) and area field manager (AFM) for UHC of Central Ohio (Co. 769). Now, he plans to use his 15 years of U-Haul know-how (KH) to bring about growth in all areas of Co. 869 … from broadening its customer base to helping its Team Members gain new and essential skills.
"The only surefire way to grow our customer base is to keep providing high-quality service," Henery affirmed. "I plan to encourage every member of the Co. 869 Team to read their location's reviews and to use them as a guide for improving their customers' experiences at the point of sale. In addition, I want to use the amazing professional-development resources that U-Haul has provided—such as U-Haul University (UHU) courses—as tools to help the Co. 869 Team feel even more empowered in their individual responsibilities.
"If we want to keep providing the best service around, we can't remain stagnant," Henery emphasized. "We need to be growing and getting better every single day. That is the only way we'll be able to meet our customers' needs."
"A wide breadth of knowledge"
District 31 Area District Vice President (ADVP) Anthony Jones III believes that Henery's wide-ranging U-Haul career will help him effectively relate to the Co. 869 Team.
"As a former AFM, FRM, GM, EA and CSR, Richard understands many of the concerns that individual Team Members face on a daily basis," Jones explained. "He possesses a wide breadth of knowledge about all things U-Haul and knows how to put that knowledge to work to benefit others.
"With Richard at the helm, I envision Co. 869 building upon the successful foundation that Mark laid as its first MCP, and seizing opportunities to establish an even stronger presence in areas where we still have plenty of room to grow," Jones continued. "Richard is a patient, focused Team Member who bleeds orange through and through, and I am fully confident that he will be a superb leader in the Dayton area."
"As I step into this new role, I want to thank Co. 769 MCP Dean Haske, UHC of Southeast Ohio (Co. 928) MCP David Ruff and Shop Manager Steve Strunk at Columbus RERS (Shop 109) for the wisdom, honesty and support that they each provided me throughout my career," Henery expressed. "As mentors and as friends, they gave me the flexibility to learn new things, and the guidance to make good decisions along the way. I hope to be as great of a mentor and benefit to my team as they have all been to me."