Andrew Wagner has been named the marketing company president of U-Haul Co. of Southwestern Wisconsin and Rockford (Co. 749).
When Wagner joined U-Haul in 2019 as a moonlighting customer service representative at U-Haul Moving and Storage of Lake Hallie in Chippewa Falls, he had already spent several years working full-time as a service manager at a used-car dealership.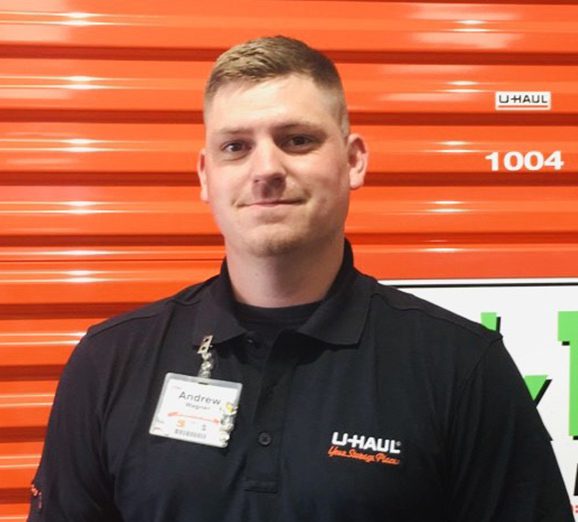 "I loved my auto-industry career, and wanted to earn some supplemental income in a similar field," Wagner said. "However, the longer that I worked at U-Haul, and the more that I learned about their customer-centric way of doing business, the more that I was drawn to it as a long-term employment option. When a general manager position became available at U-Haul Moving and Storage of Eau Claire, I made the leap to a brand-new career and never looked back."
Since then, Wagner's bold decision has paid off many times over. Two-and-a-half years after becoming a full-time U-Haul Team Member, Wagner is an MCP.
"I was like a dry sponge when I joined Team U-Haul, and I have been soaking up all of the know-how I can ever since," Wagner said. "While my responsibilities have changed over these past three years, the one thing that hasn't changed is my love of helping families and making a difference. That's what initially drew me to U-Haul, and what motivates me to do the best I can every single day."
Making Waves in Wisconsin
While U-Haul is an established presence in many areas of Co. 749, Wagner is fully confident in his team's ability to continually grow and expand to meet customer demand.
"I want to work with every area field manager in Co. 749 on a hands-on level to broaden our network of neighborhood U-Haul dealerships," Wagner said. "Since I haven't served as an AFM, I'm eager to learn the ins and outs of the role and gain a greater understanding of what I can do to best assist AFMs and dealers."
Wagner also plans to strengthen the company's self-storage network.
"As we focus on these two pillars of growth, I'm fully confident that Co. 749 will reach greater heights of success than ever before," Wagner said.
A Learner and Doer
"Even though I've only been a Team Member for a relatively short time, I've had the privilege of learning from several U-Haul mentors," Wagner said. "MCP Ken Heitman of UHC of Northern Wisconsin and the UP (Co. 868), who was a consistent source of wisdom and support during my time as a CSR and GM, definitely stands out. In addition, District 16 Area District Vice President Heather Skelton has been a delight to work with, and always goes above and beyond whenever I need assistance. And who could forget GM Paul Zillmer at the Lake Hallie location, who gave me my first-ever U-Haul opportunity?
"These and countless other individuals have made me the team member I am today," Wagner said. "And for that, I am profoundly grateful."
Said Skelton: "Andrew's energy and passion are contagious. He motivates everyone on his team to do their absolute best, while making sure that they have all the tools they need to succeed. He has a stellar team in place in Co. 749, and I look forward to watching them grow U-Haul Company's presence throughout the region."