Monique Harty has seen her title and duties grow at U-Haul International, recently being named Wellness and Recruiting manager.
From the day Harty (formerly Wantland) joined U-Haul in 2016, she has worked to enhance the Company's culture of health and wellness to help Team Members live their best and healthiest lives.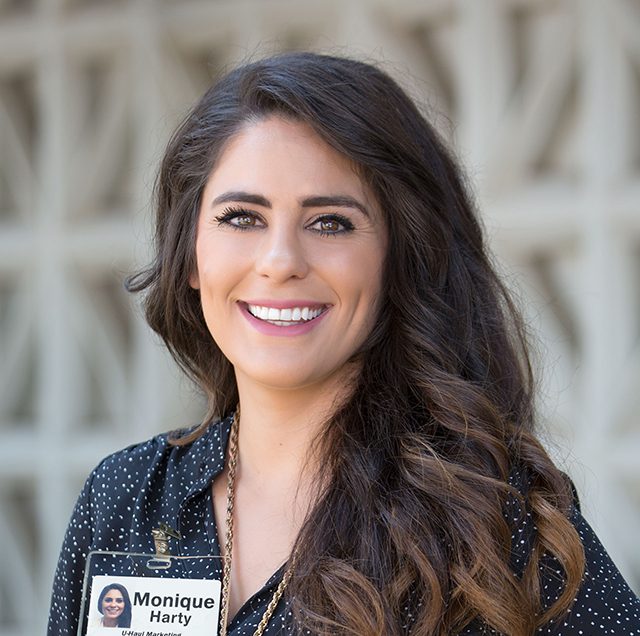 Her efforts have contributed to U-Haul earning several Healthiest Employer honors throughout the U.S. and Canada. This culture of health and wellness has gone a long way toward attracting and retaining many Team Members.
Now Harty plans to push those efforts by leading the U-Haul Recruiting Team in her expanded role.
"A big part of recruiting and attracting good people is promoting our culture of health and wellness," Harty said. "U-Haul is already a household name, so promoting our efforts as a healthy employer is another natural recruitment tool. People see that our company goes above and beyond to provide amazing health benefits and cultivate a culture of health and wellness."
Natural Connection
Harty was initially the wellness marketing specialist in 2016, and she was promoted to program manager in 2018. Now she has recruiting added to her daily responsibilities.
"We promote health and wellness because we care about our Team Members, first and foremost," Harty said. "We want Team Members to feel appreciated and be a part of the U-Haul family, and we want potential new Team Members to see how much we care about people. I am honored to be a part of this team."
As part of her new responsibilities, Harty plans to develop and build new tools to help the Recruiting team attract the best candidates.
"We will work to improve the ways we provide our field teams and others with the support they need to fill their positions with people who are the right fit and who want to become part of the U-Haul family," she said. "Also, I plan to build more relationships with universities, trade schools and others in our communities to ensure that U-Haul remains a top name for potential Team Members."
"Within five years of Monique's leadership of the Wellness program, U-Haul was recognized as one of the top 15 healthiest companies to work for because she listened to Team Members, dove into our claims and created programs specifically targeting real health concerns within our organization," stated U-Haul Chief of Staff Jessica Lopez. "Monique is a natural leader who drives results. She walks the walk. She is caring, trustworthy and always goes above and beyond."
First Impressions are Vital
The job market right now is more competitive than it has been in many years — perhaps ever. Because recruiting is often the first point of contact for most job applicants, it's vital to make a great first impression.
"Monique understands this," Lopez added. "For years, she has worked to retain Team Members by enhancing our culture of health and wellness, and now she will also work on attracting new talent. She understands that we need to provide hiring managers with the best talent and tools possible to fill their open positions.

"Also, I believe that Monique will make it her mission to make sure applicants are knocking down our door. And at the same time, she will stop at nothing to make sure people know that U-Haul is the best place to work. It's been amazing to watch Monique grow her career here at U-Haul, and I think the best is yet to come."