Each year in the U.S., hundreds of thousands of military members separate or retire from the armed forces and transition into the next chapter of their lives.
Many of these service members — along with their spouses — are eager to find rewarding civilian jobs, but often struggle to find employers who understand and appreciate their unique skill sets.
U-Haul, cofounded by a WWII U.S. Navy veteran and his wife in 1945, owes its existence to the courage, determination and grit that veterans and military spouses so abundantly possess. That is why it actively recruits veterans and their spouses, and gives them preference in the hiring process.
In honor of National Hire a Veteran Day, which occurred on July 25, U-Haul is proud to shine a light on its dual commitment to employing veterans and military spouses, and ensuring that they go on to have successful careers.
A Great Honor
As U-Haul Wellness and Recruiting Manager, Monique Harty encourages her team to actively seek out as many veteran and military-spouse-recruitment opportunities as possible.
"From the annual Marine Corps Marathon in Arlington County, Va., to job fairs, military-base visits and other virtual and in-person recruiting activities, my team constantly works to build connections with veteran and military-spouse job seekers," Harty said. "Veterans and their families dedicated themselves to protecting and preserving our freedoms. The least we can do is to provide them with meaningful employment opportunities."
Thanks to the Company's efforts, Team U-Haul has received widespread public recognition for its efforts to attract and keep veteran and military-spouse talent. In 2022, Team U-Haul was designated an official Military Friendly Employer by the Military Friendly Company and was ranked No. 8 in the Military Friendly Brand award category.
The Military Friendly Company identifies and ranks organizations whose commitment to serving the military and veteran community is comprehensive in scope and meaningful in outcomes and impact.
U-Haul Company's high ranking was based on the Company's preference for hiring veterans and military spouses, as well as the numerous support programs it offers. These include education assistance and comprehensive resources to address mental health through its "You Matter" Program with counseling partner ComPsych.
"This recognition is a great honor, because it proves that the work we're doing in the Recruiting team and throughout the Company is having a real, positive impact on Team Members' lives," Harty stated. "Team U-Haul is proud that so many veterans have chosen the Company as their career home, and we hope to encourage even more veterans and military spouses to join the U-Haul family."
Helping Vets Succeed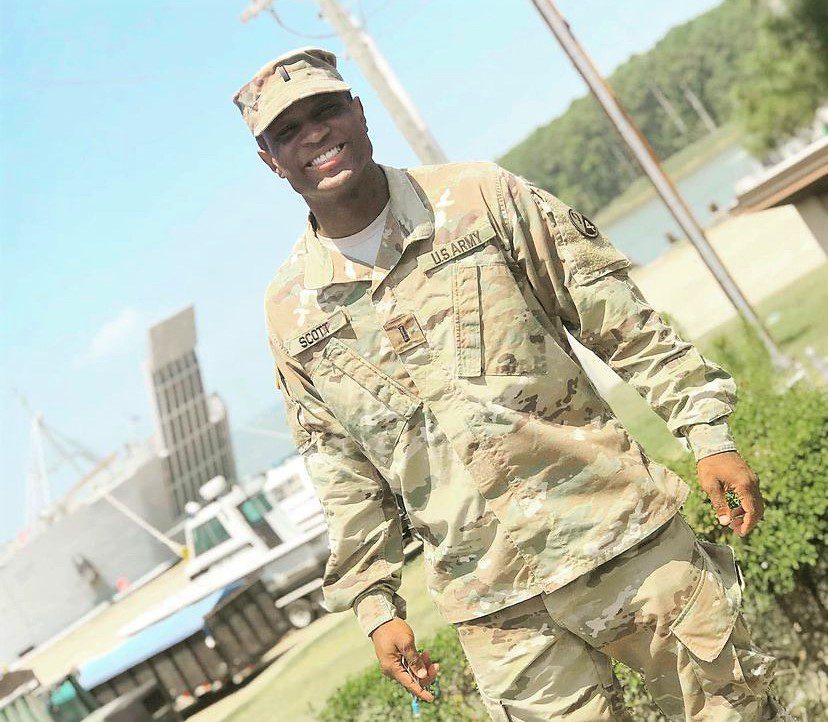 U-Haul Corporate and Technical recruiter Jaris Scott joined U-Haul a few months ago, after serving on active duty for the U.S. Army in Texas, Washington, D.C., and several locations within the Middle East.
Now, as a member of the U.S. Army Reserves, he utilizes his military background to connect with and assist veteran and military-spouse applicants who are looking to join U-Haul.
"My U-Haul journey has been phenomenal so far," Scott noted. "I love working in an environment that is wellness and family-oriented, and that provides opportunities for me to work with and serve other veterans. In addition, U-Haul Team Members are openly appreciative of all veterans and military spouses, whether they served several decades ago or just returned from active duty. All in all, I can confidently say that U-Haul is a great veteran and military-spouse employer.
"When working with applicants with a military background, I always encourage them to highlight the diverse skills that they gained from military service, as well as the intangibles — like their work ethic, punctuality and dedication to excellence — that will set them up for long-term success in their chosen careers. I know that prioritizing veteran and military-spouse employment has immeasurable benefits for both the new hires and the organizations who hire them. I'm so glad that I get to be on the front lines of helping to make that happen."
To learn more about U-Haul Company's commitment to supporting veterans and military spouses, visit uhaul.com/about/veterans.