U-Haul, a longtime St. Vincent de Paul charity partner, recently had the privilege of participating in the organization's annual 100 Days of Summer initiative. This program seeks to provide food, water and shelter to community members who have an urgent need during Arizona's scorching summers.
U-Haul Team Members have stepped up to help this vulnerable population, staffing the phone bank at the ABC15 Water Drive on behalf of St. Vincent de Paul; hosting water drives at U-Haul locations across the Valley; and preparing and serving meals to people experiencing homelessness at the St. Vincent de Paul's main campus in south Phoenix.
Thanks to their hard work, along with the hard work of many other St. Vincent de Paul partners, thousands of people were able to have their basic needs met to survive the hottest time of year.
Raising Awareness
The ABC15 Water Drive is a month-long, bottled-water drive that includes a three-hour televised phone bank to kick everything off. As ABC15 aired multiple live spots encouraging viewers to contribute, members of Team U-Haul took hundreds of calls from generous Arizonans whose hearts were touched by what they were seeing on TV. Whenever Team Members were not taking a call, they waved and smiled at the camera, holding "Call Me!" signs to encourage even more viewers to participate.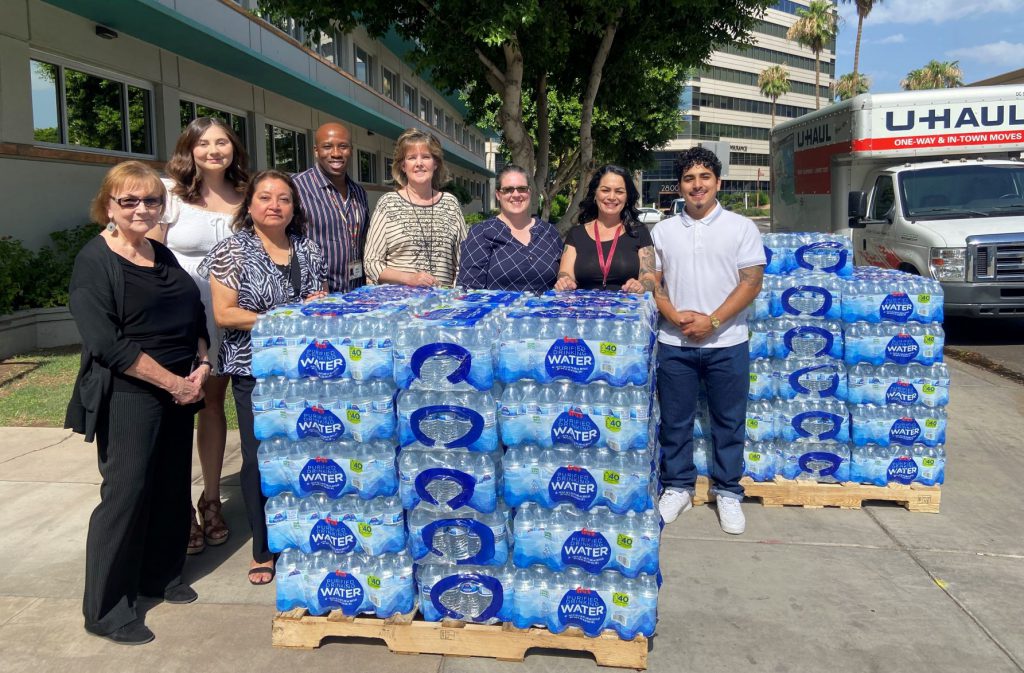 "Team U-Haul has consistently been our most reliable partner in staffing the phone bank each year, and we are deeply grateful for all of the work that they do," said Marisol Saldivar, St. Vincent de Paul Public Relations and Brand Manager. "(U-Haul volunteers) are incredibly cheerful and always willing to help, and they play a vital role in ensuring that the phone bank is successful. Thanks to them, as well as ABC15 and our other water-drive partners, we were able to easily surpass last year's donation numbers."
Team Members also organized water drives at the U-Haul Midtown Campus in Phoenix and the U-Haul Technical Center in Tempe. More than 4,500 bottles of water were collected at these sites, not including a U-Haul contribution to purchase five additional pallets worth of water presented to St. Vincent de Paul on the night of the ABC Water Drive coverage.
"It's so important to make sure that all people have enough water to drink, especially during these brutal Arizona summers," stated Sarah Medrano, U-Haul Tech Center administrative assistant. "Team U-Haul selflessly came together as one to help fulfill this widespread need in our community. I am proud to be a part of such a caring and generous group of people."
Nourished Bodies, Happy Hearts
In addition to participating in and sponsoring water drives, U-Haul Team Members volunteered to serve lunch to those experiencing homelessness. On a recent Saturday morning, Team Members from across the Valley arrived at St. Vincent de Paul's campus and set about preparing and serving hundreds of meals.
"I have volunteered at St. Vincent de Paul in the past, but this was my first time serving lunch there," said Lupe Munoz, U-Haul Litigation Paralegal. "It was such a fun experience. I was able to hand out the lunches to each guest as they arrived. I really enjoyed saying 'hello' and getting to know them.
"As I chatted with people as they came down the line, I couldn't stop thinking about how easily I, or anyone else, could be in that situation. It had a profound impact on me and made me even more grateful for everything that I have. I am so glad that there are places like St. Vincent de Paul that nourish and care for people in need, and that I was able to play a small role in bettering people's lives because I took the time to go there and serve. Everyone should give it a try."
To read more about past St. Vincent de Paul volunteer events, click here.
To learn more about the 100 Days of Summer initiative and how you can make a difference, click here.