As the newest marketing company president of U-Haul Company of Northwest Chicago Suburbs (Co. 739), Jeff Jones plans to focus on the principles of responsibility, authority and accountability that have helped him succeed throughout his U-Haul career.
"From day one, I have been given the responsibility and authority to do my job well and have been held accountable by leaders for my performance," Jones said. "As MCP, I want to help everyone in Co. 739 feel that they have the same RAA in their respective roles, and that they are empowered to act in our customers' best interests."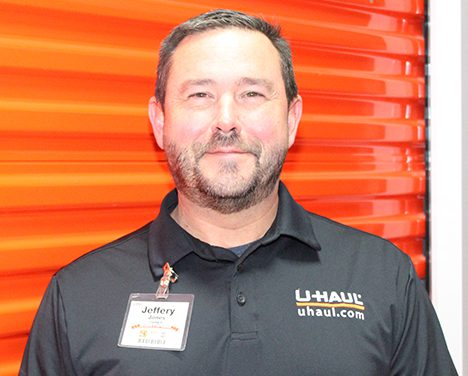 Over the past seven years, a focus on serving customers has motivated Jones to seek out all the U-Haul know-how he can. As general manager of U-Haul Moving and Storage of Spring Hill, he and his team prioritized learning all about U-Haul, especially everything that fell within the scope of their daily responsibilities.
"From hitch installation to propane management and self-storage best practices, we wanted to learn it all," Jones said. "As I familiarized myself with U-Haul over the years, I grew more confident in my understanding of the Company, my role within it, and how all of the programs, policies and procedures functioned on a larger scale."
Opportunities and Rewards
To Jones, every day of his U-Haul career has been unique, but the overarching purpose—to Make Moving Easier—remains the same.
"Each day at U-Haul brings its own challenges and rewards," Jones said. "That's what makes it such a dynamic team to be a part of. On top of that, each day brings new opportunities for me to problem-solve and to serve others, which motivates me to continue doing my best. I know that everything we do here at U-Haul has a real, significant impact on people's lives, and I am grateful and proud to help.
"As I move forward in this role, I plan to build on the foundation of high-quality service that was laid by previous Co. 739 MCP and current District 16 Area District Vice President Heather Skelton. She has been an incredibly generous mentor to me over the years and is always willing to share her KH and expertise. I know that as we dedicate ourselves to fulfilling the words of the Primary Service Objective — to provide a better and better product and service to more and more people at a lower and lower cost — we will continue to reap success in all its forms."
"If I had to pick Jeff's No. 1 strength as a leader and Team Member, it would be his willingness to jump in and serve whenever and wherever needed," Skelton added. "He is always ready to lend a hand, and he makes sure that everyone on his team knows that they can reach out to him for assistance. Jeff has a fantastic team in Co. 739, and I anticipate outstanding results from them for many years to come."