With more than a decade of experience under his belt, Kyle Royer is ready to take on a new challenge and expand his U-Haul role as Vice President of Rates and Distribution.
"Since I started my career at U-Haul, I've had the opportunity to work in various parts of the Company," Royer said. "I've been able to gain a lot of perspective in each position and have been lucky to have great leaders in each of those roles."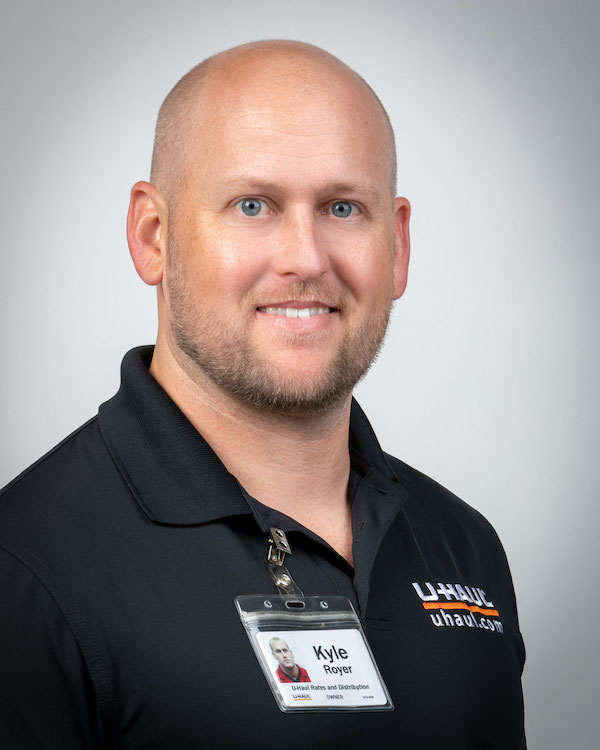 In February 2009, Royer joined Team U-Haul as a customer service representative (CSR) at U-Haul Moving and Storage of North Scottsdale (Ariz.). In 2011, he became a research assistant for the U-Haul Internal Audit Department before stepping into the role of auditor.
Royer has held program manager positions in Field Operations Support, Technology Administration and Rates and Distribution, working closely with Software Development teams to help advance the way U-Haul serves customers.
"Since he began his U-Haul career, Kyle has worn a multitude of hats, including establishing U-Haul Company's customer database, updating and vastly improving our electronic customer service form, coordinating strategic planning for technology advances for uhaul.com, Point-of-Sale, Advanced Microtraffic, Rates Manager and more," John "J.T." Taylor, President of U-Haul International, stated. "He has a vast knowledge of how our organization and systems function and operate … although, I think he would be the first to say that he has much more to learn and understand.
"Kyle is an exceptional problem-solver, who works from the facts and isn't afraid to find solutions that don't always adhere to the status quo. I have worked much more closely with Kyle since he joined the Rates and Distribution team as a program manager and know him to be motivated, interested, curious, hardworking, creative and committed to positive results and success. While we have shared in some very nice successes, we have much work to do to continue to grow and achieve even greater results. We will need to move forward as a team with unified direction. I am counting on Kyle to dig in, working with all U-Haul Team Members to develop strategies and tactics that will push us forward."
Royer confirmed this direction, citing three specific areas of focus.
"I'm excited to take what I have learned throughout the years and apply that knowledge to my new role in Rates and Distribution," Royer said. "I have many goals, but in the beginning, my day-to-day focus will be on the basics: communication, collaboration and supporting the field."