Chris Alcon, a storage facility housekeeper at U-Haul Moving and Storage of East Cheyenne (Wyo.), is known and loved for his big smile and positive attitude. He tells jokes, gives hugs and works hard to ensure that his center's self-storage rooms remain clean and ready for U-Haul customers.
Though Chris has Down syndrome, it doesn't stop him from leading a fun and fulfilling life. In addition to being a top-notch U-Haul Team Member, he is an experienced bocce ball athlete and has competed for years at events across the country.
Chris was recently given the opportunity to represent the state of Wyoming at the 2022 Special Olympics USA Games, which were held in Orlando, Fla. However, his mom, Judy, did not have enough money to travel to Orlando with her son.
"I was so proud of my son, but a little heartbroken that I wasn't going to be able to share such a special moment with him," Judy said. "He and I are best friends, so I wanted to be there in Orlando to cheer him on."
Judy shared her feelings about the situation with former U-Haul general manager Suzy Armitage, who had hired Chris in 2016. Armitage contacted District 23 Area District Vice President Doug McIntier and quickly brought him up to speed.
"As soon as Suzy told me what Chris's mom was going through, I knew that District 23 needed to help," McIntier said. "Chris is a valued member of Team U-Haul, and we all appreciate him. The least we could do is provide him and his mom with the funds to go and have an unforgettable trip together."
"A beautiful, emotional moment"
McIntier quickly put together a fundraising page to which District 23 Team Members could donate. The page was published and shared, and the donations immediately began to roll in.
Team Members' individual donations were matched by an official donation from U-Haul Company of Wyoming, since Chris is part of that marketing company.
"Within 36 hours, we had more than enough money to send Judy to Orlando," U-Haul Company of Wyoming president Paul Johnson said. "We decided to use the extra money to make Chris's and Judy's trip even more special, so we bought them two Disney World tickets. They don't get many opportunities to travel, and we wanted to pull out all the stops on their behalf."
Once the donations were finalized, Johnson asked Judy to visit the East Cheyenne store, where he presented her and Chris with a check.
"It was a beautiful, emotional moment, and everyone in the store was deeply touched," Johnson said. "Judy's an absolute sweetheart, and it was a pleasure to bring joy to her and Chris. They're both part of our U-Haul family, and family never hesitates to help and lift each other."
Adventures in the Sunshine State
Finally, the day arrived for Judy and Chris to travel to the Games. To assist Judy with transportation and logistics, Armitage and two of her sisters accompanied them throughout the trip.
Each day, Judy, Armitage and her sisters enthusiastically cheered Chris from the stands as he competed in front of thousands of spectators. By the end of the Special Olympics, he had won a silver medal in bocce ball singles and took sixth place in the doubles competition.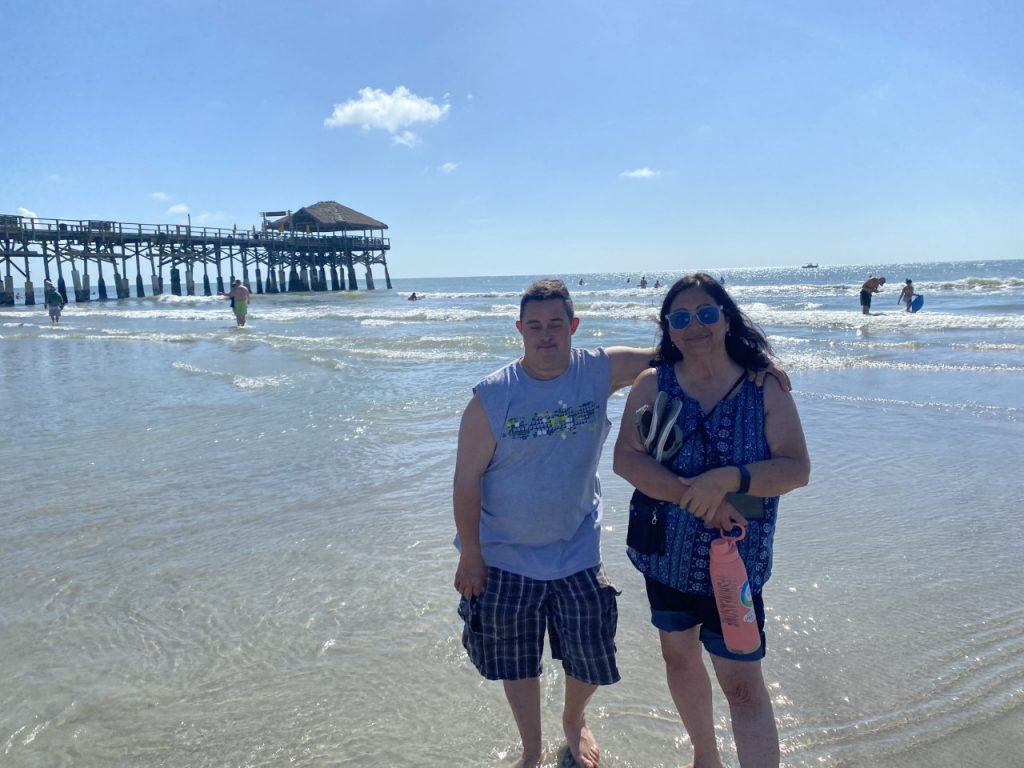 "There's no doubt in my mind that Judy's presence at the Games inspired and motivated Chris to succeed," Armitage said. "During the opening ceremonies, you could see him looking around for his mom, and he was so happy once he finally saw her. They really mean the world to each other."
Afterward, the group spent the rest of the trip exploring the best of what Florida has to offer, including Disney World and Cocoa Beach. For Judy and Chris, who had never before seen the ocean, their Cocoa Beach adventures were an all-time highlight.
"Chris got to walk in the ocean for the first time, and he absolutely loved it," Judy said. "We then took a boat tour to spot some dolphins and manatees, and the captain even let Chris steer the boat. It was one of the most amazing experiences Chris and I have ever had."
Judy feels grateful to U-Haul for making these unforgettable memories possible for her and Chris.
"U-Haul is a great company, and I love the way that they treat my son," Judy added. "I think very highly of U-Haul, and I've told everyone I know about what they did for us."