U-Haul Co. of Miami (Co. 787) president Orismel Alvarez has nothing but good things to say about hitch pro Stanley Davis, whose career successes serve as a road map for other Team Members.
"Stanley has a tremendous amount of know-how. Not only as a hitch pro, but as an expert in providing excellent customer service for the products and services we offer," Alvarez said.
He went on to explain that Davis brings the same high level of energy to work every day and is always willing to say 'yes' to every customer.
"Stanley creates a very positive atmosphere at U-Haul Moving and Storage of Dadeland (Fla.)," Alvarez said. "He encourages his fellow Team Members to perform at their highest level. We're extremely lucky to have him on our team and look forward to many more years of working with him."
From yard dog to hitch pro
Thanks to the advice of a friend, Davis joined U-Haul in 1992. That was around the time Hurricane Andrew blasted through the Bahamas, Florida and Louisiana as a Category 5 storm.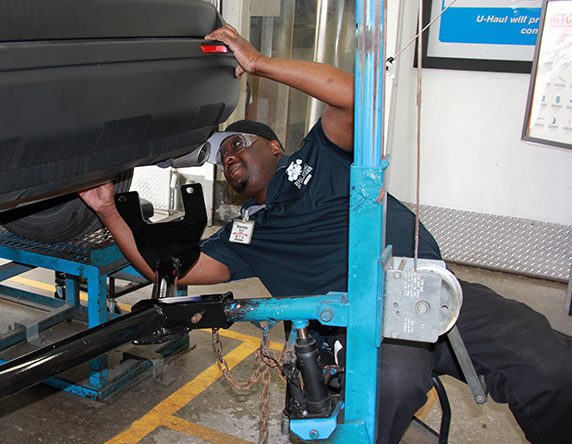 He came aboard as a moonlighting customer service representative, but wasted no time climbing up the ladder.
"I came aboard with the Company in dispatching and receiving," Davis said. "I was what members of my team affectionately referred to as a 'yard dog.' And after working at Dadeland, I became an area field manager for about a year before returning to this store as a hitch pro, and I've been here ever since."
Davis' days are action filled, which encourages him to drive hard on helping every customer entering his store.
"I do my best to help our customers with whatever they need," he said. "Be it sharing U-Haul equipment, installing hitches, selling boxes or whatever else I can do to 'Make Moving Easier' for the people who depend on us to help them relocate."
Better over time
U-Haul has changed for the better over time, and Davis is quick to cite two aspects that greatly streamlined the service the Company provides to its customers.
"There was a time when all of our transactions were done on paper, with manual forms and contracts," he said. "Now just about everything is computerized, which speeds things up considerably. Another great change is evident in the hitches we receive. In the past, we had to drill holes in hitches to mount them to customers' cars. Today, hitches come pre-drilled, which saves us a ton of time and effort."
Relishing each day on the job, Davis speaks fondly about U-Haul and the opportunity it provides to those who are willing to do their absolute best.
"You can advance in the Company if you put your mind to it," Davis noted. "The path from where I was then to where I am now is a perfect example of what anyone can accomplish if they give it their all."
Mentors' advice
Davis emphasized that he's learned a lot from those he's worked with during his three decades of U-Haul service. Three very important lessons stand out.
"No. 1 is that you shouldn't take anything personally," he said. "Secondly, take everything day by day. And finally, always go with the flow."