U-Haul is proud to be the longest serving corporate partner of the Vietnam Veterans of America (VVA) nonprofit organization, which was founded in 1978 to support and advocate for Vietnam War veterans.
Today, the VVA advocates for all U.S. veterans behind the motto: "Never again will one generation of veterans abandon another." U-Haul, founded in 1945 by WWII U.S. Navy veteran L.S. "Sam" Shoen and his wife, Anna Mary Carty Shoen, is now in its 17th year of supporting the VVA's mission.
As an ongoing partner, U-Haul prints and puts together binders for all attendees at the VVA's biannual national convention and biannual leadership and education conference. Each year, U-Haul Team Members source the materials, proof and print the inside contents, and hand-assemble each binder. These typically number in the hundreds.
At the VVA's most-recent National Leadership & Education Conference, U-Haul was cordially honored with the VVA President's Award for Supporting America's Veterans. It was accepted by U-Haul Company of South Carolina (Co. 783) president Kevin Anderson on behalf of Team U-Haul.
Anderson, a U.S. Marine Corps veteran and the son of a Vietnam War veteran, was the right person to represent U-Haul. And he was honored to take part.
"I was so proud to represent U-Haul Company at that event and to accept the award from the VVA, whose members were incredibly gracious and kind," Anderson said. "It was a moment that I will never forget."
A Lofty Honor for any Company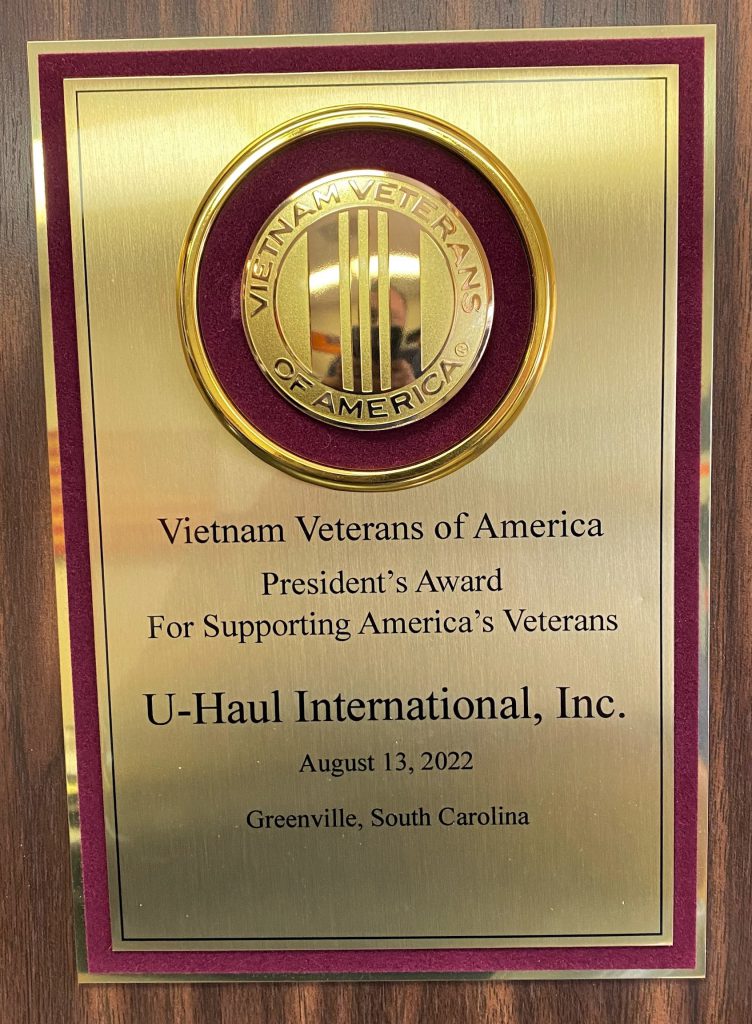 The VVA President's Award for Supporting America's Veterans is the highest honor that the VVA bestows. It is typically given to individuals who go above and beyond to serve veterans. Very few organizations receive the award.
"We wanted to recognize U-Haul as an amazing patriotic organization, and honor them for all the work that they do to help make our conventions and conferences so special," stated Mokie Porter, VVA Director of Communications. "Nominations for the VVA President's Award come from our local chapters, which proves how highly U-Haul Company is regarded within our organization. Our members are very aware of all the binder-related help that U-Haul provides each year, and they deeply appreciate it."
"Because of the binders that U-Haul prepares, each VVA conference and convention delegate is able to take home a physical record of what they learned, and then share it with their chapter members," added VVA National Vice President Tom Burke. "U-Haul plays a vital role in ensuring that our chapters have up-to-date access to all the information they need. This, along with many other reasons, is why VVA members nominated U-Haul to receive the VVA President's Award."
Recognizing the Importance of Vets
For Anderson, this event was the perfect reminder of why supporting veterans and active-duty military members is so important. Aside from supporting organizations like the VVA, U-Haul actively recruits veterans and gives them preference in the hiring process. This longstanding initiative has repeatedly earned U-Haul recognition as one of the top U.S. veteran-friendly employers.
"Without the men and women on the front lines who put themselves in harm's way each day, we would live in a far less free and prosperous society," Anderson said. "I am deeply grateful for veteran organizations like the VVA that step up to take care of these selfless individuals. I love that U-Haul plays an important role in helping the VVA accomplish its goals. It makes me prouder than ever to be a U-Haul Team Member."
To learn more about U-Haul Company's partnership with the VVA, click here.