The Business Intelligence Group has honored U-Box® Load Share as the 2022 Sustainability Service of the Year.
The Sustainability Awards recognize organizations that have made sustainability an integral part of their business and commitment.
U-Box Load Share is the newest U-Haul® innovation to promote sustainability within the do-it-yourself moving industry. An industry first, U-Box Load Share is a creative initiative built on the premise of people helping people to facilitate affordable and reliable moves, while reducing customer cost and fuel use, and reducing vehicle miles traveled and emissions created during the transportation of household goods.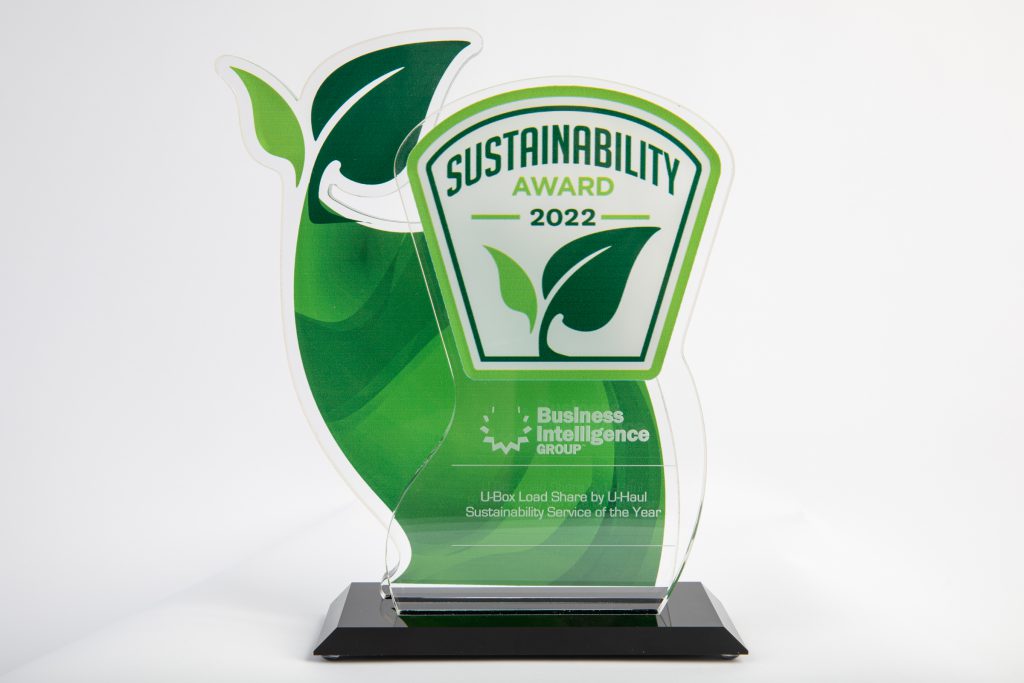 "The strategy behind U-Box Load Share is 'people helping people,'" said Sam Shoen, U-Box Director. "U-Box Load Share is not designed to make U-Haul a profit. It exists solely for sustainability and efficiency purposes. It provides a collaborative service where people already driving a U-Haul truck cross-country, or to another state, can expedite another customer's access to their possessions in a safe, ecofriendly way."
The Answer to Shipping Delays
U-Box Load Share is a shared-economy innovation formed after global shipping delays and interruptions in the supply chain caused slowdowns in customers receiving products, including U-Box containers. U-Box Load Share combats interruptions tied to freight shipping and lets customers help customers.
"We are proud to reward and recognize U-Haul for their sustainability efforts," said Maria Jimenez, Chief Nominations Officer for the Business Intelligence Group. "It was clear to our judges that their vision and strategy will continue to deliver results toward a cleaner, more sustainable world."
The primary responsibility of U-Haul is to develop products and services to help people move and store their household and commercial goods in an economically, environmentally and socially responsible manner. Read more about U-Haul Company's sustainability initiatives and awards by clicking here.