For St. Mary's Food Bank, September is Hunger Action Month: a time when the Phoenix-based organization, its charity partners and many others raise community awareness to combat food insecurity.
U-Haul, a longtime supporter of St. Mary's, is dedicated to fighting hunger and helping people meet their most basic human needs.
During Hunger Action Month 2022, U-Haul Team Members hosted a donation drive at multiple Company locations, packed 1,728 emergency food boxes at St. Mary's warehouse, and donated $15,000 to the organization as the sponsor of Go Orange Day.
Orange is not only the color of U-Haul, but the color that signifies hunger.
"Hunger Action Month is a great way to kick off the holiday season, which is typically when people most often donate," said Jerry Brown, director of Public Relations for St. Mary's. "U-Haul has consistently supplied us with money, food and volunteers during Hunger Action Month for many years. They are true Hunger Heroes for doing so. Thanks to them, we've been able to provide hundreds of thousands of meals to people in need."
Donations for a Worthy Cause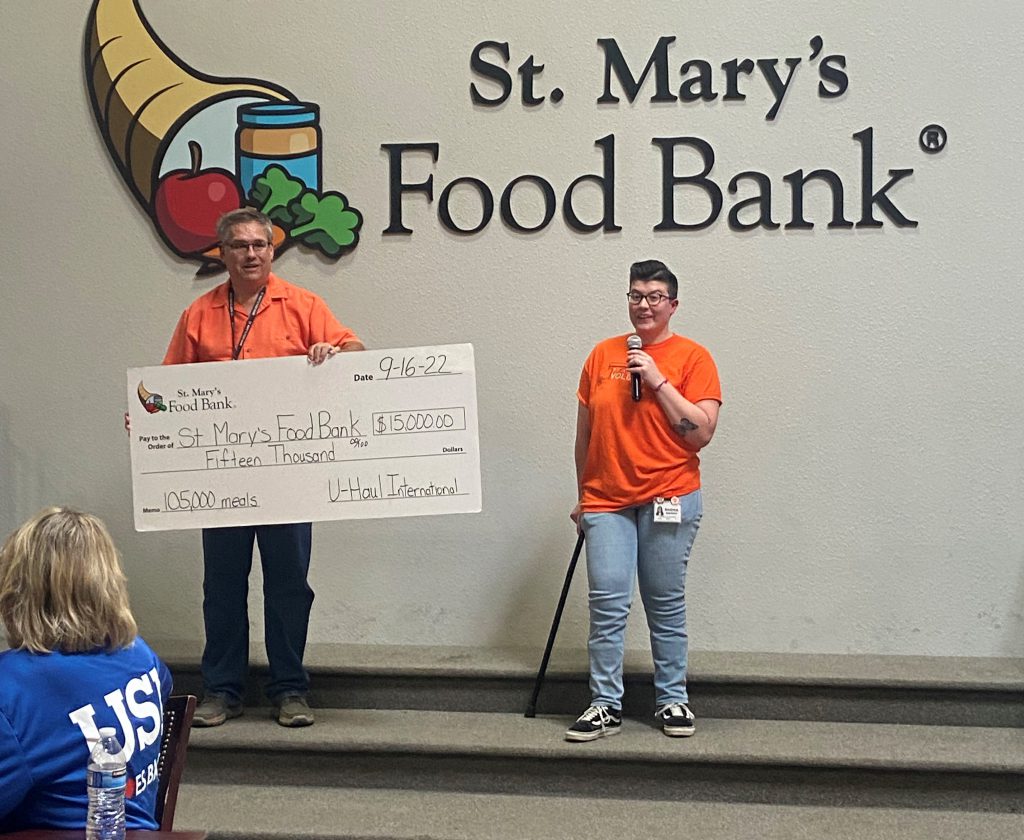 Team Members at the U-Haul Midtown Campus in Phoenix and the U-Haul Technical Center in Tempe collectively donated 1,508 pounds of canned goods and other nonperishable food items for the food drive. That is enough for St. Mary's to supply 1,257 meals for people in need.
"When my colleagues in the U-Haul Recruiting department and I learned about the donation drive, we decided to hold a little competition to see who could bring in more canned food," said Kat Miles, U-Haul Recruiting Project Coordinator. "We had a lot of fun doing it. It felt fantastic to know that it was all for a good cause. By buying and setting aside food for the drive, I was able to teach my kids more about the importance of giving back."
"I had the privilege of helping to pick up and assemble the food to give to St. Mary's, and it was a very rewarding experience," added Andrea Batchelor, U-Haul Senior Media and Public Relations Specialist. "It was awesome to see Team Members from all over the Valley come together to support our charity partner."
Orange Wave of Service
One of the central parts of Hunger Action Month is Go Orange Day. On this day, all St. Mary's employees and volunteers wear orange, and several local buildings — including the Arizona State Capitol and the 483-foot-tall Chase Tower — glow orange to remind people that one in nine Arizonans face food insecurity.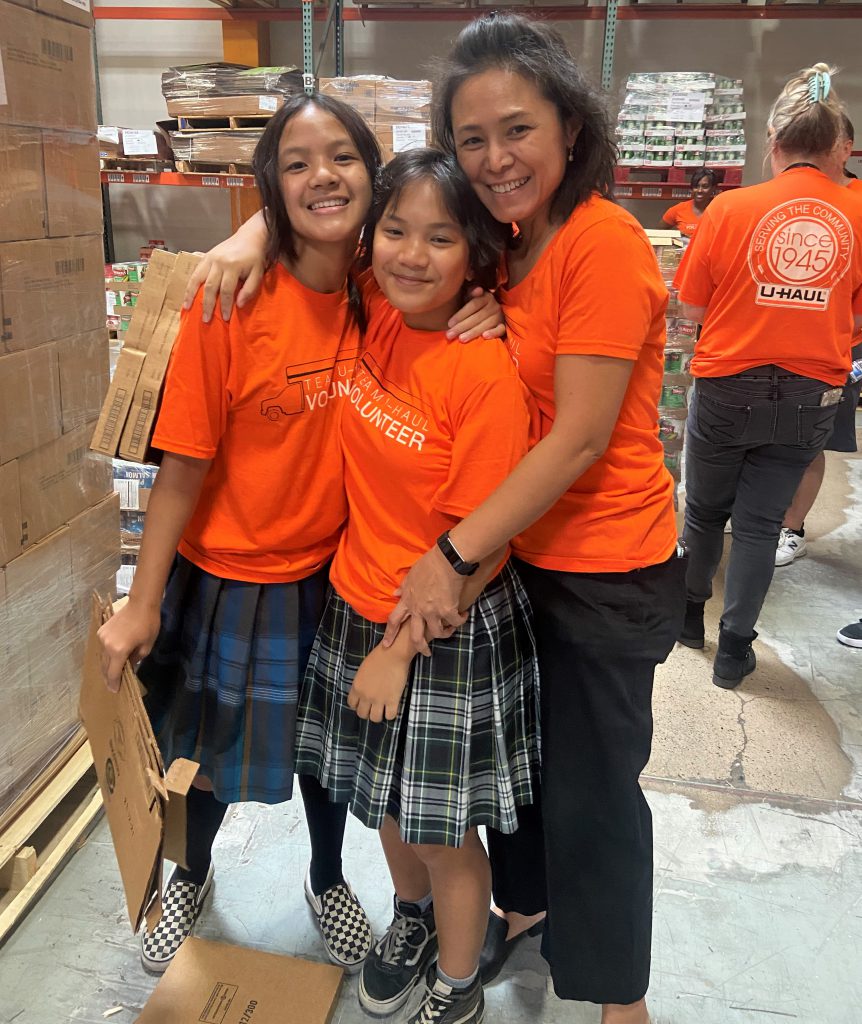 Some 30 U-Haul Team Members spent their Friday afternoon on Sept. 16 at St. Mary's warehouse, where they packed emergency food boxes. Brown was highly pleased to see so many Team Members come out to assemble lifesaving meals.
"Ever since the onset of the COVID-19 pandemic, our average number of volunteers has shrunk by 80%," Brown said. "It's been difficult to recoup those pre-COVID numbers, so having so many U-Haul volunteers on hand really did make a significant difference. Right now, St. Mary's is distributing more food than ever in our 55-year history. We count on our volunteers to help us meet this immense need."
"I was able to participate in Go Orange Day, and I had a fantastic experience," Miles cheered. "It was amazing to see how much the other volunteers and I were able to do in a short amount of time. I think everyone should give volunteering at St. Mary's a try, whether it's during Hunger Action Month or any other time of the year."
One Dollar, Seven Meals
Batchelor, who presented the $15,000 check to St. Mary's on behalf of U-Haul, was honored to help contribute to the fight against hunger.
"This check is part of a contribution that, as a proud sponsor and partner, U-Haul annually provides to St. Mary's," Batchelor said. "Each dollar provides enough food for about seven meals, so that translates into more than a hundred thousand meals that will feed Valley residents who are struggling with hunger.
"Day in and day out, the entire St. Mary's Team is on the front lines of the fight against hunger. U-Haul is proud to stand with them — during Hunger Action Month and all year long — as we strive to alleviate food insecurity in Arizona."
Read more about U-Haul Company's partnership with St. Mary's Food Bank by clicking here.