From New York to Nebraska to Arizona, U-Haul Team Members displayed their gratitude to veterans and active-duty service members by participating in Veterans Day Parades on Nov. 11.
New York City
The New York City Veterans Day Parade is the largest U.S. parade of its kind. The event is more than a century old, and U-Haul has been a sponsor since 2004. Hundreds of local Team Members march every year.
One of the highlights for parade spectators is the commemorative U-Haul SuperGraphics on the sides of the U-Haul trucks. The images pay tribute to the branches of the U.S. Armed Forces.
Additionally, U-Haul showcases a "United We Stand" SuperGraphic, memorializing the lives lost on 9/11, and a Pearl Harbor SuperGraphic, highlighting the historic Ford Island Control Tower that survived the attack of Dec. 7, 1941.
The Shoen Family of U-Haul gifted an elevator to the Pearl Harbor Aviation Museum for the tower's recent renovations. The donation enables a "Top of the Tower Tour" to be offered to Pearl Harbor visitors.
Jeff Sonberg, U-Haul Co. of Manhattan/Bronx (Co. 803) president, has participated in the New York City Veterans Day Parade for more than a decade.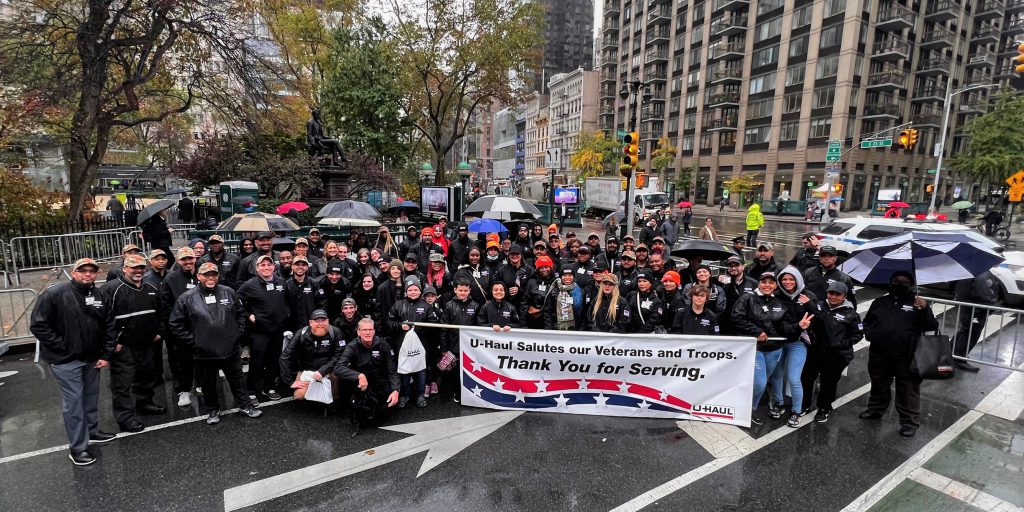 "As a veteran, I love seeing thousands of veterans, their loved ones and many others gather together for this incredible event," Sonberg said. "When I'm marching alongside Team Members and their families, and handing out American flags to people of all ages and backgrounds, I'm filled with pride to be part of a Company that celebrates veterans' contributions. It motivates me to represent Team U-Haul to the best of my ability."
Will Wolff III, U-Haul Co. of Brooklyn/Queens/Staten Island (Co. 802) president, loves bringing his two children to the parade.
"My kids really enjoy watching all of the 10-foot U-Haul trucks make their way down Fifth Avenue. They like handing out flags and waving to people," Wolff noted. "I've brought them both to the parade every year since they were very little. It's become a family tradition. I'm glad that I've been able to show them from a young age how important it is to thank veterans for their service."
Added Nick Marra, U-Haul Area District Vice President: "It's an absolutely unforgettable experience to walk the parade route with your fellow Team Members and see people cheering and waving American flags on every side. Once a Team Member participates in the parade, it's something they'll want to do again and again. Overall, it's a deeply impactful way to honor veterans and their families for the many sacrifices they've made on our behalf."
Allan Cotto, U-Haul Co. of Northern New Jersey (Co. 814) president, stated: "I feel that acknowledging the sacrifices veterans and active-duty military members have made is a responsibility everyone should take seriously. Doing things as simple as thanking a veteran for their service, or participating in a veteran-focused event, might not seem like much of an effort to you or me. But to veterans and their loved ones, it can mean more than we'll ever know."
Phoenix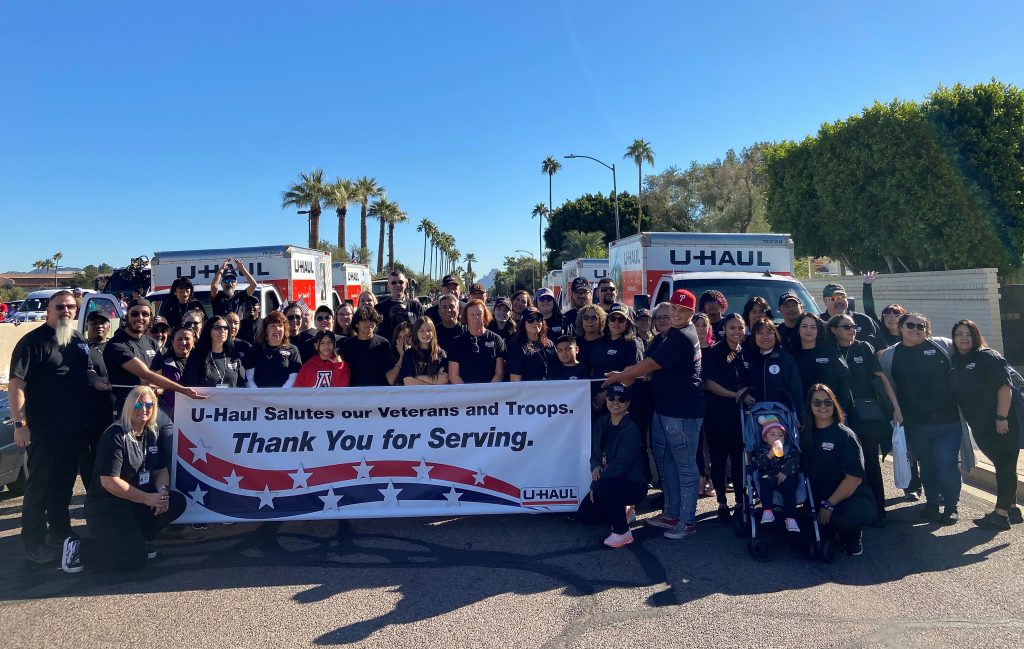 Several blocks from U-Haul International headquarters, the Phoenix Veterans Day Parade was held for the 26th time.
U-Haul Team Members show up in force each year, and 2022 was no exception. With bags of miniature American flags to distribute to spectators, Team U-Haul marched down the lengthy parade route alongside U-Haul trucks imaged with commemorative SuperGraphics.
A special truck paid homage to industry pioneer and U.S. Army veteran Hap Carty, the first employee of U-Haul who helped build the Company's first one-way rental trailers in 1945. He went on to become president of U-Haul, Board president of AMERCO (parent company of U-Haul) and director of the U-Haul Technical Center in Tempe, the city where he resided for the latter half of his life.
Carty passed away in June.
The Phoenix Veterans Day Parade chose to recognize Carty posthumously as the 2022 Business Community Grand Marshal of the event. Carty's son, Pat, and granddaughter, Kailey, rode in the parade on his behalf.
A day before the parade, U-Haul International held a special Veterans Appreciation Celebration. The event was dedicated to Hap Carty and attended by hundreds of Team Members, who learned more about the Company's history and commitment to supporting veterans.
Lincoln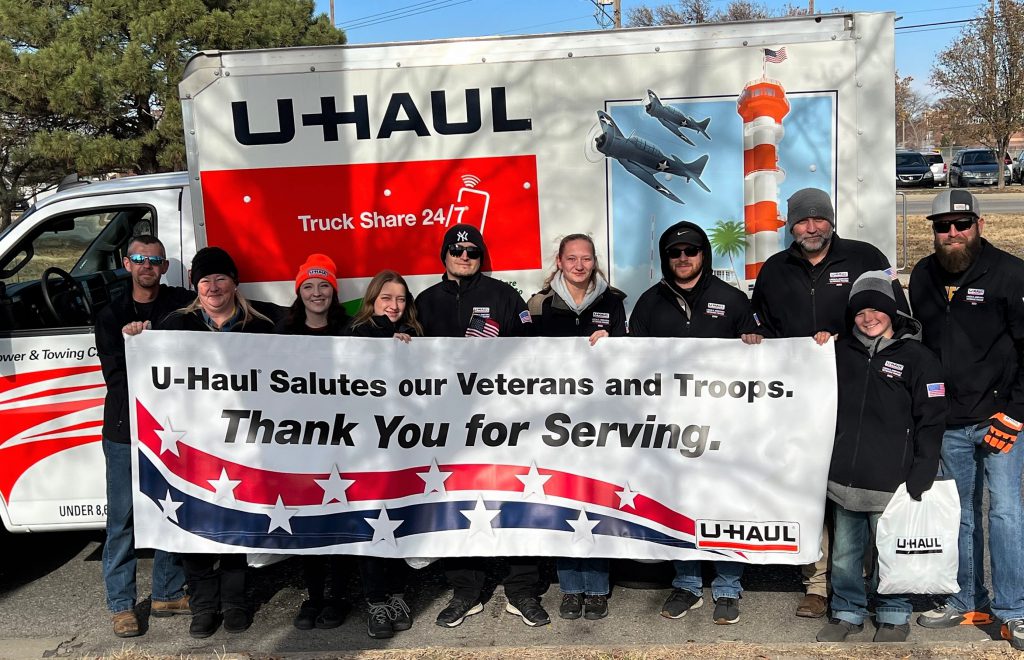 For the first time, Team Members in Lincoln, Neb., had the opportunity to march in their city's annual parade. U-Haul Co. of Nebraska (Co. 730) president Mike Hale and many others eagerly dedicated their time to ensure that it would be an unforgettable experience.
"When we were asked if we wanted to participate in the parade, we jumped at the chance to say yes," Hale said. "Our repair team ensured that our U-Haul trucks were freshly imaged and ready to go. Other Team Members volunteered to spend extra time coordinating the logistics."
For Hale and Co. 730, it was an honor to walk in the Lincoln Veterans Day Parade and represent U-Haul.
"I've seen the many strengths that veterans bring to the table, both as members of Team U-Haul and as human beings. I know that they typically don't seek any praise for all the good that they do," Hale stated. "They are hardworking and loyal people. I am so grateful that Co. 730 was given the opportunity to commemorate their service in such a memorable way."
Do you know a skilled veteran seeking employment? U-Haul is ranked repeatedly as a top U.S. veteran-friendly employer and gives preference to veterans in the hiring process. Find careers at uhauljobs.com.