On a crisp, clear day in Darlington County Park, more than 200 volunteers and athletes, including several military veterans, gathered for the fourth annual Achilles New Jersey Hope and Possibility Event. U-Haul was a presenting sponsor of the event for a third consecutive year.
The event celebrates inclusion and empowerment of athletes with a special emphasis on those with disabilities and wounded, ill or injured military veterans. Athletes ran, walked or hand-cycled through 5k and 10k courses with yellow-shirted guides running alongside them to help and encourage.
"These races focus less on specific finish times and more on celebrating people's achievements," said Achilles New Jersey CEO Joe Sorbanelli. "Achilles New Jersey is a chapter of Achilles International, which is a global organization that seeks to transform the lives of people with disabilities through athletic programs and social connections. We are proud to be part of that mission."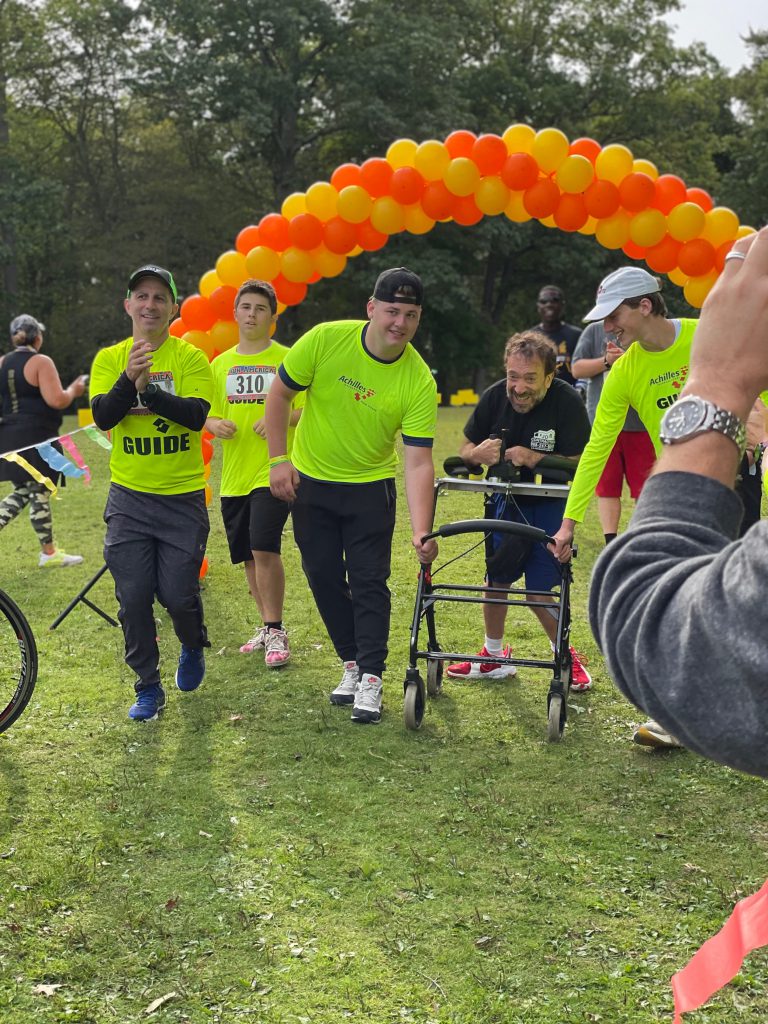 Life-Changing Opportunity
Sorbanelli first became aware of Achilles International in 2015, when he participated in the New York City Marathon. During the race, he saw a bright yellow Achilles-branded T-shirt, and asked the person wearing it about the organization.
"They told me that Achilles International makes it possible for people with disabilities to participate in mainstream running events, which I thought was the greatest thing ever," Sorbanelli said. "I signed up to join Achilles International and became a volunteer race guide for athletes."
Not long after, Sorbanelli was guiding a woman through a race when she mentioned how much she wished that Achilles had a chapter in New Jersey.
"As a fellow New Jerseyan, I decided that I wanted to help make that a reality," Sorbanelli continued. "I coordinated with Achilles International to establish a New Jersey chapter, and now we have close to 300 athletes and guides who participate in it. It really is something extraordinary."
Honoring Veteran Achievements
One of the main groups of participants in this year's Hope and Possibility Race was the Achilles Freedom Team of Wounded Veterans. This program launched in 2004 as part of Achilles International, and addresses the specific needs of wounded, ill or injured U.S. military members.
As a longtime supporter of veteran organizations, U-Haul proudly sponsored 50 athletes from the team, along with their guides, to participate in the race at no cost.
"These veterans are tough as nails, and it's incredible to watch their grit and perseverance in action," Sorbanelli said. "We are all so grateful for U-Haul Company's willingness to provide the Freedom Team with this opportunity. It's a clear sign of how much U-Haul honors veterans for their service."
Everyone Matters
Felicia Roberts, U-Haul Company of North Central New Jersey (Co. 949) president, is a longtime Achilles volunteer. This year, she and several Team Members signed up to participate in the race alongside the athletes and guides.
"I love the deep sense of community that you can find at these events, and how gracious and supportive everyone is," Roberts said. "Everyone matters, from the athletes to the guides to the people who show up to cheer them on. It's an incredible environment."
As a new MCP, Roberts was excited to show her fellow team members how life-changing the Achilles organization can be.
"I've seen so many athletes go through life with better self-esteem, confidence and all-around health thanks to the work that Achilles does on their behalf," Roberts said. "From wounded veterans to young kids with physical and mental disabilities, the Achilles organization has the power to change countless lives for the better. I'm so glad that I was able to participate in the Hope and Possibility Event with other U-Haul Team members, and I can't wait to do it again next year."
Click here to read more about U-Haul Company's work with Achilles International. To learn how you can help support Achilles New Jersey athletes, click here.