In the late 1970s, Dave Thompson strolled into U-Haul Moving and Storage at Route 1 in Norwood, Mass., in search of a job to help him pay the bills while attending college.
"I was studying business and I knew that U-Haul was a growing, innovative company," Thompson said. "Since I was young and exploring my options, I left after a few months to work at a gold and coin dealership. But I came back in 1982. Now, all these years later, U-Haul has truly become my home."
During Thompson's 40 years of U-Haul service, he has masterfully handled a variety of roles, including general manager of multiple U-Haul stores; area field manager for what is now U-Haul Co. of Fort Lauderdale (Fla.); and program manager for U-Haul Field Operations Support.
Now, as marketing company president for U-Haul Co. of Western Florida (Co. 830), Thompson continues to look forward with excitement to whatever the future holds.
"I don't like to focus on the 'yesterdays' of life," Thompson said. "I find it far more valuable to focus on what I can do today. Each day brings new challenges and opportunities. I am eager to continue learning and growing as a U-Haul Team Member."
We've Come a Long Way
Thompson isn't shy about acknowledging how much U-Haul has progressed in the last four decades.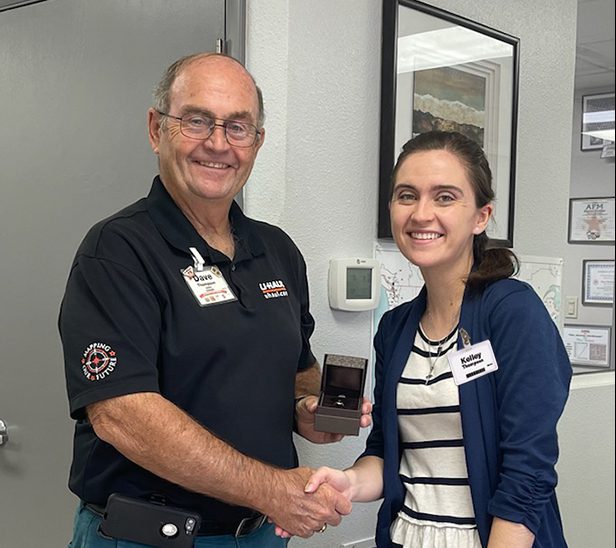 "When I joined U-Haul as a GM, it was a much smaller operation," Thompson said. "Everything was manual and handwritten, from the paper rental contracts to the rental hitches we attached to vehicle bumpers. In addition, while our trucks, trailers and other equipment were always designed with homeowners in mind, they have become even more user-friendly over the years.
"When I look at all of the amazing modern technology that Team Members use these days to fulfill their responsibilities, I think it's safe to say that we've come a very long way."
A few moments in Thompson's career still stand out.
"When I was a program manager for Field Operations Support, I had the privilege of reporting to U-Haul pioneer Layton Baker," Thompson said. "That was an absolute privilege. I learned many valuable lessons from him about work and life. In addition, I was able to fulfill some special projects for U-Haul pioneer Mark Shoen and U-Haul CEO Joe Shoen during my time at U-Haul headquarters in Phoenix, which to this day is a source of great pride for me."
Impeccable Work Ethic
"Out of the 20 years that I have worked with Dave, one of the things that stands out the most is his impeccable work ethic," stated Co. 830 traffic control manager John Carroll. "He is supremely dedicated to his role. He uses every available resource to make sure that everyone in Co. 830 succeeds."
"Dave is a hard worker, and dedicated to getting the job done," said Mario Martinez, Area District Vice President. "He's held many positions within U-Haul over the years and has plenty of know-how to share. He has consistently excelled in everything he's set out to do. Dave is an enthusiastic and honest leader. We're lucky to have him on the Co. 830 team."
Let's Roll with U-Haul
In the moments when Thompson isn't hard at work, he's still showcasing his U-Haul pride.
"I'm in a local bowling league that we named U-Haul Safe Trailering, even though I'm the only U-Haul Team Member in the group," Thompson said laughingly. "My teammates know how much I love U-Haul, and how great of a company it is, so we got permission from the U-Haul Community Education department to wear U-Haul Safe Trailering polo shirts at our bowling competitions. People ask us about it all the time. It's a great conversation starter!
"My wife Karen and I have been married for 39 years, and she has supported me in my U-Haul career every step of the way," Thompson added. "My son John and daughter Kelley, who works as an office clerk for Co. 830 in addition to her law career, are aware of and grateful for the opportunities that U-Haul has offered our family over the years. I love my family, my career and my life. It's been a great journey."
To read more inside stories about U-Haul Team Members and news, click here.