For the thousands of Arizonans who experience homelessness, restaurant meals are an inaccessible privilege that take a backseat to pressing needs.
With that in mind, longtime U-Haul charity partner St. Vincent de Paul organized a fun and filling restaurant-style lunch for its guests. Several local Chinese-food restaurants and hardworking U-Haul volunteers were there to help. Each restaurant donated various entrées that guests could order.
SVdP has been providing food, clothing, shelter and medical/dental resources to community members experiencing homelessness for more than 70 years. U-Haul Team Members frequently volunteer with SVdP to prepare and serve food to the hungry, pack emergency food boxes, and partake in other volunteer opportunities.
Good People, Generous Hearts
U-Haul accountant Jose Tabares-Ochoa originally went to the SVdP lunch to support a fellow Team Member who didn't want to go alone. Now, he is excited to participate in whatever U-Haul volunteer opportunities are offered.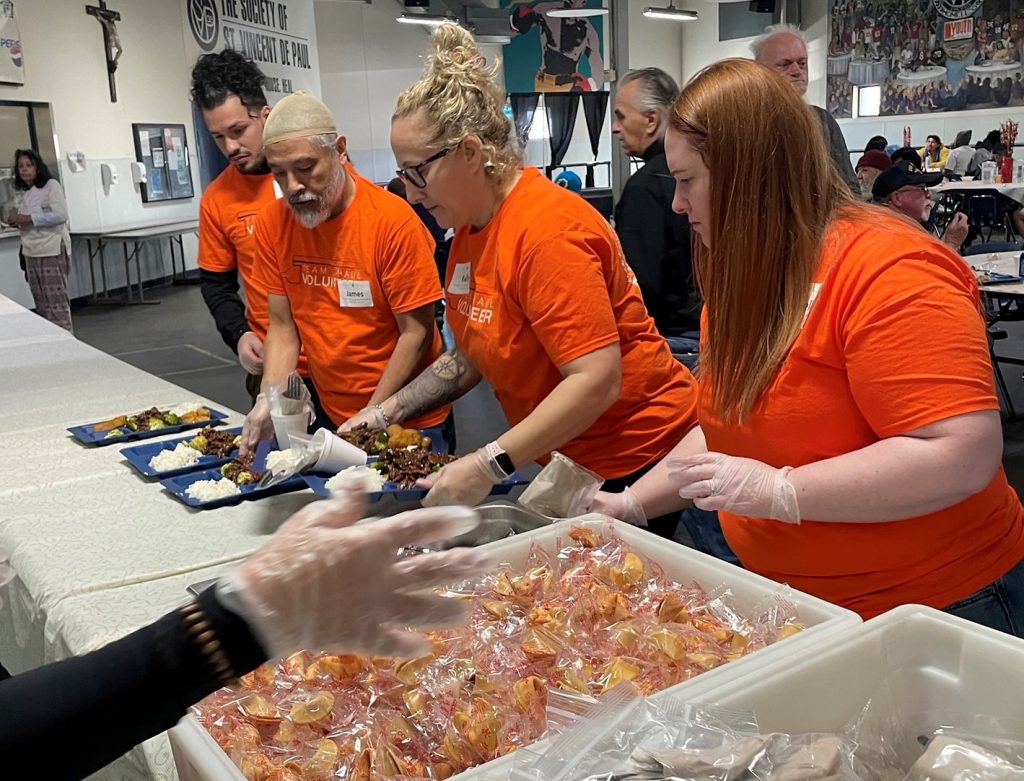 "I met several Team Members at the lunch from different departments that I don't typically interact with, as well as volunteers from other organizations," Tabares-Ochoa said. "In addition, I met so many incredible people from the local community, from guests to St. Vincent de Paul employees. I love meeting and establishing connections with others, so this was especially rewarding for me.
"It was eye-opening to see how many guests depend on St. Vincent de Paul for a good, filling meal. No two guests were alike. Everyone I met had their own specific needs and backstory, and it was inspiring to watch St. Vincent de Paul reach out and serve them. The St. Vincent de Paul employees are good people with generous hearts, and they motivated me to follow their example."
Lasting Memories
For U-Haul project support specialist Kelly Hetherington, volunteering is a form of self-improvement.
"I was able to bring my kids with me to the event, which made it even more special for me," Hetherington said. "We brought food to the guests at their tables, and helped with whatever else was needed. As we chatted with people from various walks of life, my kids and I were able to learn more about what is going on in our community and what we can do to help improve it.
"I think that U-Haul does an amazing job of providing volunteer opportunities to team members and their families, including events like this one. I would definitely volunteer with St. Vincent de Paul again."
Giving Back a Priority
Sirena Irving, a U-Haul Retail Sales analyst, is relatively new to the Company and was intrigued when she heard about the volunteer activity. Like Hetherington and Tabares-Ochoa, she now plans on volunteering again.
"As I've gotten older, volunteering has become more and more of a priority for me," Irving said. "I want to give back in any way I can, so the St. Vincent de Paul lunch sounded like a great opportunity for me. I am so glad I went!"
Irving manned a popcorn machine during the lunch for anyone who wanted a yummy extra snack. Her favorite part, she said, was seeing how much joy a simple gesture like this brought to the guests.
"I loved seeing the smiles on the guests' faces, especially since they were able to eat and rest without care for a bit. While they were at St. Vincent de Paul, they didn't have to worry about finding enough food for the day … they could just relax and enjoy themselves, which I think we all take for granted. The majority of guests were very grateful and appreciative. Every time I volunteer, I'm humbled by the reminder of how much I have."
To read about previous St. Vincent de Paul volunteer events, click here.