Hundreds of cancer survivors, as well as people honoring those lost to the disease, participate in the annual Climb to Conquer Cancer event.
The Climb, which U-Haul has supported since 1993, takes place at South Mountain in Phoenix. Participants choose between a 5.5- or 11-mile route. Fifty-six U-Haul Team Members woke early on a recent Saturday to join the American Cancer Society in hiking for this worthy cause.
Team U-Haul raised more than $7,900 through the Climb to fight cancer this year. That brings the total amount U-Haul has raised for ACS to more than $775,000 over the last 30 years.
U-Haul International, operator of the world's largest DIY shared-use fleet of moving trucks and trailers, always matches the funds raised by Team Members dollar-for-dollar. This year, U-Haul was the No. 2 fundraising team out of 84 total groups.
Indescribable Feeling
Christopher Maher, a U-Haul lead local search auditor, was among the Climb's top 10 individual fundraisers. Thanks to his hard work, he was able to raise more than $2,000.
"This was my first time participating in the Climb, and I wanted to make as big of an impact as I could," said Maher, who spread the word of his fundraising goals on social media.
"Many people in my life have suffered from cancer. Some survived. Some didn't. Thinking of them and wanting to honor them is what drove me to fundraise. I told people that anything helps; no dollar amount is too big or too small. Making the world better starts with small steps. It feels great to know that the things you do can make a huge difference."
On the day of the event, Maher opted to hike the 11-mile route.
"When I reached the peak, I sat in the shade, enjoyed the views and reflected on what I had just accomplished," Maher added. "The feeling of doing something both difficult and rewarding – on behalf of my loved ones and so many others – was indescribable."
Birthday Present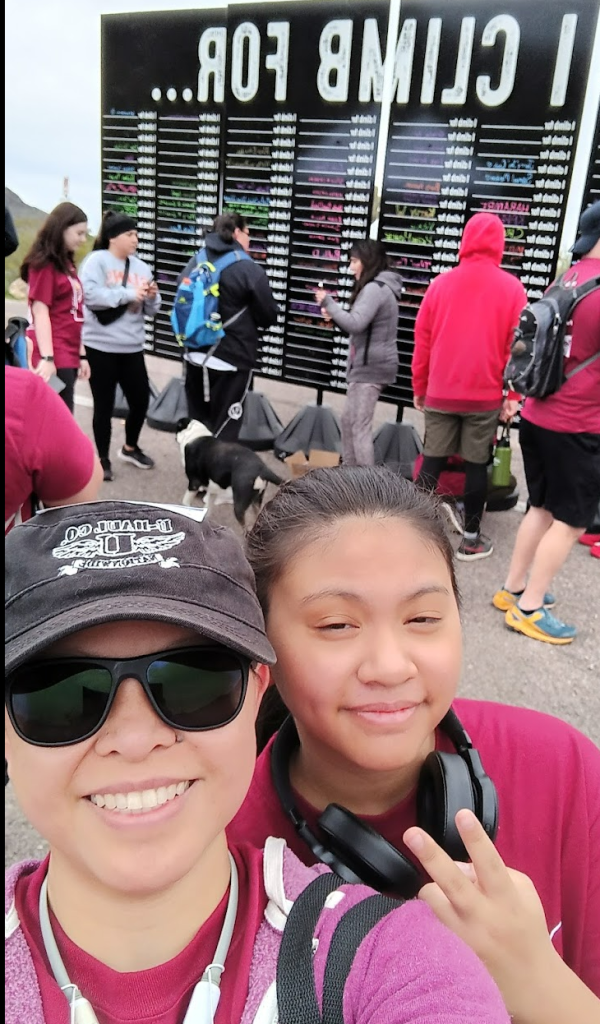 U-Haul Senior Accountant Jean Agregado and her 16-year-old daughter, Nikki, have participated in the Climb multiple times. However, several years had passed since the last time.
"The Climb usually lands on the same weekend as my daughter's birthday," Agregado said. "When Nikki asked me if we could make the Climb together instead of throwing a regular birthday party, I was delighted. I always try to include her in the volunteer opportunities that U-Haul provides, and to show her how important they are to me. I want her to be aware of the many different opportunities she has to be a force for good."
Agregado and Nikki did the 11-mile hike as well, with enough time left over to enjoy tacos at the finish line with their fellow hikers.
"It felt fantastic to be together with several U-Haul friends and colleagues, all part of something much bigger than ourselves," Agregado added. "I encourage everyone to participate in future ACS events if they can, including the Climb. Nikki and I absolutely loved it."
To learn more about ACS and their mission to "free the world from cancer," go to cancer.org. To read more about previous Climbs to Conquer Cancer, click here.