Special-needs athletes gathered on April 7 to take part in the 2023 Guardian Games in Glendale's Westgate Entertainment District. 
Longtime U-Haul partner Sanderson Ford founded the Guardian Games in 2017 to provide athletes the chance to compete through Special Olympics Arizona in a series of fun, friendly competitions.
U-Haul has participated as a sponsor or a volunteer team each year of the event, and was on site again this year to lend a helping hand.  
A day at the games
Volunteers from across Arizona joined with members of law enforcement and athletes to create strong teams and long-lasting memories.
Following the opening ceremonies, teams were introduced to a series of challenges and games including a baseball homerun derby, street hockey, basketball, football, cornhole and golf. The Guardian Games even included creative events like Family Feud, guessing music titles and pushing police cruisers.
Voices of the volunteers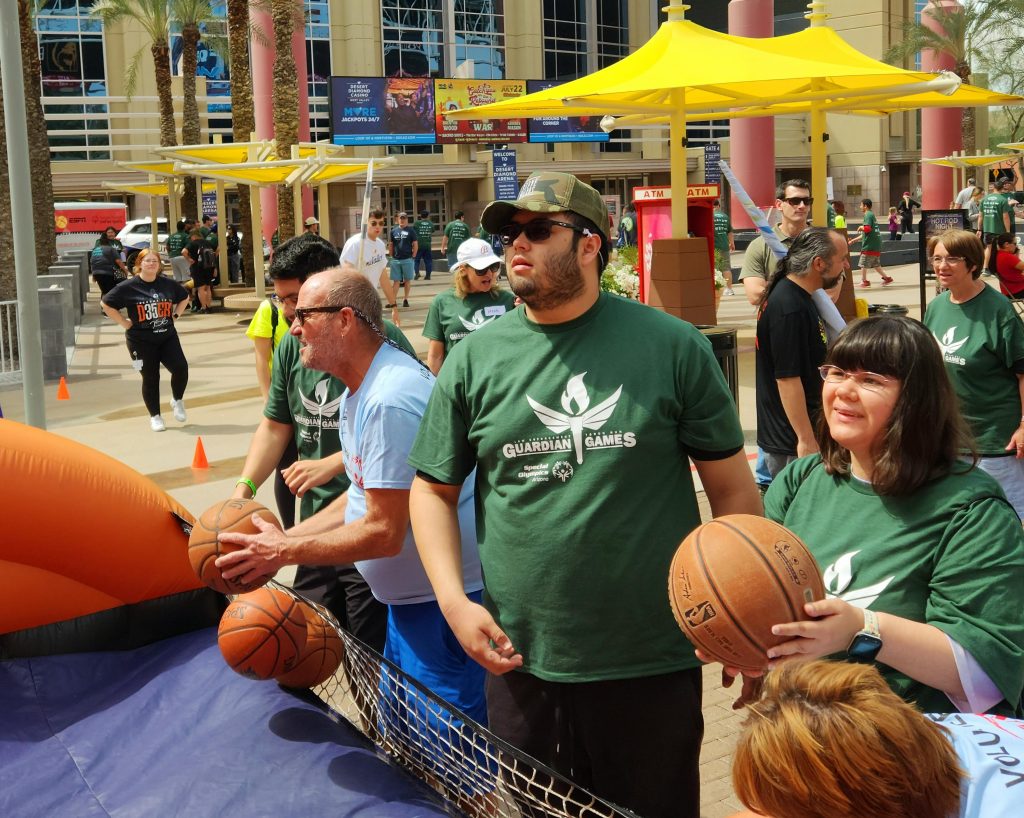 This year's Guardian Games featured a team of eight enthusiastic U-Haul volunteers.  
"The opportunity for our team members to assist, cheer and interact with Special Olympics athletes is one we always want to embrace," U-Haul Manager of Media and Public Relations Jeff Lockridge said. "The Guardian Games offers a unique volunteering event, and probably one of the most emotionally fulfilling experiences we can extend to Team U-Haul here in the Valley. 
"Getting to know the athletes and witness the successes that they experience from friendly competition is a joy," Lockridge continued. "From scoring a goal in street hockey, to swatting a home run in wiffle ball, to correctly guessing the song name and artist in music trivia, there is something that seems to resonate with every athlete. I think our Team Members always leave the Guardian Games with a big smile, and maybe a little sunburn. It's an event we circle on the calendar each year, and one I'd encourage everyone at U-Haul to participate in at some point."
Sense of community
"Volunteering at events like the Guardian Games is important on a community and an individual level, and I really love that U-Haul is a part of these events," Corporate Sustainability Community Advocate Alexis Spell said. "Being there built me up mentally and physically. It brought energy and a sense of community that I'd been craving. I'm proud of myself for participating and grateful to U-Haul for encouraging team members to be a part of these events."
Smiles were shared between volunteers and athletes alike from the beginning of the day to well past the closing ceremonies and lunch. The passion, competition and camaraderie shared throughout the day created lasting memories for all involved.