The National Memorial Day Parade in Washington, D.C. is the largest such event in America. With hundreds of thousands of people lining the streets to watch and pay tribute, the parade is a powerful homage to the men and woman who sacrificed their lives to protect our freedoms.
U-Haul, founded by a WWII Navy veteran and his wife in 1945 and repeatedly honored as one of the nation's top veteran-friendly employers, has marched in the parade for more than a decade.
More than 100 Team Members, friends and relatives from five U-Haul marketing companies took part this year. Some came from long distances to pay tribute.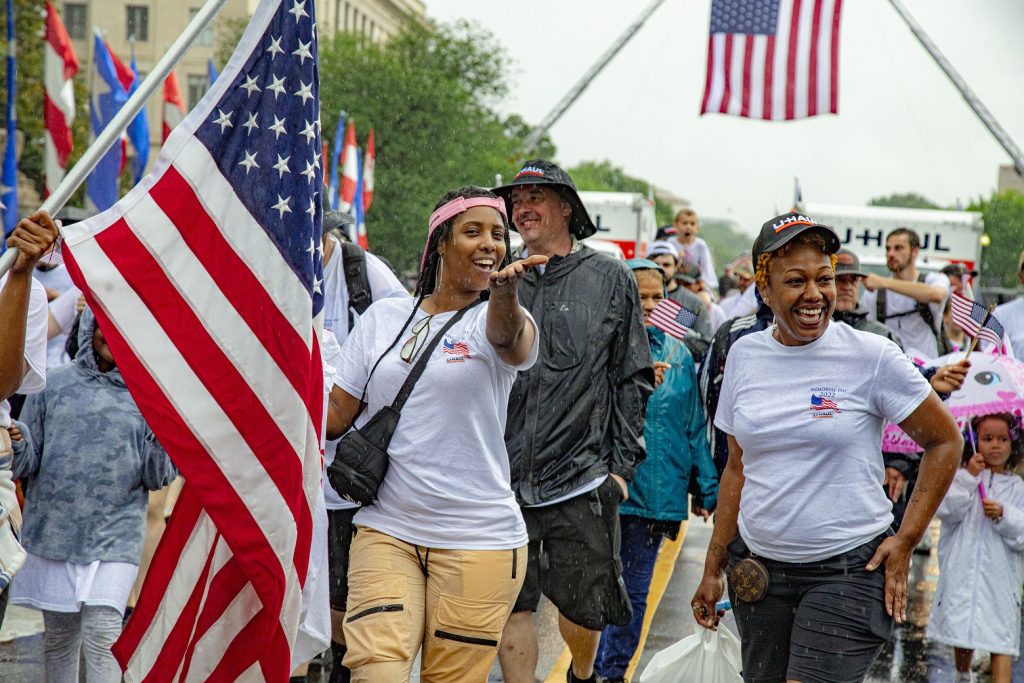 "Everyone in our group was honored to be there, and to help pay respect to our nation's fallen heroes," said Pat Goodwin, U-Haul Co. of Maryland (Co. 819) president. "Freedom has never been free, and the people who sacrificed their lives for our freedom should always be remembered."
Despite a cold and rainy day, Team U-Haul persevered with smiles on their faces and reverence in their hearts.
"Everyone had a great attitude," said Jeannie Anderson, U-Haul Co. of Northern Virginia (Co. 946) president. "I didn't see a single person leave early, even though it was slightly uncomfortable at times. That just showed how important this event was to them."
Parade Starter
U-Haul Company had the unique privilege of kicking off the parade proceedings.
A 10-foot U-Haul truck emblazoned with the commemorative "United We Stand" SuperGraphic (an homage to the victims and survivors of 9/11) made its way down the parade route, and Team Members walking alongside passed out thousands of programs and American flags to spectators.
Also present were a U-Haul parade float and U-Haul trucks with SuperGraphics that represented the U.S. Army, Navy, Marines, Air Force and Coast Guard.
A U-Haul truck with a Pearl Harbor SuperGraphic, highlighting the historic Ford Island Control Tower that survived the attack of Dec. 7, 1941, was also part of the procession. U-Haul CEO Joe Shoen and his family gifted an elevator to the Pearl Harbor Aviation Museum for the tower's renovations, enabling a first-class "Top of the Tower Tour" to be offered to Pearl Harbor visitors.
"We were very particular in how we presented the trucks," Goodwin said. "We made sure that they each went through the parade in the order the military branch on their SuperGraphic was established. Otherwise, we knew that the veterans in the crowd would set us straight."
As the procession made its way past the parade's VIP area, each of the dignitaries, politicians and veterans in attendance gave U-Haul a rousing ovation.
"In my six years of marching for U-Haul in the National Memorial Day Parade, this was the first time that this has ever happened," Anderson said. "It made us feel especially patriotic, and proud to be part of Team U-Haul. I think that they motivated us to keep going in the rain with our heads held high."
Check out U-Haul Company's involvement in past Memorial Day parades.