For many Gold Star Families, Memorial Day can be emotionally difficult. Kathryn Cross, a U.S. Navy Gold Star Mother and artist, knows this feeling.
"My son, OSSN Tyler J. Connely, passed away several years ago in the line of duty," Cross said. "I wanted to honor the sacrifices that he and other service members, veterans and families have made. So I founded a charity called the Tribute Journey."
The Tribute Journey provides beautiful cards, designed and illustrated by Cross, to U.S. service members and veterans domestic and abroad. It is a reminder that their service and sacrifices will never be forgotten.
As a longtime charity partner of the Tribute Journey, U-Haul has printed and shipped more than 1.5 million cards from its Phoenix headquarters throughout this charitable partnership. U-Haul was founded by a WWII Navy veteran and his wife in 1945.
In addition to the cards, the Tribute Journey holds annual afternoon teas for Gold Star and Blue Star Families, as well as for Veterans Affairs groups and other organizations. U-Haul sponsors and provides in-kind support for these events.
Teatime
"I love afternoon tea in general. I'm passionate about the protocol and etiquette," Cross enthused. "A couple of years ago, I was asked to organize an event in New York City during Fleet Week, which is right around Memorial Day. I decided to hold an afternoon tea for Gold Star Mothers. From then on, the Tribute Journey afternoon teas were born."
Cross, a Connecticut native, jumped at the chance to hold a Memorial Day "Tea by the Sea" in her state this year. With the help of the U-Haul Community Relations team, she set about planning the event, which was held at the Water's Edge Resort and Spa in Westbrook.
Guests dined on traditional English tea delicacies, including scones, petit fours and an array of beverages. Each of the Gold Star Families was introduced, and the names of the loved ones whom they were remembering were shared.
"I think that this event brought some relief to the attendees during an especially difficult weekend, and gave them an opportunity to share their stories with people who can understand what they're going through," said U-Haul Area District Vice President Nick Marra, who attended the tea with his wife and son. "I've had the privilege of attending other Tribute Journey teas. It's always deeply humbling to listen to everyone's experiences. My family and I were honored to be there on this somber, yet special, occasion."
Honoring Heroes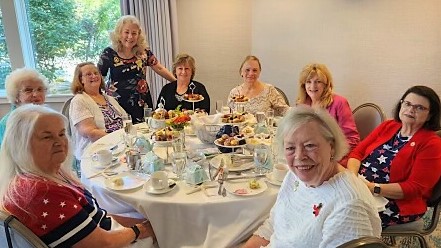 After the guests finished their food and drink, a yellow rose — the precious symbol of U.S. Gold Star Mothers — was given to all in attendance. Then, the group gathered for a photo to commemorate the tears, smiles and memories that were shared.
"It truly felt like we were a family, and that these ties that bound us together would never be broken," Cross said. "We shared more with each other on that day than you usually do with strangers. But it felt like the most natural thing in the world."
"Memorial Day isn't happy, but it is important," added Patrick Keefe, U-Haul Co. of Coastal Connecticut (Co. 794) president, who attended the event. "It's a time to remember those who gave their lives in service to this great nation, and who paid the ultimate sacrifice. I can't begin to imagine what Gold Star Families go through daily. I'm grateful that I was able to attend this event on behalf of U-Haul and express my sincere appreciation for them."
To read about the very first Tribute Journey tea in 2016, click here.