Early on a Saturday in late July, U-Haul® Team Members hopped out of bed and drove to the St. Mary's Food Bank® main warehouse in Phoenix, where they packed more than 1,000 emergency food boxes.
St. Mary's distributes these boxes to people of all ages and backgrounds in Arizona who are experiencing food insecurity.
Known as the world's first food bank, St. Mary's Food Bank has been relieving hunger in Arizona for more than 50 years. U-Haul has supported the charity since 1992, and Team Members regularly volunteer their time to pack boxes.
Worthwhile goal
Repwest® claims adjuster Ryan Wood had never participated in an official U-Haul volunteer event but decided to give it a try. Now, it's something he looks forward to doing again.
"Everyone at St. Mary's, from the workers to the other U-Haul volunteers, was so sweet and positive," Wood said. "We all motivated each other to do our best, no matter what our specific role was on the box-packing assembly line.
"My job was to close and tape up boxes after they were full and then push them down the assembly line for loading onto the pallets for shipment. I feel proud that I was able to help pack more than 1,000 food boxes. It just goes to show what people can do when they come together for a worthwhile goal."
Spreading positivity
U-Haul retirement benefits analyst Jessica Feuling assembled boxes for packing with five other volunteers. By doing so, she forged new friendships and expanded her U-Haul social circle.
"Everyone in my group turned it into a 'game' where we would get the boxes assembled as fast as possible, and clear the table before it was refilled with more flat boxes," Feuling explained. "I didn't know any of the other volunteers in my group when we started. But by the end, we were laughing, joking around and swapping random recipes. I loved meeting them and other U-Haul volunteers. I'm glad that I had the opportunity to get to know some people I likely wouldn't have otherwise met.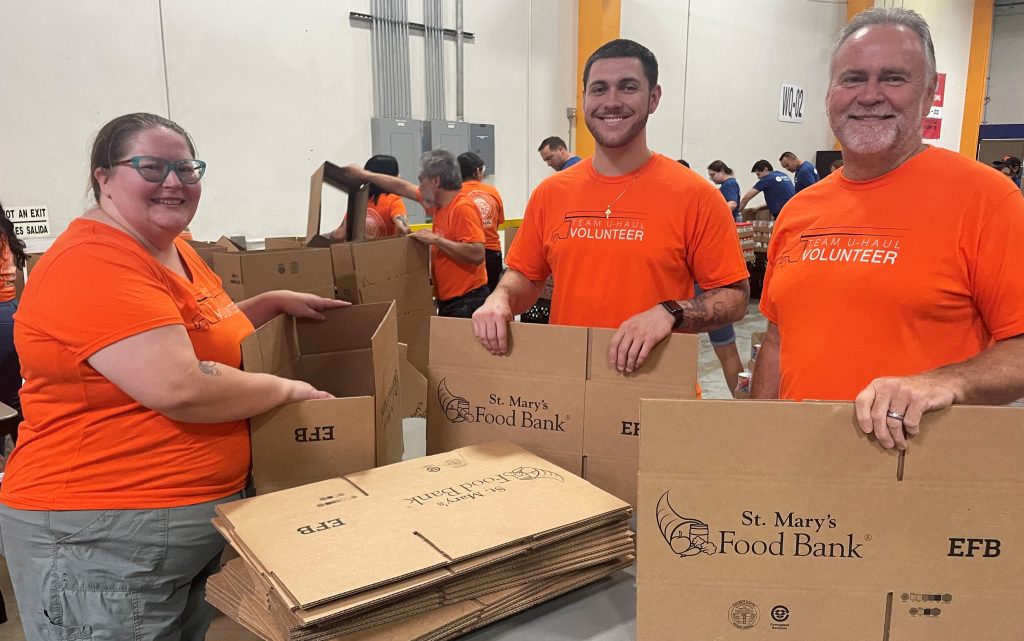 "I've worked hard to instill a love of service into my kids and to make volunteering a regular part of our family routine. We all need help from other people sometimes, and by participating in activities like these, we're either paying that help forward or paying it back."
Meeting essential needs
U-Haul Trailer/SRI associate program manager Jasmine Spencer had always wanted to become more involved in U-Haul volunteering opportunities. It was difficult with young kids. Now that her kids are older, she volunteers whenever her schedule permits, including at this recent St. Mary's Food Bank event. 
"I was in charge of loading bags of rice into bins and placing them on the conveyor belt, so that other volunteers could then transfer the bags into the food boxes," Spencer said. "It was fast-paced, and the bags were a little on the heavy side, but I still had a fantastic time. I didn't know beforehand what goes into a typical food box. It was eye-opening to see the nutritious and filling choices that St. Mary's Food Bank includes for each recipient.
"Something I've learned from volunteering is that no matter our strengths, comfort level or previous experience, there are countless opportunities for each of us to make a difference. There are volunteer events out there for everyone. U-Haul does an incredible job at making them available. Every time we volunteer, we help make the world a kinder place to be."
Read more about U-Haul Company's partnership with St. Mary's Food Bank by clicking here.