U-Haul Team Members joined longtime charity partner St. Mary's Food Bank on Sept. 14 to fight hunger and help Arizona families in need.
September marks Hunger Action Month, when caring companies like U-Haul support food banks to create awareness about hunger and instill action among communities.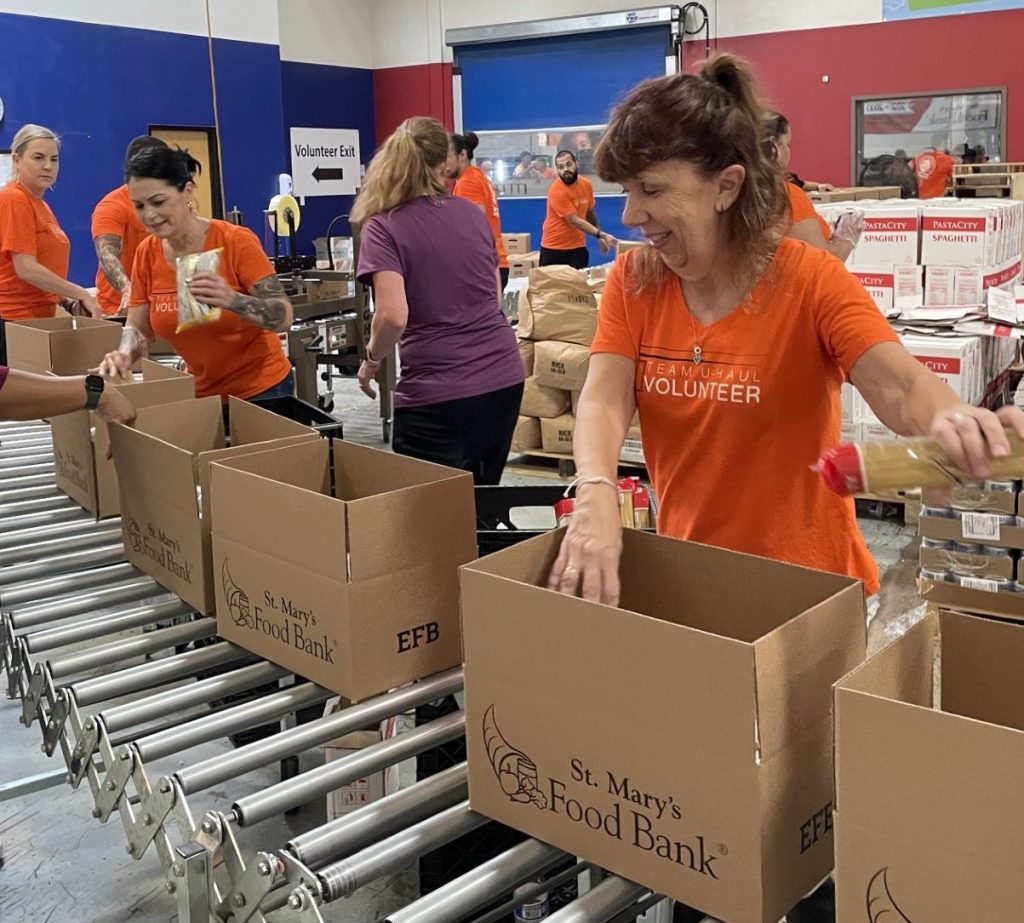 This year, Team Members graciously donated 2,000 pounds of nonperishable foods from the U-Haul Midtown Campus in Phoenix and the U-Haul Technical Center in Tempe. Glendale Manufacturing Company, where Team Members fabricate countless U-Haul parts and products, donated over 6,300 bottles of water.
Community Relations specialist Miranda Luna organized the "Go Orange" event with St. Mary's Food Bank. From campus promotions to collecting donated foods, Luna said U-Haul donated more canned goods than last year and welcomed participation from several first-timers for the Sept. 14 volunteer event at the nonprofit's main distribution center in Phoenix.
Twenty-four U-Haul volunteers joined helpers from several other companies in a food-packing assembly line and produced 1,800 emergency food boxes in two hours.
U-Haul also presented a $15,000 check to St. Mary's Food Bank as the official sponsor of Go Orange Day. Those funds will translate to 75,000 meals for Arizona families.
Hunger Heroes
Jerry Brown, St. Mary's Food Bank Director of Public Relations, spoke about the meaning of a Hunger Hero – an entity or person who donates time, food and funds all in the same year.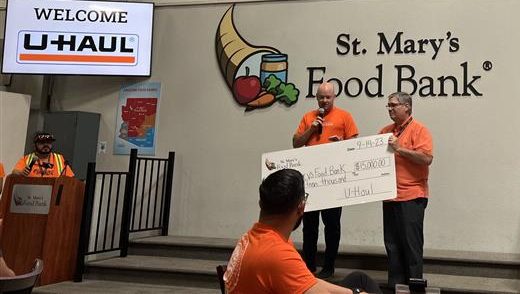 "U-Haul is doing that all in one day," Brown explained to the companies in attendance. "We really appreciate all they do to fight hunger in the Valley."
U-Haul focuses its community efforts on helping nonprofits that address people's basic needs, namely food, clothing and shelter. This has long been a community objective since U-Haul was founded on meeting the basic need of affordable and accessible residential mobility across the U.S. and Canada.
Luna was pleased with the results of Go Orange Day.
"When you plan something, you're always a little bit nervous about the outcome," Luna said. "But it was a good outcome, especially with all the new faces."
U-Box career representative Brayan Encinas recently started working at U-Haul and was excited to donate his time.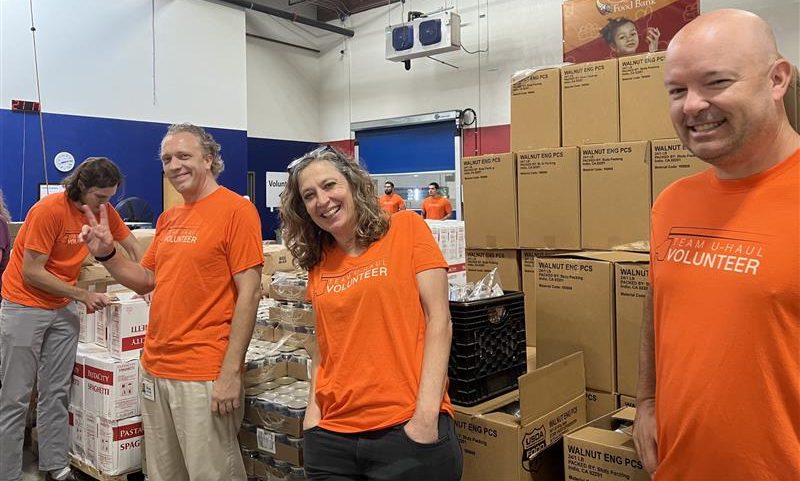 "I've been volunteering at these types of events all my life," Encinas said. "It was awesome to hear U-Haul does the same things to help out the community."
Two returning volunteers — Michelle Ramirez, a Truck and Trailer training and development specialist, and Michelle Vukov-Mikel, a U-Haul Tech Center administrative assistant — were proud to join a worthy cause.
"I'm drawn to volunteer with U-Haul because it's fun and gives us a way to give back," Ramirez said.
Vukoc-Mikel added: "The atmosphere at St. Mary's Food Bank with the music and fast-paced packing lets you feel the community coming together and helping out."
Making a Difference
Other U-Haul volunteers remarked that the volunteer event created a "good feeling" from assisting people in their community.
Founded in 1967, St. Mary's Food Bank Alliance serves two-thirds of Arizona's 15 counties with the goal of alleviating hunger by efficiently gathering and distributing food to the hungry.
Want to give? You can join U-Haul and St. Mary's fight against hunger by donating food, volunteering your time, or making a financial contribution through the St. Mary's website.
U-Haul, which boasts a growing fleet of 192,000 trucks, 138,500 trailers and 44,500 towing devices, works to empower nonprofits within the communities where it operates throughout the U.S. and Canada.
Learn how U-Haul is benefitting your community by searching more stories on myuhaulstory.com and read about our philanthropic objectives on uhaul.com.