From the Big Apple to the Valley of the Sun, U-Haul Team Members honored our nation's heroes by participating in three Veterans Day Parades on Nov. 11.
The ongoing U-Haul commitment to veterans — and support of Veterans Day parades to honor them — derives from the Company's origins. U-Haul was founded in 1945 by L.S. "Sam" Shoen, a WWII Navy veteran, and his wife Anna Mary Carty Shoen.
In addition to supporting organizations and events that honor or help veterans, U-Haul also actively recruits veterans and gives them preference in the hiring process. U-Haul is ranked repeatedly as a top U.S. veteran-friendly employer.
Do you know a veteran in need of a job? Direct them to uhauljobs.com.
Phoenix
American flags were held high during the 27th annual Phoenix Veterans Day Parade on Saturday morning.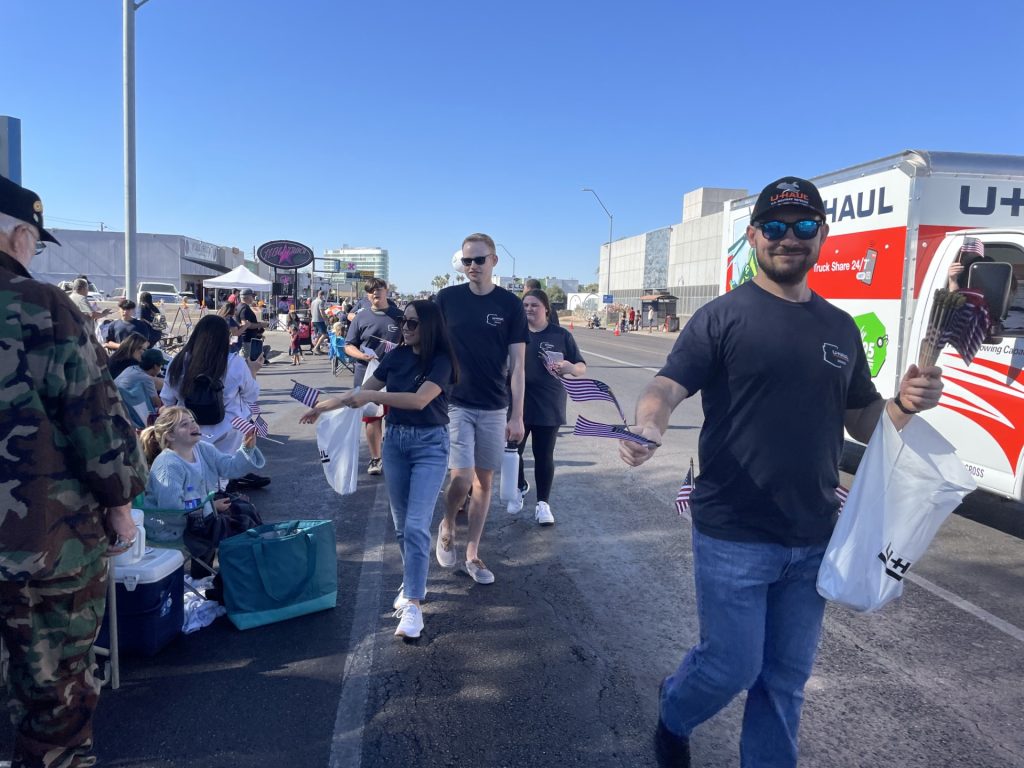 More than 50 U-Haul Team Members, friends, and family, carved time out of their Saturday morning to honor our veterans and march alongside six U-Haul moving trucks. The fleet of vehicles awed parade onlookers with their commemorative designs honoring the U.S. Armed Forces.
At 11 a.m., Team U-Haul walked the route in front of the thousands of spectators who had gathered under the Phoenix sun. Originally called Armistice Day, this day of remembrance first signified the signing of the peace treaty that ended WWI on Nov. 11, 1918, at 11 a.m. (the 11th hour of the 11th day of the 11th month).
Leading the parade were U-Haul volunteers, followed by a group of Boy and Girl Scouts of America, all of whom handed out parade flyers, graciously printed by the U-Haul Typesetting team.
Throughout the two-mile route, Team Members passed out American flags to spectators and handed personalized greeting cards to veterans spotted in attendance.
U-Haul engaged the crowd through call-and-response cheering and acknowledgment toward veterans by shouting, "Thank you for your service!"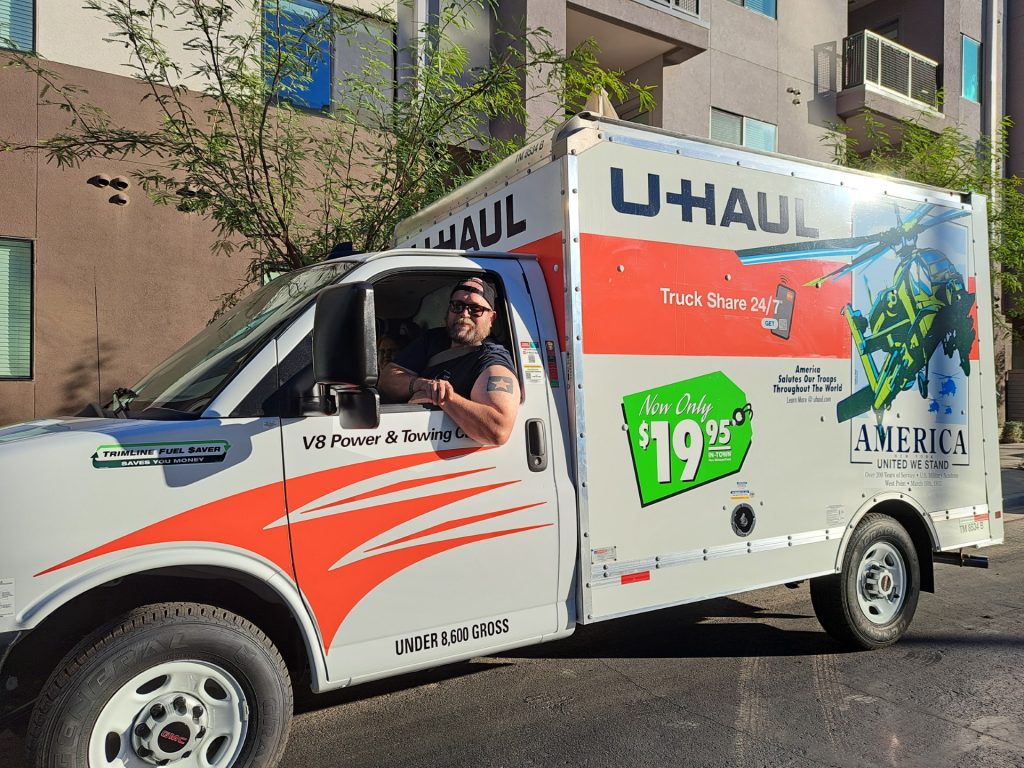 Adam White, who served in the U.S. Army, drove the U-Haul SuperGraphics truck that honored the Army branch.
"I haven't smiled so much in a very long time," White said. "Thank you, U-Haul."
Adam showed his support throughout the parade, utilizing the truck horn for all to hear, especially while driving past the Carl T. Hayden VA Medical Center and nursing home in Midtown Phoenix.
New York City
Along Fifth Avenue from 26th to 47th Streets, U-Haul volunteers gathered in New York City for the largest Veterans Day commemoration in the nation. Over 100 Team Members marched with seven U-Haul SuperGraphics trucks, adding to the staggering number of parade participants.
This year, the parade began at 9:30 a.m. with Team Members handing out flags to spectators.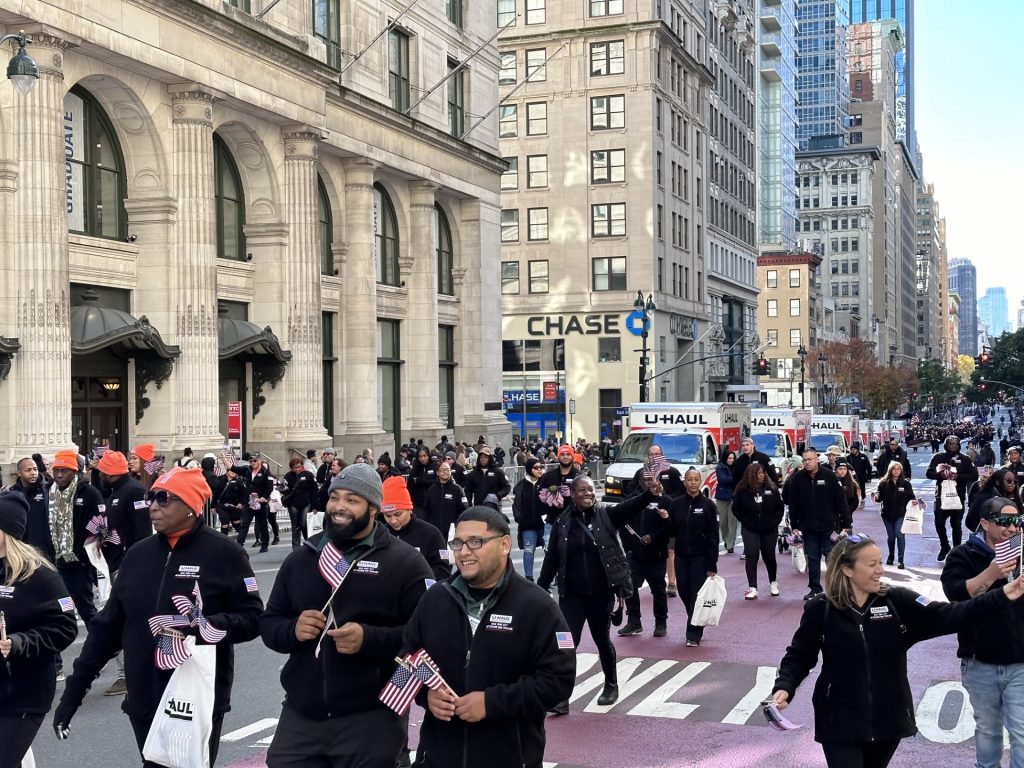 "Our U-Haul team loves handing out the flags," said Nick Marra, Area District Vice President. "You can see the appreciation of the onlookers as you're walking through the city. Many of them are veterans and enjoy seeing that there are people and companies out there supporting them.
"Every year, U-Haul participates and it is a worthwhile event. We enjoy supporting our veterans."
The New York City Veterans Day parade is more than a century old. U-Haul has been a sponsor since 2004.
"Being a Navy veteran, I walk to not only support the day, but to interact with spectators and shake hands with fellow vets," said Jeff Sonberg, U-Haul Company of Manhattan and the Bronx president. "We are the only participant that gets to interact with the spectators by handing out American flags."
The annual NYC Veterans Day Parade attracts 20,000 marchers and 150-plus parade vehicles. U-Haul is proud to be part of the fleet that drives through the heart of Manhattan.
Lincoln
For the second year in a row, U-Haul Team Members in Nebraska gathered to march in the Lincoln Veterans Day Parade.
Alongside three U-Haul SuperGraphics trucks, U-Haul family and friends in Lincoln were eager to participate in this year's parade.
"Our U-Haul Team Members were excited to rejoin the parade and participate again this year," said Doug Graham, U-Haul Company of Nebraska president.
With handfuls of American flags and candy to pass out, U-Haul Company of Nebraska delighted the crowd that had gathered to watch the parade. Many remembered U-Haul and its fleet from 2022.
"Everybody was really happy and engaged with the entire parade," added Graham, recalling the energy of the spectators.
This year, the Lincoln Veterans Day Parade followed the theme of Veterans in Business; acknowledging the 5.4 million new businesses started in 2021, of which, 10.7% are owned by veterans.
Veterans Day Parade photo gallery: (Phoenix and NYC):