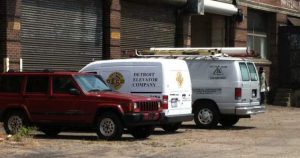 Looks like people in the New Center area of Detroit have noticed the construction vehicles and activity at the NBC-Nabisco building at 899 Baltimore Ave. DetroitYes.com has a message thread and photos.
Yes, U-Haul has purchased the 92-year-old Nabisco building. We are in the early stages of assessment, planning and cleaning up inside and out. We've already made some repairs to the roof, there is power to the building and Detroit Elevator is working with us to bring the elevators back up to standard.
Watch this site for updates on our plans and the progress of the building's revitalization and rehabilitation.