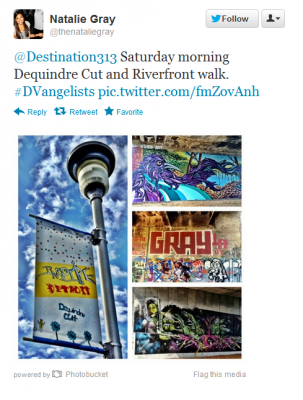 Detroit news/talk radio station, WJR has created a weekly talk show, Destination 313 dedicated to showcasing Detroit gems and creating discussion about Detroit's revitalization. The goal of this show is to improve the region through thoughtful conversations with business leaders, community advocates and everyday citizens who are enthusiastic and passionate about Detroit and its revitalization. The hosts of the Friday show are radio personality, Paul W. Smith and Quiken Loans Vice President, Steven Luigi Piazza. I came across this show a few weeks ago while I was on twitter. What really caught my attention about this project was their catchy hashtag #Dvangelist. Since we are looking for passionate Detroit community members to write for our blog, I wanted to find out who these Dvangelists were and what they were saying. I did some digging, and here is what I found
DVangelist Natalie, takes photos of the Graffiti art along the Riverfront. DVangelist, Amber just wrote a guest blog post "Bike it Baby" for Visit Detroit. She writes about biking around the city, and shares the best D-centric stops along the way!
Another DVangelist, Robert posts on the Destination 313 facebook page "I am a DVangelist because I was born in Detroit. I'm pure Michigan and I'm pure Detroit."
I could share several more inspiring posts from the DVangelist community, but I think you can see where this is going!
As we enter the Detroit community with our New Center location, we are excited to see that the Detroit Community is jazzed about their city and dedicated to rebuilding it for generations to come. They share our revitalization goals, so I guess that makes us Dvangelists too!
Destination313 airs on Fridays at 7PM on station 760am. If you can't wait until Friday to chime in, then join the conversation on twitter @Destination313 using hashtag #dvangelist.
Are you a Dvangelist and want to shout it from the rooftops? Join us as a guest blogger for #MovingDetroit. We want to hear from you!
~TJ