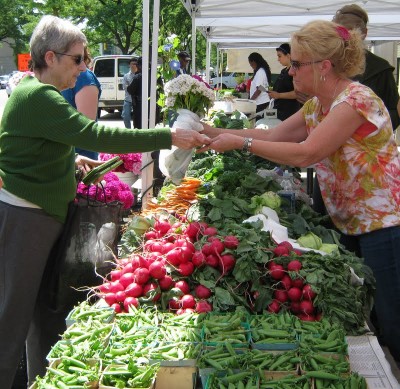 Do we have anything to eat? What's for dinner? It's a daily mystery for most of us, often solved at the last minute by opening up the fridge or cupboards to see what we can whip together quickly. Here's an idea for today, if not the next week: The Wayne State Farmers Market.
Now in its fifth year, the Farmers Market features fresh fruits, vegetables, herbs, eggs, breads and other prepared foods, in addition to potted and cut flowers. You can also get salads and hot, ready-to-eat lunches. So, whether you're looking for something to eat right away, or things to take home and cook yourself, the Farmers Market has you covered. You can get some great recipe ideas and watch cooking demonstrations. Click here for more info or to check out some recipes.
And what's best of all is that a majority of the vendors are based in Detroit, so you can support local businesses and satisfy your craving for fresh, yummy food at the same time.
The Farmers Market is held every Wednesday until Halloween, from 11:00 a.m. -4:00 p.m. on the Wayne State campus, in front of Prentis Hall and across from the Detroit Public Library. Not sure where that is? Click here for a map.
If you or someone you know need help getting there, there's a FREE midtown senior shuttle that picks up at eight senior residential complexes in the area.
Have you been to the Farmers Market? What are some of the vendors people should check out, or what food is on your "can't-miss" list? Let us know in the comments section below.
-Scott