You may be curious how Detroit got the nickname "Motor City." This city itself is rich with automotive history and has also been referred to as the "Automotive Capital of the World." Ford, Chrysler and General Motors got their start in Detroit, as did other automotive pioneers. Through these automotive powerhouses, Detroit solidified its reputation in the industry.
Here are some of the highlights of Detroit's prominent place in automotive history.
Detroit: Home of the first mass-produced automobile
Many people give Henry Ford credit for building the first mass-produced car and assume it was the Ford Model T. But, Ransom Olds, the founder of Oldsmobile, beat Ford to the punch by a few short years when he produced the Oldsmobile Curved Dash in 1901. The Curved Dash was produced in Oldsmobile's plant in Lansing, Mich., which is approximately 90 miles northwest of Detroit.
In the early 1900s, Henry Ford built his first automobile factory in Highland Park, a city in Wayne County that is completely surrounded by the city of Detroit. Along with Olds, Ford helped pave the way for assembly line production—a process that helped make many products more affordable. The misconception that Ford was responsible for the first mass-produced car stems from Ford having the first vehicle produced with a moving assembly line.
Trivia: Ford's cars came off the assembly line in 15 minute intervals. An assembly line worker could buy a Model T with four month's pay.
Automotive boom
Many major automotive manufacturers established their headquarters in Motor City in the early 1900's including Ford, General Motors and Chrysler—which were later dubbed the "Big Three."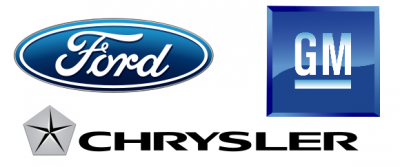 This spike in automotive production drew many skilled workers and immigrants to Detroit and boosted the real estate market. The city's population grew from 265,000 to more than 1.5 million between 1900 and 1930.
During World War II, production of automobiles in all Detroit plants was put on hold to manufacture M5 tanks, Jeeps and B-24 bombers. Ford's plants were able to produce one B-24 an hour.
Trivia: The B-24 bomber was the most produced heavy bomber in history. WWII pilots slept on cots waiting for their new B-24 to come off Ford's assembly line at the Willow Run manufacturing plant.
Economic crash
Motor City remained on top of the automotive industry until the popularity of outsourcing in the 1980s. This was followed by the economic crash in 2008, when not only the economy as a whole was in recession, but the automotive industry itself took a major beating from an increase in fuel prices.
The CEOs of the Big Three felt the pressure of this economic crisis. GM and Chrysler requested and received assistance from the Troubled Asset Relief Program (TARP). Chrysler declared bankruptcy in April 2009 followed by GM in June 2009. Ford never requested assistance from the government, but did borrow from the Advanced Technology Vehicles Manufacturing Loan Program to help improve the mileage of their vehicles. The Big Three closed many production plants and eliminated hundreds of dealerships as a result of this economic crash.
Revitalization and recovery
The Big Three are still headquartered in Michigan, with GM being the only one based within Detroit's city limits. Ford is based out of Dearborn and Chrysler out of Auburn Hills. The three companies have made some cuts, rallied and, like the city of Detroit, are currently on the upswing.
Recently, Ford added 1,200 jobs at their plant in Flat Rock, Mich., which produces the Ford Fusion and the Ford Mustang. GM was recently rumored to be hiring IT professionals. And, Chrysler has plans to open up 2,350 jobs over the next year.
With all this potential for regrowth and revitalization, it looks like Detroit is not at risk of losing it's hard-earned nickname, Motor City, anytime soon.
What do you think about Detroit's claim of being the Automotive Capital of the World? Can you believe that pilots slept on cots in a Ford plant waiting on planes to be built? Tell us what you think about these Motor City history highlights in the comment section below.
– Jennifer