TGIF Detroit! Weekend Fun for Everyone Weather report – as much as I hate my Friday starting out with rain it definitely gets better throughout Saturday and Sunday….. Another weekend is here again in Detroit and as always… there is plenty to see and do!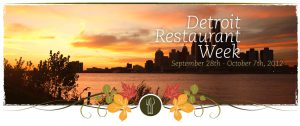 Let's Get this Weekend Started!
Since it is officially Detroit Restaurant Week, you should treat yourself to a nice dinner out and start off your weekend of fun just right! With the many restaurants participating in restaurant week, I have it narrowed down to three that look good to me: La Dolce Vita, Detroit Seafood Market and the Rattlesnake Club. So, once the quitting bell rings and I slide down the tail of my dinosaur (for the younger generation I'm referring to the Flintstones) whichever flavor I fancy will be my luck of the draw tonight.
After a great dinner, you must stop by the hottest event this weekend –
Dlectricity
! You can join the
Dlectricity Light Bike Parade
starting at 7PM Saturday, or start out in the
Sugar Hill Arts District
, noted as one of Detroit's newest arts neighborhoods. It's also the hub for the Dlectricity Block Party of fun and entertainment, including live music performances, unique video projections, fire and light spectacles, a beer garden, full bar, food trucks and so much more. Don't miss the music and cool projections by
DJ/VJ Marquis
. Showings are on Friday night and start at 7 pm, 9 pm and 11 pm. Check out the complete
schedule of Dlectricity events
.
Sunday … Make It a Fun Day!
Considering Sunday is still another day off, we must take advantage of the day, even though it is before Monday…but who says we still can't have fun! With the 30th Annual Historic Fort Wayne Flea Market open from 10 am – 4 pm, you are sure to enjoy all of the antiques and bargains. Just imagine the collectibles and treasures you might find. I love looking for treasures and unique gifts at flea markets and with the holidays just around the corner – this is a must do this weekend! On top of that, you can enjoy tours of the complex and learn about the history behind the fort, which dates back to the 1840s.
Hope your weekend is filled with fun, make sure you tell tell us what your favorite event at Dlectricity was!
Over and out- JoeyGirl