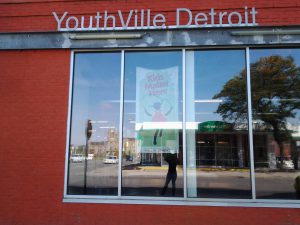 The old saying goes "all you really have is your health". We need to be healthy- mentally, spiritually, emotionally, and physically; not only individually, but also as a community. Once we focus on our health efforts individually, we can become the pieces that make up our healthy community. Revitalizing Detroit includes improving the health and wellness of its residents.
Fortunately, midtown offers some great fitness options. Check out Fitness Works, located at 6525 W. Second Avenue, or one of the monthly wellness seminars at Detroit's Whole Foods Market. The seminars are free and open to the public from 6 to 8 pm.
This week , I would like to highlight an up and coming group called Run This Town (RTT). RTT started meeting last spring on the Riverwalk in Downtown Detroit. About a month ago, RTT moved to its new location inside the Youthville building on Woodward and Lothrup. For me, this is no regular exercise group. It's filled with young professionals and the motto is "networking out". Participants have a lot to gain, not only physically, but also through the opportunity to network with other influential individuals and build strong connections within the community. So, while in the process of meeting your weight-loss goals, you may make a new friend who can help you achieve your career goals or offer encouragement in some other area of your life. This group has really shown me that despite what has been said about Detroit, there are still great things happening. The group offers a positive atmosphere where a healthy lifestyles are reinforced. On days where there are no meetings members stay on track with their goals and offer support through its facebook page. On the page members post pictures of healthy meals, offer encouraging words, and share posts about upcoming community events. A lot of the members even coordinate work outs together on the 'off' days. Did I mention that it doesn't cost a thing to join Run This Town?
They refer to each other as "bosses" (someone in charge). What a powerful word! In reflection, we are all bosses of our own destiny. Run This Town teaches us ownership and responsibility. We should see this as an example of how taking responsibility and ownership can bring about success and new opportunities in the Detroit area. If you are interested in Run This Town, they currently have sessions on Tuesdays at 6 pm and Saturdays at 9 am. Check out their Facebook page for more information.
Have you been to a Run This Town workout? Do you know of any other health savvy programs in Detroit? Tell us in the comments below!
~ Lady of the D