TGIF Detroit! Weekend Fun for Everyone Weather report – There's a 60% chance of rain on Friday. Saturday brings cloudy skies, but come Sunday the sunshine will be back!
Friday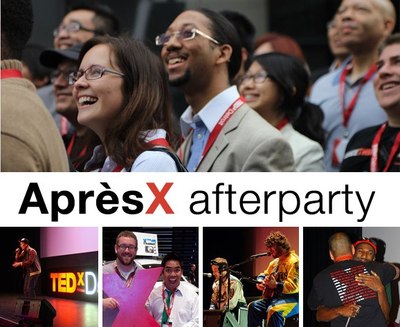 TedX After Party: If you are a fan of TED talks, then this event is for you. "TEDx is a program of local, self-organized events that bring people together to share a TED-like experience. At our TEDxDetroit event, TEDTalks video and live speakers will combine to spark deep discussion and connection in a small group." The event registration is closed, but if you didn't make it in time, you can still attend the after party (6pm-10pm)- open to the public! ApresX tickets can be purchased here for a cool $10.
Michael Malis & Keith Miller: An Evening of Solos and Duos: If TedTalks isn't your thing, check out a relaxing evening of musical entertainment at Carr Cultural Arts Center. "In an uniquely collaborative performance, Michael Malis (piano) & Keith Miller (double bass) offer a program of music that is both original and genre-bending. These two musicians will present duos and solos of original music which will incorporate their divergent traditions, while finding new ways of occupying the space between them. Both Malis and Miller will premiere new works in this performance." Tickets are $15, and only $5 for students and can be purchased here.
Saturday
Bill Maher at Fox Theatre: "Maher has set the boundaries of where funny, political talk can go on American television. First on Politically Incorrect (Comedy Central, ABC, 1993-2002), and for the last seven years on HBO's Real Time, Maher's combination of unflinching honesty and big laughs have garnered him twenty-one Emmy nominations. In October of 2008, this same combination was on display in Maher's uproarious and unprecedented swipe at organized religion, "Religulous," directed by Larry Charles ("Borat"). The documentary has gone on to become the 7th Highest Grossing Documentary ever." Tickets can be purchased through ticketmaster and range from $45-$90.
Michigan Philharmonic- The Jazz Effect: Keep the music coming! "A jazz-inspired tribute to "The Duke", featuring principal flutist Dennis Carter as soloist on Ronald Foster's "Summertime Fantasy," based on the beloved song by George Gershwin. 1920s "jazz age" defining hits include Eubie Blake's "I'm Just Wild about Harry" & James P. Johnson's classic "Charleston". The greater part of the program pays tribute to "The Duke," featuring a performance of Ellington's reflective but ever so hip and cool "Suite from the River" & an encore of his famous signature song, "It Don't Mean a Thing (if it ain't got that swing)". Gershwin's "Overture to "Crazy for You'" & a medley of Dave Brubeck's tunes round out the program. Tickets for $25; students free with paying adult.
For other exciting cultural events and fun things to do in Detroit visit:
Did I leave out any fun events coming up this weekend? What are your plans? Share below in the comments!
-Wendy