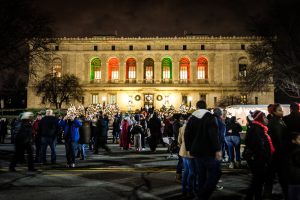 Christmas carols, carriage rides and, of course, Santa Claus will fill Midtown Detroit this weekend for the 40th annual Noel Night. The Detroit holiday tradition is happening this Saturday, December 1st.
More than 60 Midtown venues, including the Detroit Institute of Arts, the Charles H. Wright Museum of African American History, the Detroit Historical Museum and the Detroit Public Library will open their doors to the public for FREE. Who doesn't like free?! Shops in the area also will be open and more than 120 area music, theatre and dance groups will perform. The festivities will culminate in a Noel Night tradition as the Salvation Army Band leads the community in a sing-along on Woodward Ave. The fun begins at 5 pm and runs until about 9:30 pm.
Noel Night activities take place in and around Midtown's Cultural Center institutions. Click here for a map that shows all of the locations, and the accompanying schedule has details on what's going on and when at each spot. Traffic can get pretty backed up in the area, so arrive early and take advantage of free shuttle service between participating venues.
For full details on everything you need to know about Noel Night, click here.
Are you going to Noel Night? We'd love to hear your stories or favorite memories of Noel Night. Do you know anyone who was at the first one 40 years ago?
–Scott